Colorado State Rams volleyball dominate double header
Tyler Meguire
September 12, 2021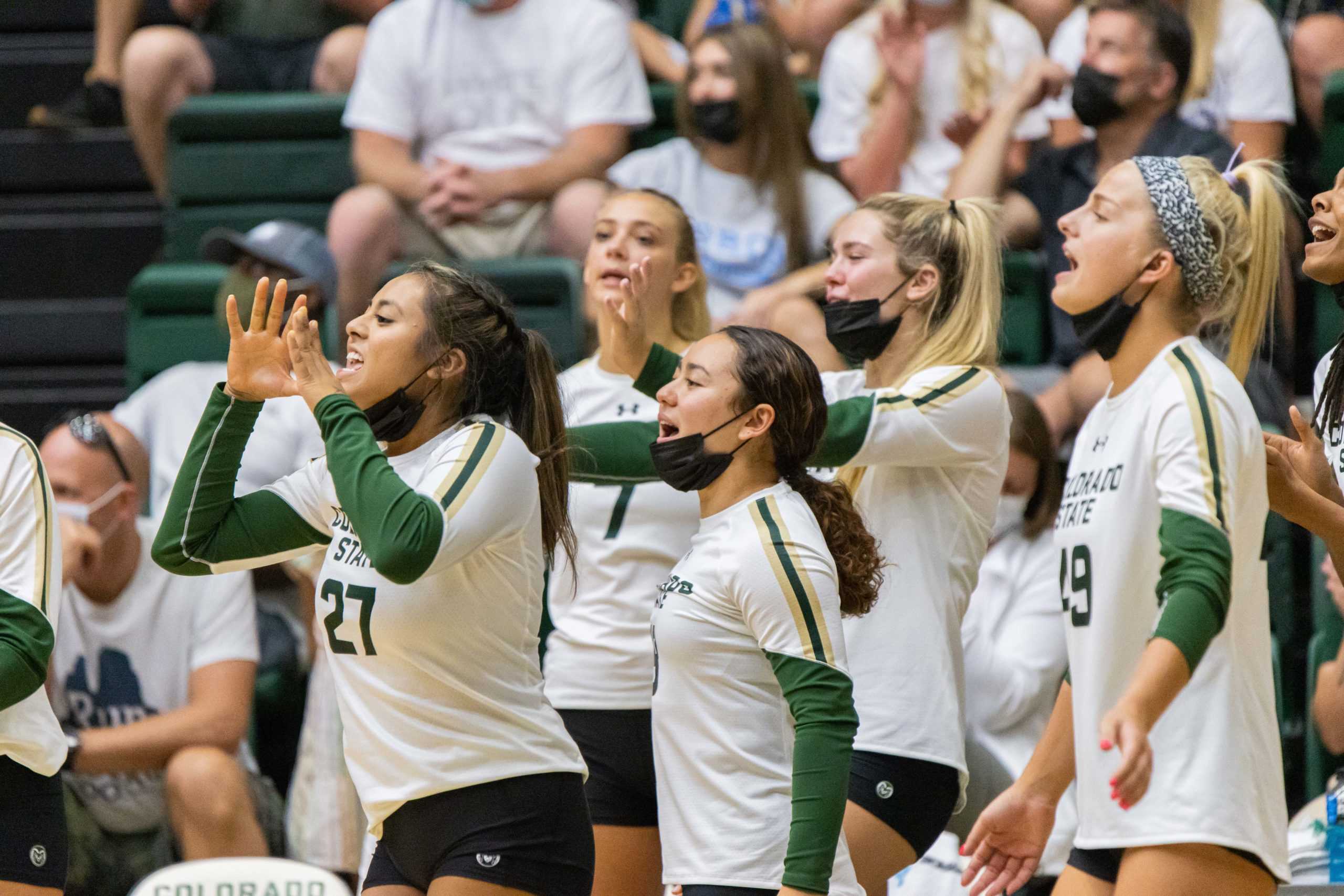 As Colorado State University hosted a four-team tournament, the Rams took care of business in their two Friday games.
The Rams started the day against the Southern Illinois University Edwardsville Cougars at noon and then took on the Oregon State University Beavers later that evening. 
CSU got some rest before their match against OSU at 7:30 p.m. The Rams dominated the Cougars from start to finish as they played just three sets to secure the win with scores of 25-12, 25-13 and 25-8.
For such a short match, the Rams stuffed the stat sheet with four different leaders in five categories.
Kills: Karina Leber (11), Kennedy Stanford (8), Jacqi Van Liefde (6).
Aces: Alexa Roumeliotis (4), Stanford (3), Alyssa Bert (2).
Blocks: Naeemah Weathers (4), Leber (3), Ciera Pritchard (2).
Assists: Pritchard (29), Roumeliotis (8), Barrett Power (1).
Digs: Roumeliotis (12), Pritchard (4), Stanford (4).
The Rams did better than SIUE in every category. CSU at least doubled SIUE in aces (12-3), blocks (8-4), assists (38-19) and digs (28-11). The only category the Rams did not double the Cougars was kills. However, CSU had 18 more kills than the Cougars put up (39-21).
"You can't improve upon what we did today very much," coach Tom Hilbert said. "What we did today was play very cleanly. We missed very few serves; we didn't hit unforced hitting errors. … We forced this team to have to work to score. When you do that, everyone's momentum goes up, their comfort goes up. Every kid we brought off the bench hit well too. It was really a good match for us."
It was onto the next one for the Rams with a Pacific-12 Conference opponent coming into Moby Arena. Normally full of green and gold, Moby was flowing in a sea of orange for an orange out to finish the day. Along with the orange out, it was a special night for Hilbert and the team. Hilbert won his 600th CSU match on Sept. 4 against North Carolina State University. For the 600th win, Hilbert was honored at the beginning of Friday's game with fans all around the arena holding up signs to celebrate.
https://twitter.com/CSURams/status/1436506999718436867
But the ceremony had to end, and it was time for the Rams to try to do something special for the hometown crowd.
CSU and OSU went back and forth for five sets. The Beavers jumped up on top, taking the first set 25-21. Then the Rams tied the match up and took control in the following two sets (25-21 and 25-16) to take a match lead. OSU did not come to Colorado to drop three sets in a row and tied the match up in a close fourth set, 25-23. The Rams then closed it out 15-13 in the final set, however, and sent the Beavers packing.
The leaders for the Rams were familiar, but some dabbled in different categories.
Kills: Van Liefde (16), Leber (13), Annie Sullivan (10).
Aces: Pritchard (4), Brooke Hudson (2), Bert (2).
Blocks: Weathers (4), Pritchard (3), Leber (3).
Assists: Pritchard (44), Sasha Colombo (1), Roumeliotis (1).
Digs: Roumeliotis (29), Pritchard (11), Hudson (8).
The Rams only led the Beavers in aces (10-7), assists (46-45) and digs (63-60). The Beavers had more kills (56-52) and blocks (15-9).
It was a fun night in Moby Arena as we outlasted Oregon State in a five-set thriller! We're back at it tomorrow with one more match! #PointRams

📝 https://t.co/fqbrUspnQQ pic.twitter.com/Jv7q7QAXEQ

— Colorado State Volleyball (@CSUVolleyball) September 11, 2021
The Rams entered Saturday with a 3-3 record, winning their last three games.
Tyler Meguire can be reached at sports@collegian.com or on Twitter @TMeguire.