Rams volleyball splits season-opening series against Air Force
Bailey Shepherd
February 10, 2021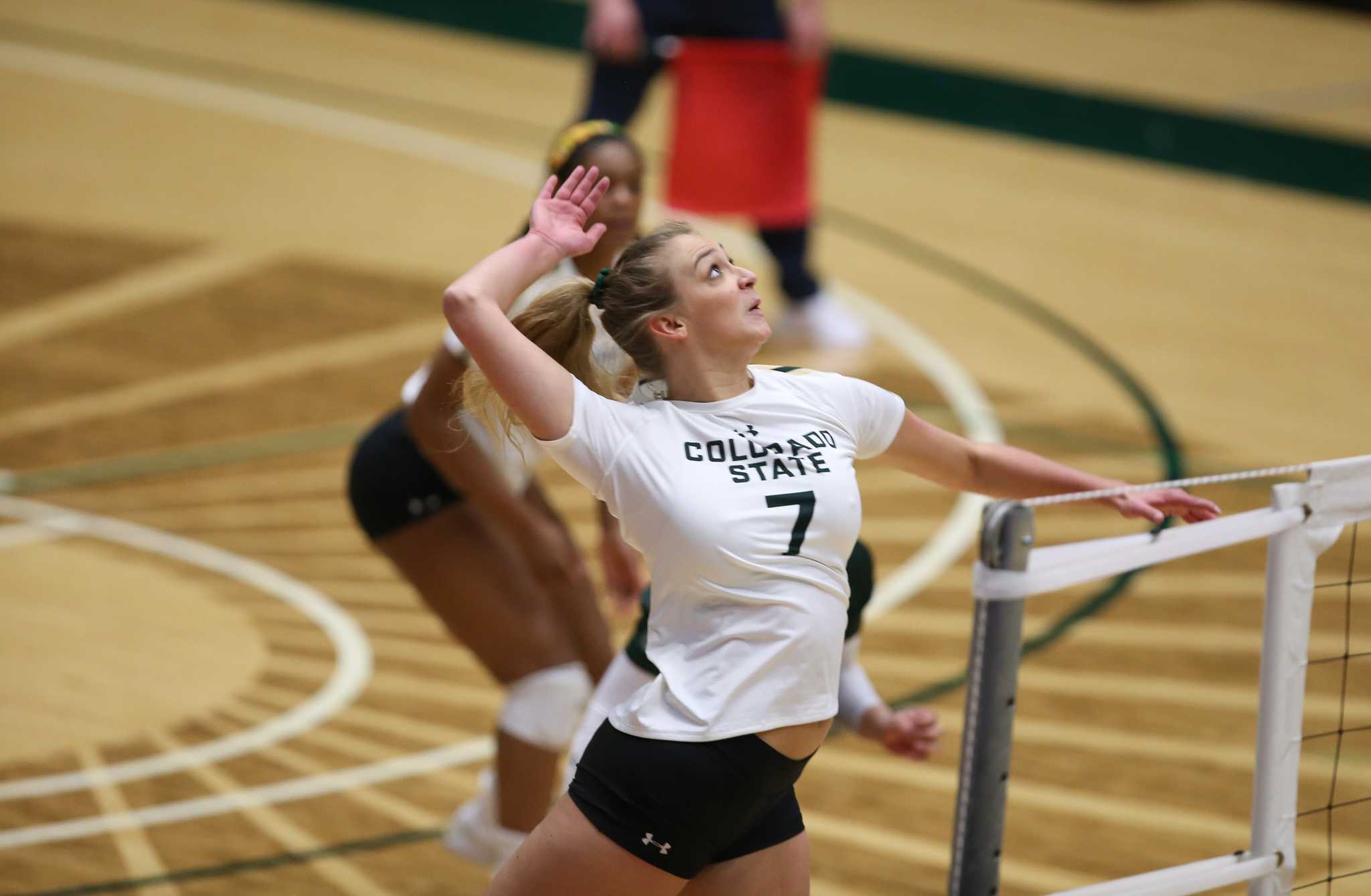 After 14 long months, the Colorado State University volleyball team hit the court at Moby Arena to kick off their much-anticipated 2020-21 season against the United States Air Force Academy this past Friday and Saturday.
Despite being picked as the preseason favorites to win the conference, there was plenty of speculation around how well the Rams were going to adjust this season following the departure of five senior players, including star setter Katie Oleksak. Coach Tom Hilbert felt there was a need for some real competition to get his team where they needed to be heading into the game.
"From a coach's standpoint, you really start work once you start playing people," Hilbert said in a press conference. "Coaches need that, but I think players need it too. I think players need to have that real pressure like there's real consequence now in winning and losing, and they can learn a lot from that."
On Friday, Hilbert and his team finally got what they were asking for.
The first set of game one didn't go the way the Rams would have liked it to. The Falcons kept it close and stole the set 25-23 to mark the first time the Falcons have ever won a set on the Rams' home floor. Colorado State didn't seem too fazed by this first set, however, as they went on to make relatively quick work of the Falcons in the later stages of the game by winning the following three sets 25-17, 25-19 and 25-11.
This win was made possible by veteran and rookie Rams alike. Seasoned redshirt senior Breana Runnels picked up right where she left off and contributed a team-leading 18 kills to the Rams' winning effort. Ciera Zimmerman racked up 40 assists, filling in the void at the setter position that Oleksak left behind. Arguably the most notable performance of the night came from freshman middle blocker Karina Leber whose 14 kills, three blocks and 0.619 hitting percentage cemented the win for Colorado State in her collegiate debut.
The Rams looked to be back and as good as ever going into game two, and with the winning streak against the Falcons having been extended to 53 in a row, there were few who expected anything other than another Ram win. The Falcons had something different in mind.
Game two started the same way as game one: After a strong start from Colorado State, the Falcons were able to go on a run and snag the 25-19 win in the first set.
Whatever mistakes Air Force may have made in game one seemed nonexistent in game two. The Falcons' defensive effort was top-notch and refused to let any of Colorado State's key offensive weapons get going. The usually lethal Runnels was held to only nine kills throughout the second game. 
It didn't get any easier for the Rams, as the ensuing two sets went the way of the Falcons 26-24 and 25-22, resulting in a three-set sweep and a split series. This marked the first time the Rams have been swept since they lost 0-3 to then 20th ranked University of Michigan in 2018. Most notably, this loss snapped Colorado States' winning streak against the Falcons, a record that extended all the way back to 1995.
"What you saw tonight was the complete opposite of what you saw last night," Hilbert said following his team's defeat.
Looking forward to their road series against the University of Nevada, Reno, Hilbert emphasized a need for adjustments both physically and mentally from his team. Perfection is not to be expected after a 14-month hiatus, but Hilbert's squad will need to quickly bounce back in order to return to the program's winning ways. 
Colorado State will face the Wolf Pack in Reno, Nevada, on Feb. 12 and Feb. 13.
Bailey Shepherd can be reached at sports@collegian.com or on Twitter @B_Sheps.