Porter's path to becoming a leader
Willis Scott
April 27, 2017
Madison Porter closely eyed her opponent, Cassie Chung, in the familiar white and red jersey. She wanted to serve up a dish of revenge for the University of New Mexico. Although she was a senior looking to the future, she came face to face with her past.
She had worn those same white and red colors herself as a freshman tennis player at UNM. Now, she stood clad in a forest green athletic T-shirt that represented Colorado State University.
Porter left UNM in 2014. She wanted to show them she had flourished in Colorado, her home state. "To kind of rub it in their face," she said.
The day did not go her way. A tie of 5-5 in her doubles match and a loss of 2-0 in her singles match upset her hopes of showing up her former team.
She looked hard for a win in the second set of that singles match. UNM's Chung beat her 6-3 games in the first set. And, in this second set, Chung had won five games to Porter's one.
Porter leaned forward in anticipation of the UNM player's serve. With her eyes wide open and her hand closed tightly around a tennis racquet, she waited. And then, in an instant, she leapt.
Her racquet swatted the tennis ball over the net to her challenger. The University of New Mexico player returned it to her. The volley continued until the ball escaped Porter's reach. It bounced on the court, and she lowered her racquet to her side.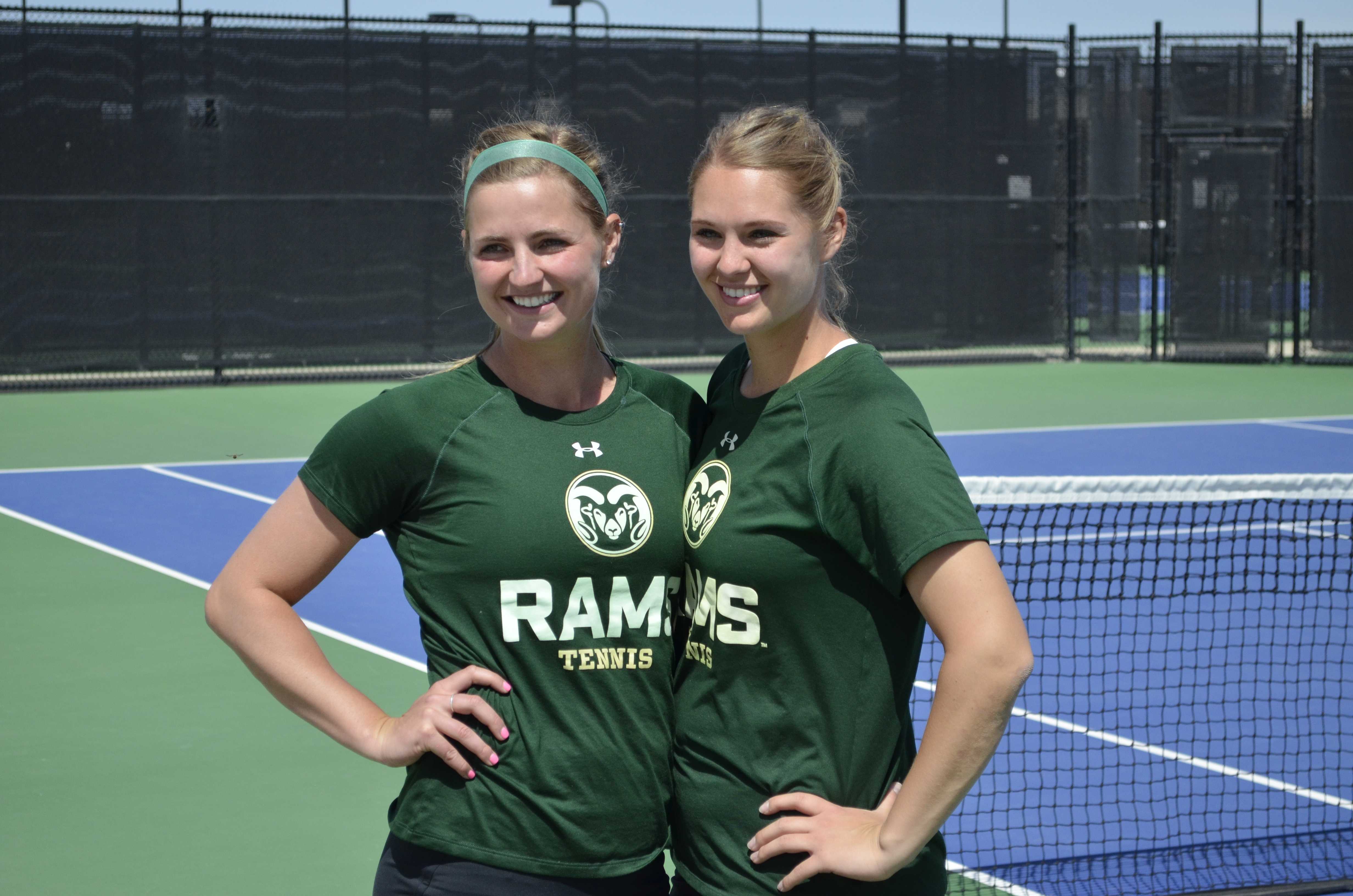 She glanced toward the stands. It was Easter Sunday, and of the fans watching the match, 25 were her family members. Many spectators wore hats and sunglasses as the sun shone brightly. A gentle breeze cooled the fans in the 70-degree weather.
The eyes of her former team, family and friends all bore down on her. This was senior day, a day dedicated to her and her fellow senior Celine Voss. It was also the last match she would play on CSU's tennis courts.
Porter knew she had to win five games quickly. Chung proceeded to score four more times. Porter tightened up to stave off Chung's match point. Chung won the set 6-1 games.
Again, Porter's racquet fell to her side. She shifted it to her left hand and shook Chung's with her right. After thanking the referee, she turned around to meet her family.
Her mother and aunt hugged her tightly. They reassured her that she played hard and they were proud of her. Porter made her way through the crowd of family and friends. She thanked them for their conciliatory remarks and told them how much their presence meant to her.
"[To have them here] means everything to me," Porter said.
When she finished exchanging the post-match comments with her family, she looked at a friend. Porter candidly told him that her loss felt sour. But as quickly as she could return a serve on the court, she pivoted her outlook.
"Now I just need to cheer louder," she said.
Porter admits that it would be easy to let her emotions get the best of her.
"After the match, I had three options," she said. "I could've broken a racquet, I could have broken down and cried hysterically or I could have just let it go and just started cheering my team."
Porter chose the latter response.
"I did want to do the first two, but I knew my team was still out there, and they were still fighting, and we still had a chance to win," Porter said 
Her mother, Suzette Riddle, says she has a team-first disposition. "I mean she obviously wants to win, but she thinks team," Riddle said.
Porter stood tall and smiled as she waved to friends and fans. While many athletes in her situation might choose to sulk, she decided to let her bubbly personality shine for her teammates.
She walked to where sophomore Emily Kolbow was volleying against another UNM player and yelled, "Let's go Rams! Let's go Emily!"
Porter then proceeded to cheer for the remaining four CSU players. As each one finished her match, she joined Porter in encouraging the players who were still competing.
Porter filled the air with affirmations. "Let's go Riley! Yes, let's go," she shouted. "Yeah Sandy! Wow! Wow! Here we go Celine, c'mon!"
Finally, the players gathered to watch the last remaining match. Porter jumped with excitement when freshman Sandra Keta came back from three unanswered UNM points in the deciding set of her match.
Keta's rally was not enough to beat UNM, who won the day's competition 4-3. Porter and the rest of the team huddled around Keta. They hugged her as defeat sunk in.
The sunny day presented a stormy competition for CSU's tennis team. Porter felt the burn of it, and she consoled a tear-filled freshman who shared many of Porter's emotions.
For the young players who make up the team, Porter serves as an anchor.
"I think everyone looks up to Madison," Emily Kolbow said. "She truly brings a lot of laughter to the team. She always has something to lift everyone's sprits."
Porter felt the same, if not greater, pressure than the underclassmen faced. Her mother knew she felt anxious during the match.
"A lot was riding on it because she went to UNM her first year," Riddle said. "I think she just really, really wanted to play great in front of everybody, and sometimes that's just more pressure on you."
Porter's coach, Jarod Camerota, did not expect her to throw that emotional weight away. "She's just an emotional person and so she can be up and down at times," he said. "It's maybe better than holding it all inside you."
Instead of bottling emotion, Camerota encourages his players to manage their feelings.
"Be loud when you're winning points and have good body language when you lose," he tells the athletes. "It's kind of phony to yell out, 'Let's go,' when you lose a point."
Porter does not just manage her own emotions; she helps manage her teammates' emotions as well.
"She does a really good job of bringing energy to the team," Camerota said. "I think the team follows suit."
Porter and her teammate, roommate and close friend, Voss, play in side-by-side courts. They pump one another up.
"We give each other high fives," Voss said. "We yell each other's names."
Her teammates are not the only ones Porter yells to.
"She yells, usually, at her opponent and just keeps fighting for every point," Voss said. "I love it. It gives me energy. It gives the whole team energy."
During practice Porter is the first to perform a drill. She sets an example for the other players.
"She's the fastest girl on the team by far," Kolbow said. "No one ever beats Madison in a race, ever."
The strength and conditioning coach, Kelsey Zachman, said that Porter directs the team during practice the same way she encourages them in a match.
"She is definitely vocal with the team," Zachman said. "[She] always pumps them up and always puts them in a good mood."
Even after losing her last home game in front of her family and the team she wanted badly to beat, she said she wouldn't change a thing.
"I wouldn't change my team, I wouldn't change my coaches or being here, or the fact that I transferred is the best decision [I made]," Porter said. 
She is an emotional player, and at the end of the day the emotion she felt most was gratitude.
"I'm so proud of my team, and I'm so grateful for everyone that came out and supported me, and what this program has given me."
The CSU tennis team will face Air Force Academy  at 3 p.m. today in Las Vegas, Nevada for the 2017 Mountain West Championship.
Collegian sports reporter Willis Scott can be reached by email at sports@collegian.com or on Twitter @WillisScottNews