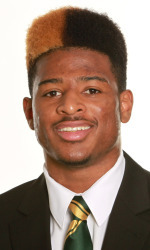 State sophomore wide receiver Rashard Higgins has been named to the preseason watch list for the 2014 Biletnikoff Award by the Tallahassee Quarterback Club Foundation, Inc.
Higgins, 6-foot-2 and 188 pounds, is one of only five underclassmen on the watch list for the prestigious award. It is given to the most outstanding receiver in college football. Previous winners include current NFL stars Calvin Johnson, Larry Fitzgerald and Michael Crabtree.
The product of Mesquite, Texas led the Rams in receiving as a true freshman with 68 receptions for 837 yards and six touchdowns. He set the CSU freshman record for single game receiving yards with 156 receiving yards vs. UTEP Sept. 28.
Higgins' 68 receptions was also a CSU freshman record, and ranked third amongst all NCAA FBS freshmen. His performance in 2013 earned him honorable mention to Campus Insiders' FBS All-Freshman team.
Eight players from the Mountain West, including Higgins, are amongst the 55 named to the watch list. Ten semi-finalists will be named by the Biletnikoff Award National Selection Committee, which is comprised of 221 journalists, commentators and former receivers.
The 2014 Biletnikoff Award will be presented by the man it is named after, College and Pro Football Hall-of-Famer Fred Biletnikoff, Dec. 11, 2014 on the Home Depot College Football Awards Show at 5 p.m. (MST) on ESPN.
Collegian Sports Reporter Emmett McCarthy can be reached at sports@collegian.com.