CSU face the Lobos on the road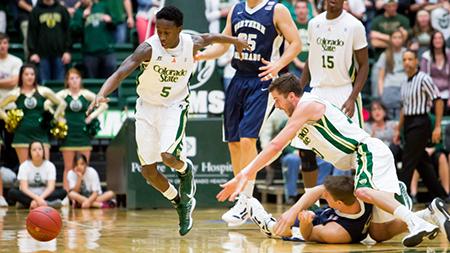 The CSU women's basketball team had their most recent winning streak of seven games unexpectedly snapped. With this tough lesson handed to them on Jan. 11 by No. 2 ranked conference rivals Fresno State, the Rams are determined to maintain their competitive edge in the Mountain West.
With their winning streak anew and two commanding wins back under their belt, the Rams will face the New Mexico Lobos in Albuquerque. Even though their last face off against the Lobos resulted in a double digit victory, the Rams aren't taking this road game lightly and are expecting to face a tough competitor.
"We had a really close contest when we played them here in Moby and we expect the same," head coach Ryun Williams said.
In order to size up the competition, here are the top three players of the Lobos stacked up against the Rams.
CSU:
Elin Gustavsson:
10.4 ppg
17 total steals
15 total assists
Ellen Nystrom:
8.9 ppg
15 total steals
50 total assists
Sam Martin:
12.1 ppg
9 total steals
23 total blocks
New Mexico:
Antiesha Brown:
13 ppg
22 total steals
28 total assists
Sara Halasz:
11.6 ppg
16 total steals
20 total assists
Ebony Walker:
10.3 ppg
1 total steal
1 total assist