The Denver Nuggets are completely awful again. No, wait, that's not right. They hold the number four spot in the Hollinger Power Rankings.
But if you only paid attention to ESPN.com or "SportsIllustrated," you would think the former.
Why does the media hate Colorado sports? Why aren't the Nuggets one of the featured stories on the front page of SI? How come there isn't a link to read about them on the side of ESPN.com's homepage?
I guess sports fans would rather hear about how badly the Lakers suck, or watch Mark Sanchez's buttfumble (though it is hilarious and has sense created a new word in the  English vocabulary), but what about the teams that are actually doing it right?
I'm talking about teams outside of Texas, California, Florida or New York. If you play in one of those big states, you are entitled to the best coverage, even or especially if they don't deserve it.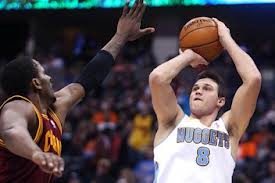 Back to what I was originally getting at – the Nuggets are having quite a stupendous year. They have won 8 of their last 10 games (tonight's loss to the Raptors hurt), and have the sixth best record in the league. A large accomplishment considering the stiff competition this season.
With the exception of the Memphis Grizzlies, the teams with better records than ours have at least one superstar player and dole out big, fat paychecks.
Denver wins games as a team. The acquisition of Andre Iguodala added shine to the roster, but he isn't a LeBron or a Melo.
Our team's talent runs bone-deep. Six players on the team are averaging at least 10 points per game. The Miami Heat, largely considered the most stacked team in the NBA has four, and that's LeBron James, Dwayne Wade, Chris Bosh and Ray Allen; with their paychecks, they'd better be posting those numbers.
The Nugget's 105 ppg are third overall, they are second overall with 23.9 assists and their 45.8 rebounds are tops in the league. In comparison, the Thunder are 1st (with 106.4 ppg), tenth, and 16th respectably.
After all of the trades, change-ups and milestones that Nuggets have had to overcome in the past five years, this season is a testament to their abilities.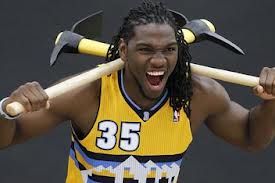 Everyone counted them out after Carmelo Anthony and Chauncy Billups were shipped away, and JR Smith later followed suit. After Arron Afflalo linked up with Dwight Howard's former team – it should have been over. Plus George Karl had to beat cancer.
Instead, Kenneth Faried has come into his own this season, rebounding his way into the nickname the "Manimal;" Andre Miller is back and healthy again, and Danilo Gallinari leaves no room for defenders to get in his way.
Regardless of how the rest of the season goes, it has been fun to watch; plenty of nail biters mixed with just the right amount of beat downs (by us).
Take note, mainstream sports media, this team is not the kind to bring negative attention to itself, and they deserve to be noticed all the more for it.