CSU Rams vs. CU Buffs Rocky Mountain Showdown game notes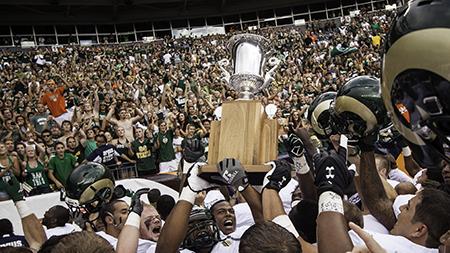 Wounded Rams:
CSU running back Chris Nwoke missed a good portion of the game due to an injured ankle. Nwoke had 11 carries for for 47 yards before leaving the game.
"There's nothing broken or anything like that. The guy has a bad ankle," CSU coach Jim McElwain said. "Someone else has to step up. That hurt us a little bit because he's a good football player. He wanted to be out there."
There's no word if Nwoke will miss any games as a result. CB Bernard Blake had issues with a hamstring
Nothing beats the first:
New CSU coach Jim McElwain won his first game as a head coach in a 27 year coaching career. McElwain's win is the first for a new Ram coach in his debut since Jerry Wampfler in 1970.  He became the fifth to achieve the feat in CSU history. It was also the first win for a CSU coach in his first match up with CU-Boulder.
Money well earned:
Sophomore kicker Jared Roberts , from Littleton, was a walk-on until nine days ago when McElwain awarded him  a scholarship. His first field goal attempt in college was 47 yards, longer than any made field goal in all of 2011. In total Roberts hit three key field goals (47 yards, 49 yards and 32 yards), which helped the Rams down their arch rival. Roberts' efforts were the best in terms of made field goals (3) in two seasons, and length (49) in four.
Welcome to the show:
Eight CSU players in total made their very first collegiate starts in the Rocky Mountain Showdown.  OL Brandon Haynes, OL Jared Biard, WR Dominique Vinson, LB Aaron Davis, LB Cory James, DL Lanston Tanyi, DL Alex Tucci, and CB Bernard Blake.
Two CSU running backs, redshirt freshman Donnell Alexander and true freshman Tommey Morris, made their first carries in a college game.
Showdown summary:
The game marks the first win for CSU against CU since 2009 (23-17), which was played at Folsom Field. The five of the six latest victories for the Rams over the Buffs have been by six points or fewer. In 1999 No. 14 CU was defeated by CSU 41-14 at old Mile High Stadium. CSU has won six meetings between the two teams since the rivalry was renewed as an annual game back in 1995.  The Rams have a 5-7 record in 12 neutral site games played in Denver.