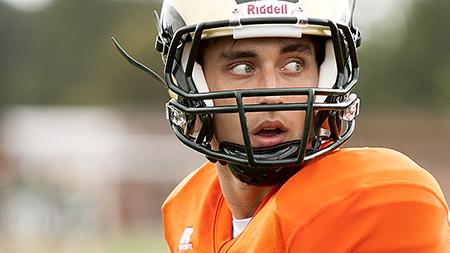 CSU football coach Jim McElwain chose to go young with his starting lineup for the season opener against CU-Boulder in the Rocky Mountain Showdown this Saturday.
In total, eight underclassmen are projected to start in the biggest game of the year, including two freshman, Cory James and Trent Matthews. In fact, seven underclassmen will take the field at the same time on defense compared to just three seniors.
"I don't look (at two-deep depth charts) to be honest. I really don't," McElwain said. "It means nothing because you're gonna go with 76 guys and to me, everyone of those guys has to be able to contribute in some way, form or fashion."
McElwain said he plans on using plenty of rotations to cycle players in and out of the game, and the guy making plays will see the most snaps.
"There may be a guy (who) gets hot, so it's like a shooter in basketball. I'm not going to bench that guy if he's hot, which could be a pass rusher, could be a corner's having a great game," he said. "I think part of that too is you gotta have enough trust in your guys and find out who's ready to go on that day obviously based on what they've done in practice."

Key takeaways from depth chart
Backup quarterback battle
Garrett Grayson has unquestionably earned the role of starting quarterback for CSU, but the battle is still wide open for his backup. The early favorite is senior M.J. McPeek, who McElwain said would likely be the first guy in if needed. Freshman Conner Smith, however, is still an option.
Smith is an exceptional arm talent, but accuracy issues throughout spring and fall camps have given McPeek the nod.
Same faces, different places
Two starters for the Rams are on opposite sides of the ball this season. Former defensive back Dominique Vinson is listed as the starter at the Z wide receiver after impressing coaches in fall camp after making the switch. On defense is former offensive lineman Alex Tucci. The 6-foot-3, 300 pound Tucci will start on the interior of the CSU defensive line, a position with several question marks heading into the season.

Everchanging base defense
The talk throughout fall camp was the transition from a 4-3 defense in 2011 to a 3-4 in 2012 in order to play on the depth and talent at linebacker. Instead the depth chart lists four down linemen and three linebackers (constituting a 4-3 defense). To further the confusion is the position listing for last year's leading tackler Shaquil Barrett, who's the listed starter at right defensive end, not linebacker.
Complete depth chart:
Offense
WR(X): Marquise Law, Lou Greenwood, Bobby Borcky, Jordon Vaden
LT: Joe Caprioglio, Ty Sambrailo
LG: Brandon Haynes, Trey Cassidy
C: Weston Richburg, Mason Myers, Fred Zerblis
RG: Jordan Gragert, A.J. Frieler
RT: Jared Biard, Mason Hathaway
TE: Crockett Gillmore, Kivon Cartwright, Austin Gillmore
H-Back: Jake Levin, Joe Brown, Joe McKay
WR(Z): Dominique Vinson, Charles Lovett, Lee Clubb, Joe Hansley
QB: Garrett Grayson, M.J. McPeek AND Conner Smith
RB: Chris Nwoke, Donnell Alexander, Tommey Morris, Mark Woodbury
Defense
LDE: John Froland, Te'Jay Brown
DT: Alex Tucci, Curtis Wilson
DT: Zach Tiedgen, Cole Allenbrand
RDE: Shaquil Barrett, Broderick Sargent, Steven Michel
SLB: Cory James, Davis Burl
MLB: James Skelton, Max Morgan
WLB: Aaron Davis, Nu'uvali Fa'apito
LCB: Bernard Blake, Shaq Bell
RCB: Momo Thomas, Marcus Shaw
SS: Trent Matthews, Immanuel Mitchell
FS: Austin Gray, Kevin Pierre-Louis
Special Teams
PR: Momo Thomas, Lee Clubb
KR: Donnell Alexander, Lee Clubb
LS: Tanner Hedstrom, Cole Allenbrand, Brett Etherton
SS: Tanner Hedstrom, Mason Myers, Cole Allenbrand
H: M.J. McPeek, Pete Kontodiakos
P: Pete Kontodiakos, Hayden Hunt
K: Jared Roberts, Keenan Adams
Sports Editor Cris Tiller can be reached at sports@collegian.com.