Vander Graaff: Far from home, COVID-19 restrictions neglect CSU travelers
Abby Vander
March 21, 2020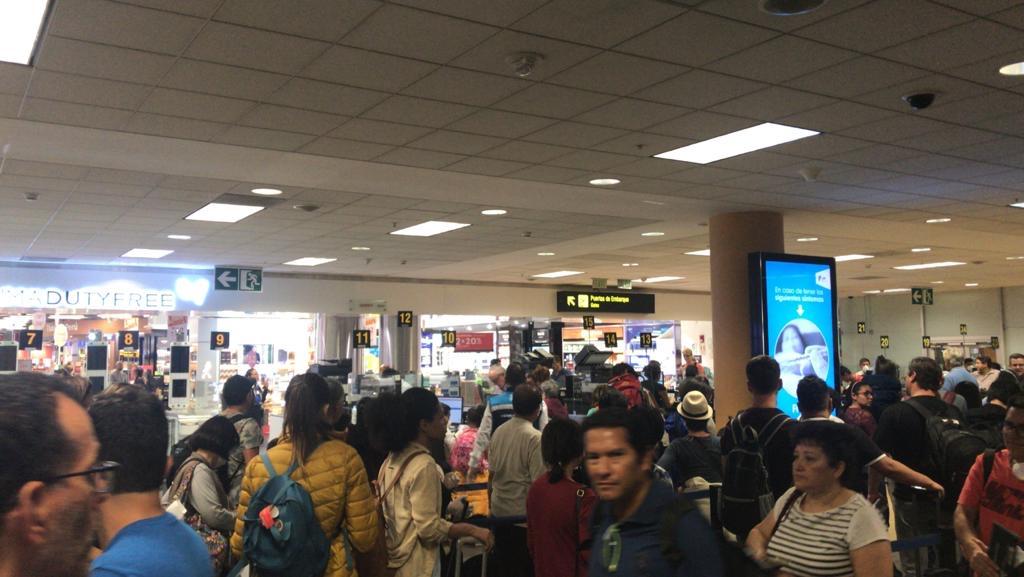 Editor's Note: All opinion section content reflects the views of the individual author only and does not represent a stance taken by The Collegian or its editorial board.
COVID-19 has caused our world to change drastically and quickly. While political measures to slow the spread of the virus are crucial in this time, they can have unintended consequences that might do more harm than good.
Travel restrictions have left countless tourists stranded in foreign countries in a time when they should be safe at home. This includes two Colorado State University students: Lenka Doskocil, a third-year studying watershed science in Quito, Ecuador, and myself, studying language and culture in Cuzco, Peru.
According to Al Jazeera, countries around the world are implementing either full or partial border restrictions in an effort to slow the spread of the virus. These countries include Argentina, Peru, Ecuador, Australia, Canada and the United States. 
The situation escalated so quickly that it was nearly impossible to distinguish between an act of hysteria or one of necessity. And then it was too late."
Making it harder for travelers to get home is only contributing to the problem of COVID-19. 
On March 6, Peru confirmed its first case of the coronavirus. By March 15, the number of cases rose to 71, and as of March 17, it is at 117 cases. In Ecuador, the first case of the virus was reported on Feb. 29, and by March 17, there were 111 positive cases.
Ideally, travelers should have taken the initiative to return home of their own accord before these bans were even announced. But the situation escalated so quickly that it was nearly impossible to distinguish between an act of hysteria or one of necessity. And then it was too late.
Although Doskocil understands that the measures being taken to stop the spread of COVID-19 are necessary, she notes that transitioning to online classes will reduce her study abroad program to "a ghost of itself."
"Having the program end so abruptly and so early meant having little to no closure and rushed goodbyes to people who were quickly becoming some of my closest friends," she wrote. "I have been planning this semester since my freshman year, and, in many ways, it was a once in a lifetime experience."
Since her interview, Doskocil received news from her program that she would be able to fly home Tuesday, March 24.
In Ecuador, the border closing was announced on March 15 and went into effect Monday, March 16 at 11:59 p.m. local time. In Peru, a state of emergency was announced at 8 p.m. local time on March 15, and the following quarantine went into effect on March 16.
I have been planning this semester since my freshman year, and in many ways, it was a once in a lifetime experience." -Lenka Doskocil, third-year CSU student
Schools began to close, study abroad programs were canceled and governments closed their borders so abruptly that many foreign travelers did not have the time necessary to organize flights home.
Mirjam Kaeser, a student from the University of St. Gallen in Switzerland, was studying abroad in Lima, Peru, when her school year got cut short, leaving her without the ability to complete all of her classes.
"Everything changed so quickly," Kaeser wrote in an email. "I decided to stay in Peru because it's nice and warm here, and I thought I could at least enjoy the summer. Things were a lot worse in Switzerland anyways, so why go home? I really can't complain. I have everything I need here, but I am still looking for a way home every day." 
For me, the border closures meant receiving a text message with the news from a classmate at 8 p.m. and starting to search for flights home while I could still hear President Martín Vizcarra making his announcement on the TV in the other room. 
Although I already had a plane ticket home for the coming days, I bought a flight for the next day only to see it canceled since it departed just after the borders were scheduled to close. I stayed up until 12:30 a.m. searching for flights to anywhere in the United States or Canada and could not find one option that departed before the travel ban went into effect.
My peers who made it out of the country did so through pure luck; they already happened to have a flight out before the borders closed, to ride in a taxi with a LATAM Airlines official or to get on a chartered flight with an academy from the U.S. that paid extra money to fly home.
My friends paid up to $2,800 for their plane tickets and took long routes with multiple layovers. This means they stopped in more airports than necessary, increasing their contact with other travelers. They were exposed to the influx of panicked people crowded together in long lines at the airport.
Charging inflated prices for flights home will only contribute to the financial crisis that's sure to come as people lose their jobs because of the pandemic. Many travelers likely had already paid for a return flight home at a different time and will experience financial difficulties after purchasing safe passage back to their home country.
Bronwyn McCarthy and her fiancé, James Betterton, of South Africa, were among the many foreigners who didn't make it out of Peru in time. 
"The second our president announced border closures, we bought our tickets: five flights, three international ones, via New York and Kenya, over 50 hours of flying," McCarthy wrote in an email. "And that evening the Peruvian government announced the lockdown. Now we can't get refunds."
Many travelers are now scrambling to find accommodations, as the Peruvian government has restricted leaving the house for anything other than food and emergencies. 
On Thursday, President Donald Trump announced that U.S. citizens stuck in Peru failed to heed warnings and that it was their own fault they were stuck. There were no warnings, and there were no options to leave the country."
McCarthy and Betterton are currently staying at Frogs Chillhouse Hostel in Huanchaco, Peru, where they report that since only one person is able to leave the building at a time, the staff has made a shopping list for everyone. They're also keeping guests entertained with group activities, and they created a WhatsApp group where guests can share updates on policies. But the situation is not ideal.
"Prices have skyrocketed," McCarthy wrote. "Carrots were two soles a kilogram three days ago. Yesterday it was 10. They're now selling food packages (that include) breakfast, lunch and dinner. The food is basic but very impressive for what little resources they have. Saying that, we are only on day three of the lockdown, so let's see what it is like by the end of the month."
Beyond the difficulty of finding a place to stay and quarantine effectively, many countries are providing little to no information to foreigners about how they can leave the country.
U.S. residents stuck in Peru made a Facebook group called "Americans Stuck in Peru," which has over 3,500 members as of March 21. 
Members of the group have been posting questions, news articles and links about the crisis, as well as sending messages of frustration and support to one another.
Many travelers, including myself, have tried calling the United States Embassy in Lima, Peru, and the consulate in Cuzco without receiving an answer or anything more than a generalized email with some links and advice on trying to leave the country and not leaving the house in the meantime.
The issue was the same with airlines. My parents called Expedia, LATAM and Delta Air Lines in an effort to learn flight information, but even if the phones rang and they got an answer, nobody could help.
Study abroad students are actually in a position of privilege in this situation, as we have safe living accommodations and many resources, including CSU, that can use their expertise and influence to help our situation.
There are so many more tourists who are stuck in a place they don't know, using resources that should be saved for locals. They are more likely to make poor decisions because they don't understand the customs or culture of the country they are in and may not even understand the language.
The Peruvian government stated that it would eventually allow foreigners to leave the country, yet there are no available commercial flights out of the country or information on how this will happen. Later, it was announced that March 21 would be the last day of repatriation flights. 
On Thursday, President Donald Trump said that U.S. citizens stuck in Peru failed to heed warnings and that it was their own fault they were stuck. There were no warnings, and there were no options to leave the country. He said the military was working to get us out, yet we still have heard nothing.
Our world is in a crisis, and there are so many people who need help more desperately than tourists. But with poor policy decisions surrounding border closures, resources are getting wasted on a problem that should never have existed in the first place.
It feels as though the U.S. Embassy has turned its back on its own citizens, and governments all over the world are turning their backs on each other based on nationality. In this unprecedented time, we should be doing everything in our power to do the opposite.
"I do get it, though," McCarthy wrote about the Peruvian government's policy. "I don't think people have been taking this seriously. And to put fear into them is one way to get your point across. This is serious. Take it seriously, otherwise these are the consequences."
Abby Vander Graaff can be reached at letters@collegian.com or on Twitter @abbym_vg.