Rodenbaugh: This is what Trump's immigration action actually looks like
Mikaela Rodenbaugh
January 31, 2017
Editor's Note: The views expressed in the following column are those of the writer only and do not necessarily represent the views of the Collegian or its editorial board.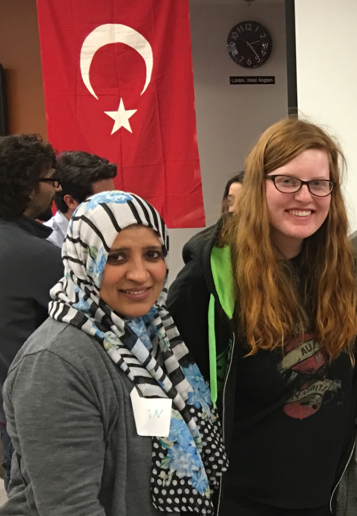 A Ph.D. student and mother is stranded with her 1-year-old son in Libya, while her immediate family remains helpless in the US. This woman is a dear friend of mine, and I fear for her well-being.
This is what Trump's executive order on immigration actually looks like.
On Sunday night at about 10:00 p.m., I was copy-editing in the Collegian newsroom when the editor-in-chief shared a breaking story from Channel 9 News regarding one of the three students affected by Donald Trump's executive order on immigration. The order banned travelers from seven majority-Muslim countries from entering the U.S. for the next 90 days. We have been following the story, waiting for any names and information we can garner on these cases, but another news organization beat us to the punch.
"Damn it, we got scooped," I say, frustrated that we didn't get the name of the source first.
As I peruse the article's headline and the woman in the photo registers in my brain, my stomach drops. The first identified student unable to get back home is Hanan Isweiri, my friend and former colleague, a woman I considered a mentor to me at my previous job.
As soon as the terrible realization hit me, my fingers started tapping nervously on my phone's keyboard — I immediately texted Hanan, asking her if she is okay, asking her what is going on, and attempting to sort through the confusion.
I have known Hanan since October 2016. We met when I was a new hire at Apartment Life, which provides housing for international students and their families who attend CSU. Hanan was one of the first members of my team who I truly considered a friend. She was always dependable, and it seemed like whenever I had a question about my new role, she had the answer.
During the time that we worked together I grew very close to Hanan. I told her about my family living abroad in the Middle East, and we bonded over deep conversations about our worldviews and experiences. She shared with me many things about her family and her hometown of Benghazi, Libya. I remember her frustration about the fact that Benghazi had become a household name in the U.S. due to Clinton's infamous scandal, despite the fact that most of the people talking about it had no idea that there were beautiful buildings, scenery and culture in the city prior to the attacks.
Hanan Isweiri is the first student trapped abroad by the travel ban we have been able to identify at The Collegian. I have asked multiple friends and old coworkers to reach out to anyone who might know more. Many of the international students fear more executive actions like this one.
Right now, I am only left with questions. Who are the others? What does this mean? How many other CSU students are unaware that their close friend, coworker or colleague is currently stranded abroad? More broadly, how many people are finding out that someone they know has been personally affected by this administration's hardline immigration policy? How many others are stranded themselves?
My friend, unable to return home, can't hug her kids and get back to work on her research. Her husband is forced to tell his children that their mother isn't able to come home. On the phone he tells me that, to calm his children, he told them a story.
As we grasp at straws to justify any reason we can to keep others out, we have lost connection with what that really means — and it means keeping out the kinds of people we should want to welcome in.
Contrary to the way this policy has been presented to Americans, it is not just about a flat statistic of how many people are unable to gain entry into the country. We are talking about people's lives and livelihoods; many travelers are struggling with the real-world ramifications of being denied entry into the country. Those with work visas unable to return to their jobs are navigating a sudden loss in income; those caught in other countries are struggling to find housing arrangements; and, some — like Hanan — are thousands of miles from their families. These members of society are being treated as terrorists and criminals.
Hanan has been a reminder for me that many Americans have forgotten our common decency towards others. As we grasp at straws to justify any reason we can to keep others out, we have lost connection with what that really means—and it means keeping out the kinds of people we should want to welcome in. This growing climate of xenophobia and paranoia with regards to Trump's knee-jerk reactionary policies have placed valuable contributors of our society in a vulnerable position.
Americans need to be more cautious about what we mean when we say that we don't want immigrants to come in. We need to think critically about our immigration policies, from building walls to establishing banned country lists. What are we really saying when we tell people not to come to a nation literally built by immigrants?
Anyone who works in the fast-paced environment of a newsroom will tell you that journalism requires thick skin and the ability to compartmentalize your life. As reporters, we constantly tell ourselves that the news isn't personal. But, as I sit here collecting my thoughts and learning what this new policy will mean for the many people who are like Hanan, I am forced to confront the nature of every news story – the news is always personal to someone.
Collegian managing editor Mikaela Rodenbaugh can be reached by email at managingeditor@collegian.com or on Twitter @mikarodenbaugh.