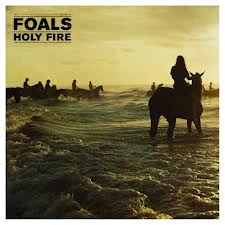 If you asked me to name a math-rock band, I would probably go blank. The first thing that comes to mind is Kevin Gnapoor with his talent show rap in that classic scene of Mean Girls and the only reason why I think of that is because Kevin Gnapoor was a mathlete.
Math rock itself doesn't really have anything to do with math, just weird time signatures and complex guitar riffs. This is good for someone like me that completely recoils from anything number based, and I definitely don't recoil from Foals latest album, Holy Fire, which drops in the US on February 12th. Oxford band Foals is a math rock band, if you want to get deep into sub genres but they have also been described as dance-punk, and the more standard "indie rock." But despite the "standard" genre placement of their music, the band is far from it.
It has been over two years since Foals has released a new album (their last being Total Life Forever which dropped in 2010) and at least for me, it has been anxiously awaited. When the first single, "Inhaler," dropped back in November I was beside myself with excitement. The song didn't disappoint, either (like the new Strokes single did. Not that I'm pointing any fingers at you Julian Casablancas. But I am.) It had the familiar catchy-yet not always coherent-melody that Foals fans have come to know. When they followed "Inhaler" up with "My Number" a few weeks later, I was even more excited. "My Number" continued with the sound I was hoping for. I didn't think I would make it to February when the album was released, it seemed so far away. Now, the day is here, and I finally get to listen to the entire album. At midnight. When it downloads itself into my iTunes account.
I understand that bands evolve their sound. It makes sense. Although I'm not always good with change, so when bands drastically change their sound or they release a single that doesn't seem to match the songs that I loved before, I tend to get discouraged (Julian.) This did not happen with Holy Fire. I have been listening to Foals since 2008 when they released their first album, and I was happy to see that the band that I fell in love with back then, is still around. It's apparent that they have grown as a band and as musicians. Their music sounds more mature and there are changes, but it isn't jarring or off putting to fans or new listeners alike. "Inhaler" is a good place to start if you are looking to delve into Foals' music catalog. This new album was definitely worth the wait, which is hard for me to say because I really hate waiting.
Now that Foals have given us a new album though, how about a US tour? Yeah, I'm looking at you Yannis Philippakis. I see your name on the Coachella lineup, so come on. Show us Americans a little love.*
Other notable tracks: "Milk and Black Spiders", "Bad Habit"
You can download the album from iTunes here
*Update: Literally RIGHT after I posted this, Foals announced a North American Tour with Surfer Blood stopping in Denver June 4th