'It's OK to take up space': Celebrating Indigenous Peoples' Day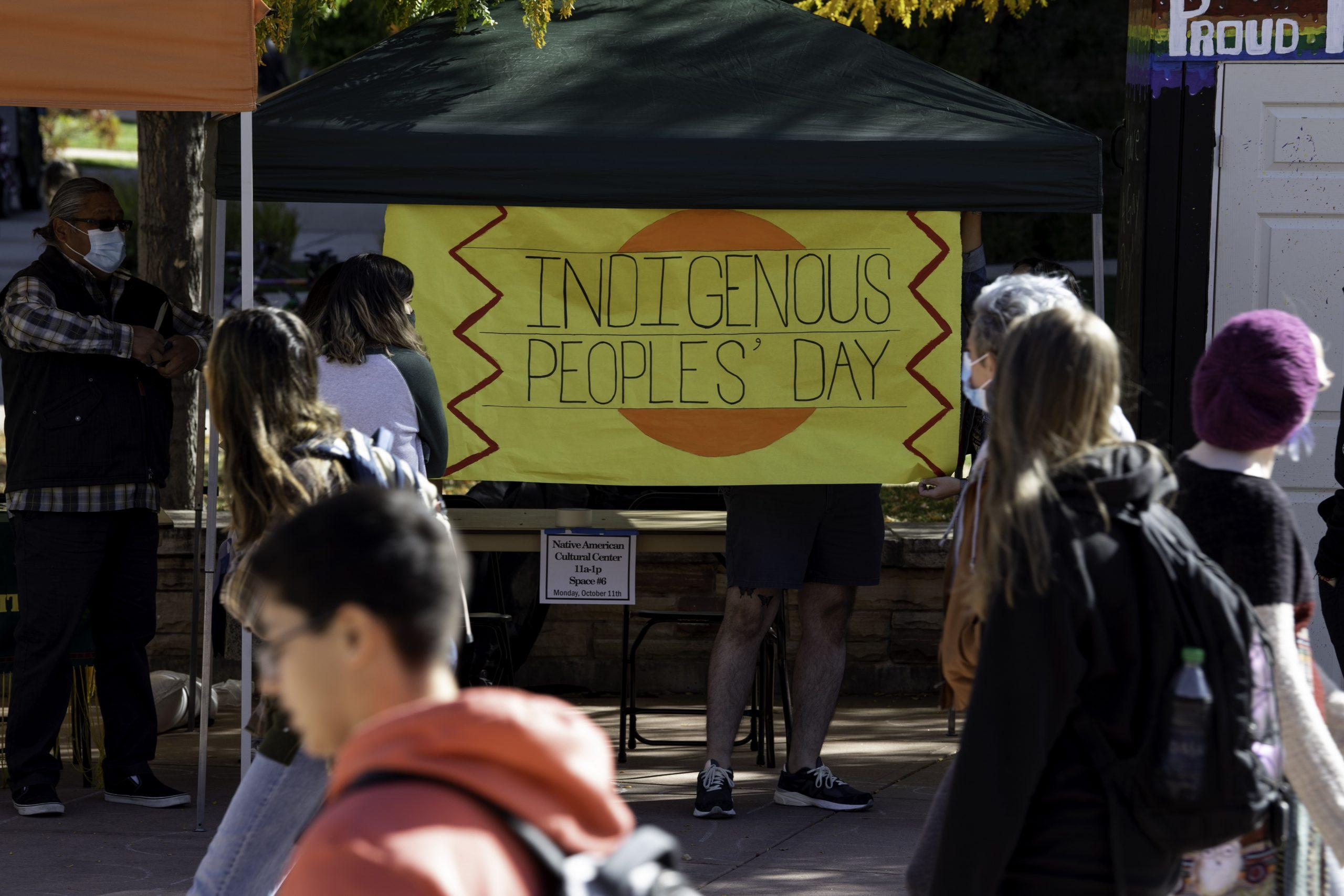 The Colorado State University Plaza saw multiple celebrations Oct. 11 as the University community recognized both Indigenous Peoples' Day and National Coming Out Day.
CSU's Native American Cultural Center celebrated Indigenous Peoples' Day with tabling on The Plaza and a virtual speech given by Indigenous artist and activist Tanaya Winder.
Officially a national holiday due to a proclamation issued by President Joe Biden Oct. 8, Indigenous Peoples' Day often acts as a replacement to Columbus Day, which is meant to mark the day Christopher Columbus arrived in what is now known as the Americas.
"I think that (the proclamation is) a really great step toward reconciliation for Native peoples, and I'm also just really grateful that we can have this day, especially on campus," said NACC peer mentor Rasa Humeyumptewa. "(It's) a great way … to really show that we're resilient and we're still here and we're still present and that despite everything that's happened to us, that we're still able to really connect with our cultures and continue to practice them."
The tabling Monday afternoon gave students the chance to come together to celebrate with snacks, stickers and conversation, and the Pride Resource Center tabled alongside NACC in celebration of National Coming Out Day. Highlighting the Indigenous Peoples' Day celebration was a speech Monday evening from Winder, which allowed students to reflect on their identities and purpose in life. 
Winder is a poet, singer/songwriter, educator and motivational speaker who grew up in Ignacio, Colorado, on the Southern Ute reservation. According to her website, Winder has an intertribal background of Pyramid Lake Paiute, Southern Ute, Diné and Black heritages and is an enrolled member of the Duckwater Shoshone Tribe.
You never know who's watching you … being inspired by you, being empowered by you being in that room and making space for people to take up space." -Tanaya Winder, Indigenous artist and activist
Currently, Winder works as the communications associate director at Conservation Lands Foundation and is an adjunct professor at the University of New Mexico.
During her speech, Winder shared original poetry and explained the instances in her life that inspired her to write the specific poems as well as some of the lessons she has learned from her family and life experiences. 
"Poetry and storytelling, it allows you to put the pieces of yourself back together, because you get to decide," Winder said. "All the things that have happened to you in the past, you get to decide what meaning they have in your life."
Winder said that for her, writing is like a certain kind of magic, or medicine, and it is what she finds her purpose in. Winder said she calls everyone's purpose their heart work, and that she found hers by following what helped her heal, empowered her and brought her joy.
"For me, I call it heart work because I feel like each of us was born with a purpose; each of us was born with a voice and a story, and that voice is worth sharing," Winder said.
She added that exploring not only what you are good at but what you want to be good at and encouraging others to do the same is how someone can find their own heart work.
"You never know who's watching you … being inspired by you, being empowered by you being in that room and making space for people to take up space," Winder said. "Making them feel like it's OK to take up space — because it is." 
For Arielle Quintana, a doctoral student and NACC peer mentor, celebrating Indigenous Peoples' Day includes wearing art by Indigenous artists, speaking her native language and amplifying Indigenous voices and stories, she said.
"For me, Indigenous Peoples' Day means a celebration of the resistance, the sacrifice, the survivance, the genius, the brilliance, the intelligence, the beauty of Indigenous peoples here now, in the past and forevermore," Quintana said.
Quintana said she was looking forward to hearing Winder speak and experience the story of Indigenous peoples thriving in the world, which she said is a story that largely goes untold. 
"So if you're an Indigenous relative or a niece or nephew out there, I encourage you to use your voice, to ignite your fire, to honor your heart work," Winder said. "Do what you feel like you're meant to do during this time on Earth, to use the gifts you've been given."
Serena Bettis can be reached at news@collegian.com or on Twitter @serenaroseb.