Engineering college namesake Walter Scott Jr. dies at 90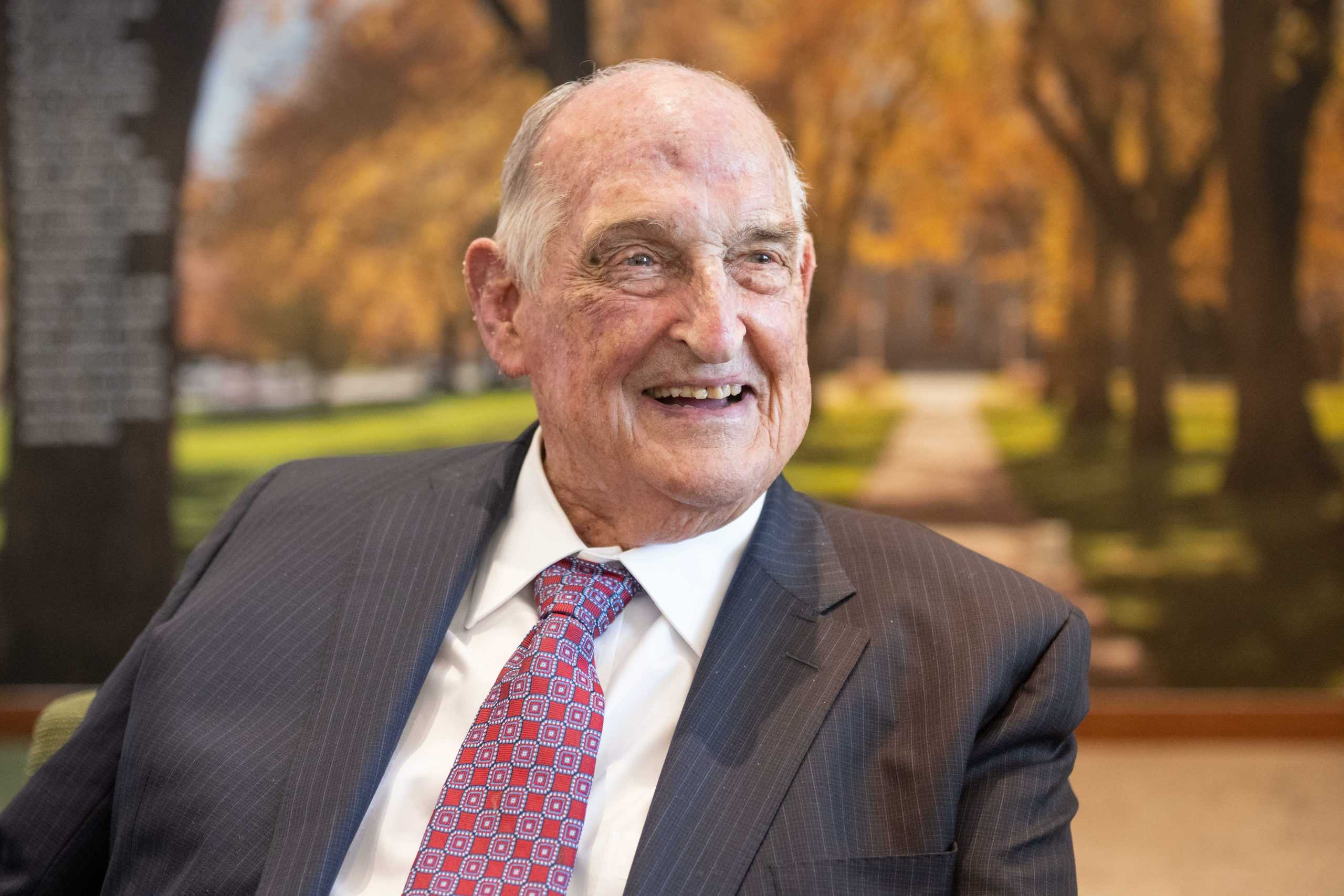 Last week, Colorado State University lost one of its most generous and accomplished alumni.
Walter Scott Jr., for whom the Walter Scott Jr. College of Engineering is named after, died in his hometown of Omaha, Nebraska, Sept. 25. Scott was 90 years old and died surrounded by family.
After graduating from CSU's civil engineering program in 1953, Scott went on to work in construction and had success in company leadership. He started work as an engineer at Peter Kiewit Sons' Co. and became CEO of the company in 1979, a position he held for nearly 20 years.
College of Engineering Dean David McLean said he worked with Scott numerous times throughout his tenure at CSU. Each time they would meet, McLean said Scott was very thoughtful and intentional with his work and interactions.
"It's been one of the great privileges of my career to get to interact with Walter Scott; he's a remarkable person," McLean said.
According to a CSU SOURCE article dedicated to Scott's memory, Scott became an Honor Alumnus in 1982, was given the William E. Morgan Alumni Achievement Award in 2014 and the University gave Scott an honorary doctorate in 2003. In 2018, CSU awarded Scott with the Founders Day Medal.
"Walter had a big-picture approach to philanthropy and loved envisioning the possibilities for CSU's engineering programs," CSU System Chancellor Tony Frank told SOURCE. "He became an adviser and then a friend. His long-term impact on the University is incalculable."
Throughout his lifetime, Scott donated $64.2 million to the University, McLean said. In 2013, he helped make the engineering college's dream of a new building a reality by contributing to what is now named the Suzanne and Walter Scott Jr. Bioengineering Building, and in 2016 the University named the College of Engineering after him. 
"In the most sincere terms, (his philanthropy) truly changed the path and the future of the college," McLean said. "It's really transformed engineering here at CSU."
McLean said Scott gave his first scholarship to an engineering student at the University in 1983. CSU still has scholarships for students through Scott's name, which ask potential recipients about what they have done to embody the philosophies of life most important to Scott. McLean said Scott lived his life focusing on three values: excellence, leadership and citizenship.
Scott was very intentional with his philanthropy, McLean said, and he always worked to give back to the community and create a better society. McLean also said this is why he donated so much in scholarships and facility funds to CSU.
"His thought about this is if you get an education, you can go out and you can be productive and you can give back," McLean said. "It's basically multiplying the effect of his investments in scholarships."
McLean said the Bioengineering Building is set up as a space for all engineering students to work and learn in, and it provides state-of-the-art technology for students to engage with.
"The whole design of this building from the very beginning was around collaboration, and I think … (our students) would go and point to this as one of the highlights of their time getting their education at CSU," McLean said.
In addition to his contributions to CSU and his time at Kiewit, Scott worked on many projects with businessman and childhood friend Warren Buffett, McLean said. According to the Omaha World-Herald, Scott and his second wife, Suzanne, were also major philanthropists for civic endeavors in Omaha.
"In the case of investing in the students of CSU, I hope my investment helps develop the next generation of leaders, those who will do great things for our country," Scott said at the 2017 naming ceremony for the engineering college. "My job is done — now it's up to you to make sure that my investment lets you do great things."
Serena Bettis can be reached at news@collegian.com or on Twitter @serenaroseb.