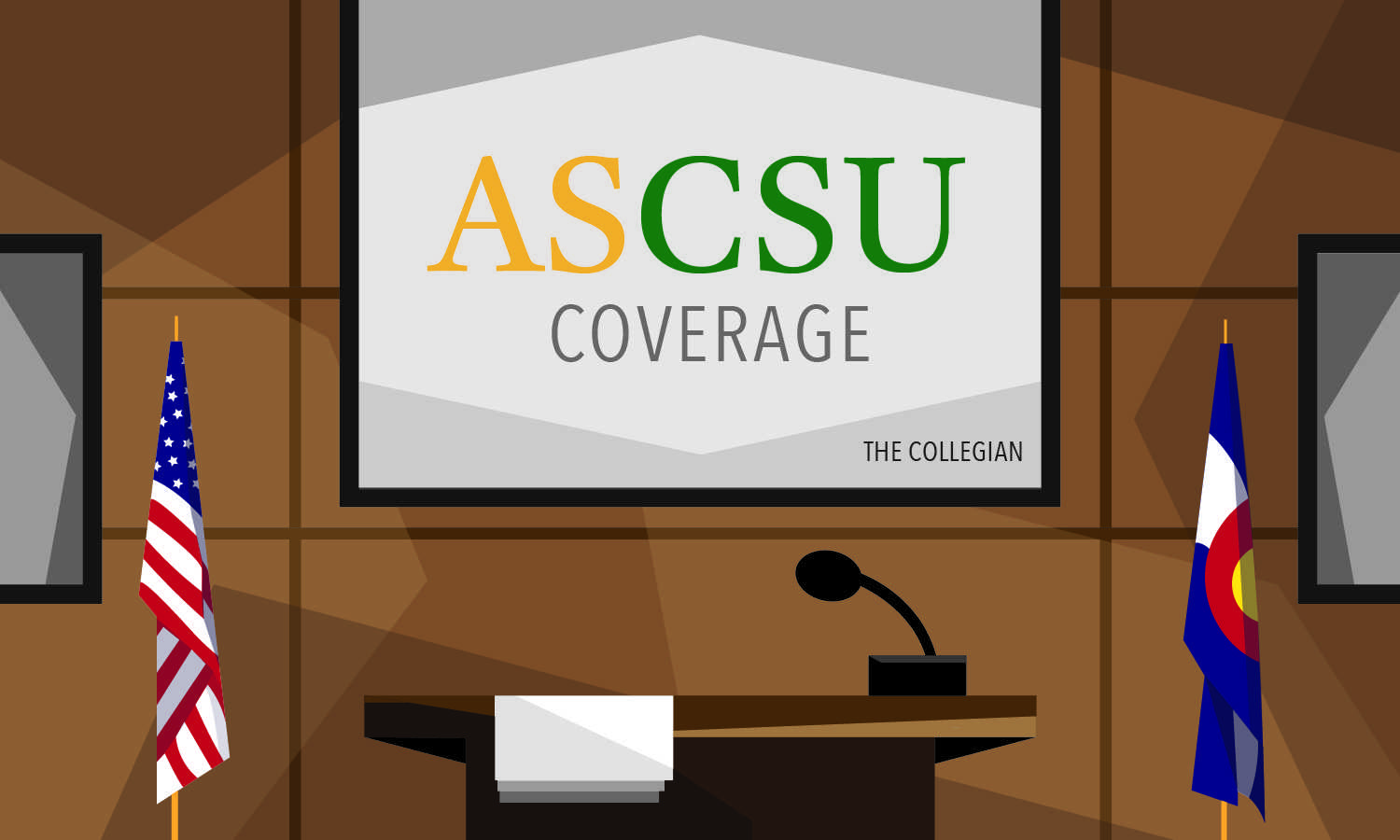 The Associated Students of Colorado State University  convened Oct. 6 for their sixth meeting of the semester. ASCSU swore in two new senators, heard from guest speakers including the League of Women Voters and CSU's Housing & Dining Services, and ratified ten members of the Student Fee Review Board.
ASCSU swore in Kimberly Carracedo as a senator of El Centro and Samantha Bilodeau as a senator of Adult Learner and Veteran Services.
The League of Women Voters of Larimer County gave a presentation during which they explained their organization and asked how they could collaborate with ASCSU.
According to the presenters, the mission of the League of Women Voters is to encourage "the informed and active participation of citizens in government," work "to increase the understanding of major public policy issues" and influence "public policy through education and advocacy."
The League has various teams, including the international relations team, legislative action team, civil liberties team, diversity, equity and inclusion team and voter services team, that do civic engagement.
"The League of Women Voters is an organization fully committed to diversity, equity and inclusion in principle and in practice," said Pam Turner, co-chair of the diversity, equity and inclusion team of the LWV of Larimer County. "It is central to the organization's current and future success."
The League also spoke about how everyone is welcome to participate in the organization.
"So what our point of view is is that every single person of every single kind is welcome to participate in the League of Women Voters," Turner said.
The League ended their presentation by asking ASCSU members how the League could be of service to them, how they could collaborate with ASCSU, if there are any areas they felt the League isn't addressing that affect them or their generation and if there are any presentations they'd like to see in the future.
"We want to form partnerships with you like we did with … ASCSU on voting registration and on rank choice voting," said Linda Thomas, who works with the voter services team. "We want non-partisan groups because that's what we are; we obviously have some shared interests and goals. We can help with education or something that maybe you're trying to promote."
ASCSU also heard from guest speakers Mari Strombom, executive director of Housing & Dining Services, and Lucas Miller, senior associate director of operations for Dining Services. Strombom and Miller addressed recent issues related to the dining halls, including concerns about working conditions and lack of staff.
According to Strombom, all areas of Housing & Dining Services are struggling with hiring right now. The all-you-care-to-eat service at Durrell closed; however, Durrell Marketplace and Cafe and Express at Durrell are still open.
"We moved those staff members over to other venues to help us with keeping those venues operating as strong as possible,"  Strombom said.
Sanskar Vyas, ASCSU deputy director of international affairs, raised concerns about student employees having a place to make complaints.
Vyas spoke about how he believes employees should have a place where they can document complaints, "have an entire documentation of who heard these complaints and what they did" and to "have someone tasked with the responsibility of making reports on these issues."
"This will allow Housing & Dining to also know that these are the complaints that are going over," Vyas said.
Students can find job listings for CSU's Housing & Dining Services on Handshake.
Later, ASCSU ratified ten members of the SFRB. These members included senators Evan Welch, Elijah Sandoval and Jasper Sloss. All candidates were unanimously voted in, and the new members were sworn in by Chief Justice Erin Freeman.
"The reason I joined this year was because I want to continue to help students as much as possible, and I think this is one of the best ways to help those students," Welch said.
ASCSU voted to table legislation for the night.
Piper Russell can be reached at news@collegian.com or on Twitter @PiperRussell10.