Roundabout reroutes Rams: Your questions answered
Isaiah Dennings
September 8, 2021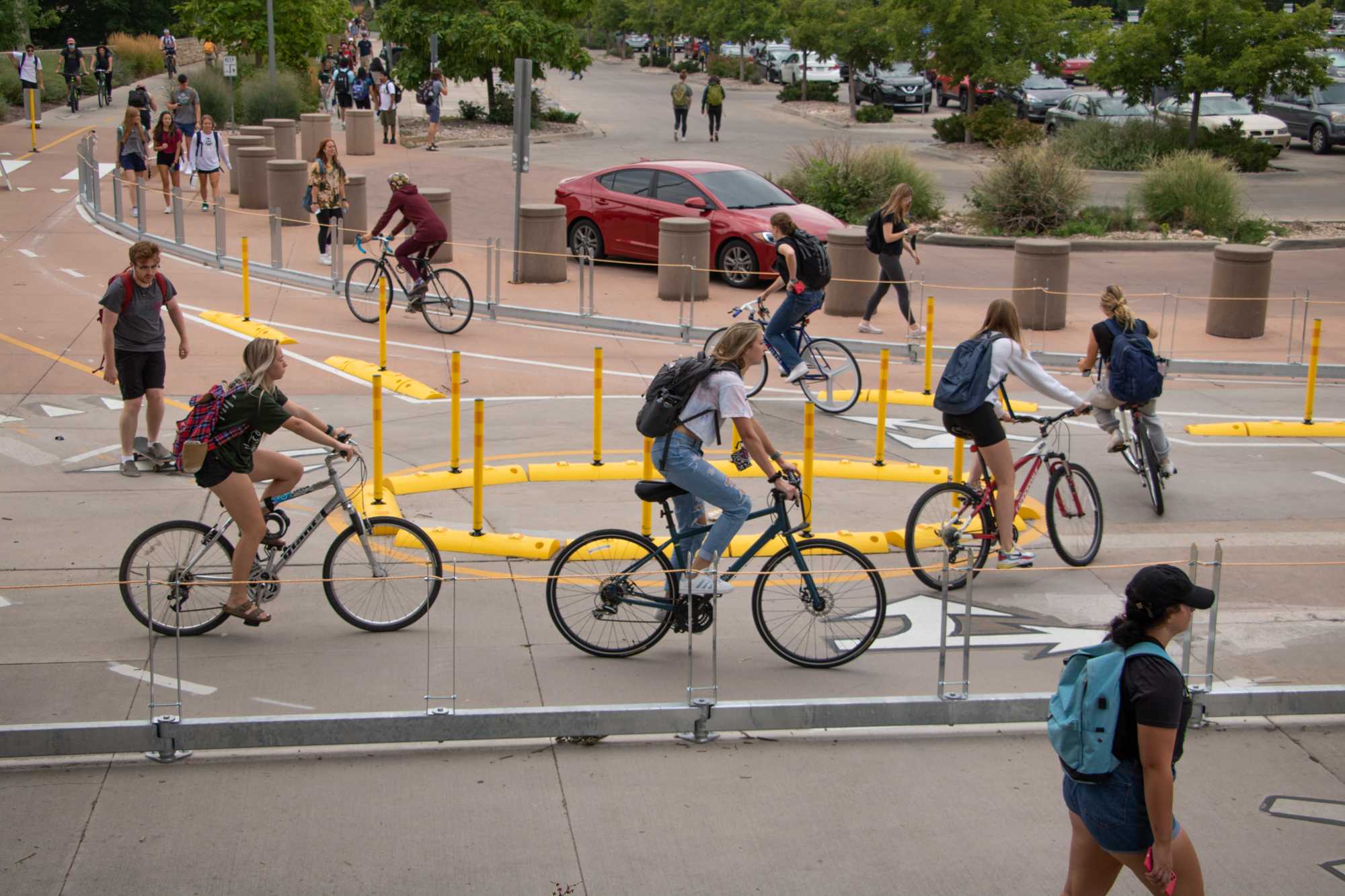 Colorado State University made a major change to campus infrastructure this semester with a new roundabout that was built between the Lory Student Center and Morgan Library.
This intersection between University Avenue and Green Trail is one of the most heavily trafficked zones on campus, and the roundabout aims to make this area safer; however, some students don't think it's necessary and find it more obstructive than helpful. 
The President's Vision Zero Task Force , a relatively new entity on campus that formed at the decree of CSU President Joyce McConnell following the death of first-year student Anthony "TJ" Avery in August 2019, implemented the roundabout, according to the Office of the President's website. Avery was hit by a motorist and died from his injuries shortly after.
The task force's mission is now to minimize the amount of traffic-related accidents and deaths on campus and ultimately get it to zero, said Fred Haberecht, a member of the task force and campus planner who has worked at CSU for 20 years.
The task force refers to the area between the LSC and Morgan Library as the "Library Knuckle" and has seen it as a high-risk area for years, Haberecht said.  
"There have been multiple near-misses between bikes and pedestrians in this area, and a CSU staff member was seriously injured in the intersection in fall 2019 from a bike collision and needed months for recovery," Haberecht said. 
The roundabout creates a situation in which pedestrians are forced to take a different path than bikes, scooters, etc., and bikes are forced to slow down when maneuvering around the intersection. 
"The big idea is giving a safe and predictable route to pedestrians and deconflicting them from the paths of cyclists," Haberecht said. 
Not everyone agrees that the roundabout is productive in making traffic safer and efficient, with students voicing frustrations about it.
Cole Fisher is a junior double majoring in English and philosophy at CSU and remembers what campus was like during his freshman year, before the COVID-19 pandemic, when it was busy but devoid of a bike roundabout. Fisher said the new design made him feel less safe commuting to campus on foot by the LSC and library due to there now being less space for foot traffic. 
"They are prioritizing those on wheels more than people on foot even though the majority of the traffic through that intersection is on foot," Fisher said. "I don't think anyone from a sizable amount of the student body explicitly asked for or approved of this, but it affects everyone's way of getting around."
Fisher said student fees could have been spent elsewhere, and there was not enough reason to justify the roundabout.
Haberecht said the design was driven by the need for pedestrian safety and provides a larger, exclusive area for foot traffic. Haberecht also shed light on the funding for the roundabout and explained the project received collective support from the Associated Students of CSU and the CSU administration.
"The project has been funded from multiple sources like ASCSU, (the) Alternative Transportation Fee (Advisory) Board and then from the discretionary funds from the administration," Haberecht said. 
The task force proposed the roundabout along with several other infrastructure projects aimed at improving traffic safety on campus in a report from June 2020. 
"Our historical infrastructure does not meet our current needs," the task force wrote in its report. "Roadways have been converted, with nominal striping, to accommodate bicycles, scooters, skateboards, mobility devices, pedestrians and transit operations. Additionally, the sidewalks, bike trails and roadway cross sections weren't designed for today's volume of people."
Campus was originally built for access primarily by car and on foot, Haberecht said, and these new changes to infrastructure and culture are an attempt to retrofit CSU and accommodate all the new modes of transportation, including but not limited to bikes, scooters, skateboards and monowheels. 
"Many of the new infrastructure changes are a way to try and keep up with the contemporary use of campus," Haberecht said.
According to Haberecht, allowing these new types of transportation, especially the increase in bikes, while maintaining safety for pedestrians is the challenge that he and the rest of the task force face and aim to solve with the roundabout. 
Haberecht said students getting used to the infrastructure will take time, but it is only a matter of adapting human behavior and culture to surroundings. 
"I saw a student take a perfect turn on the roundabout, and it seemed almost fun to them," Haberecht said. "So people are adjusting to the pattern; all of these improvements on campus take a culture of Rams taking care of Rams, and this new behavior shows just that."
Isaiah Dennings can be reached at news@collegian.com or on Twitter @isaiah_dennings.