Hughes Land Back initiative responds to sweat lodge deconstruction
Austria Cohn
September 19, 2021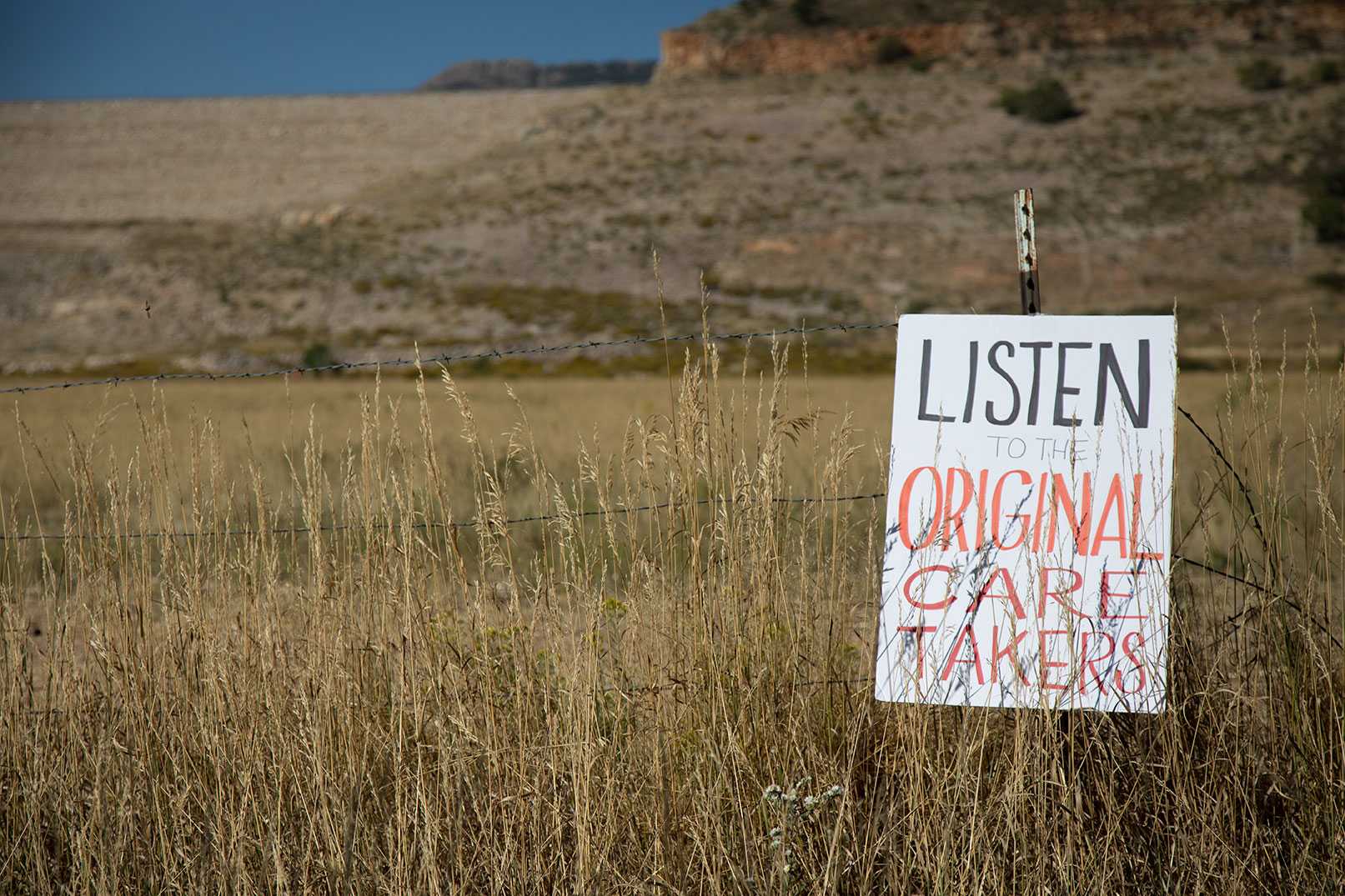 On Sept. 18, the Hughes Land Back initiative held a gathering and press conference to address the deconstruction of a sweat lodge that was used by Native American people. 
"Our fires have been put out and our drums have been silenced," said David Young, an Apache Tribe of Colorado with Genízaro Affiliated Nations spokesperson. "This is just not OK."
A sweat lodge is a sacred place for Native people to practice their spiritual beliefs.
The sweat lodge was located on the Hughes Public Open Land and was made on July 24. 
"This is not a surprise to the Native community, but it is still an insult," Young said. "It is a level of disregard and disrespect for those of us who have always been."
"We put our heart, soul and spirit within those sacred areas," said Kenny Frost, a private Native American consultant in the protection of sacred places and identification of sacred land. "Because of what happened and the destruction of that sacred place, part of your spirit is also destroyed."
The Native people who led the gathering said they did not know who deconstructed the lodge. 
"So how can you not be angry? How can you not feel sad?" Frost asked. "How can you not have feelings?" 
Young said they ask whoever is responsible to take accountability. 
The American Indian Religious Freedom Act protects the rights of Native Americans to exercise their religious beliefs and ensures access to sites as well as the ability to use and possess sacred objects.
The Native American Graves Protection and Repatriation Act also protects cultural items. It states that "federal agencies must follow a process for Native American human remains or cultural items removed from or discovered on federal or tribal lands," according to the National Park Service. 
We need these spaces where we can come unfettered — where we don't have to ask for permission- David Young, Apache Tribe of Colorado with Genízaro Affiliated Nations spokesperson
"The NAGPRA was passed in 1990, which gives us the right to have worship and pray anywhere we want on federal lands," Frost said. 
The gathering also discussed the Native peoples' involvement in the Hughes Land Back movement. Frost and Young want the land returned back to the Native people in Colorado, so they continue to pray and worship.
On Aug. 20, Colorado State University, the City of Fort Collins and the third-party Cottonwood Lands and Farms came to an understanding that CSU will sell the former Hughes Stadium land to the City for $12.5 million. 
In the agreement, CSU agreed to sell the land in exchange for 24 acres so they would be able to build faculty and student housing. 
According to a letter delivered earlier this month to CSU's Board of Governors and Gov. Jared Polis, the land was illegally given to CSU in 1957 under the Land Grant Designation.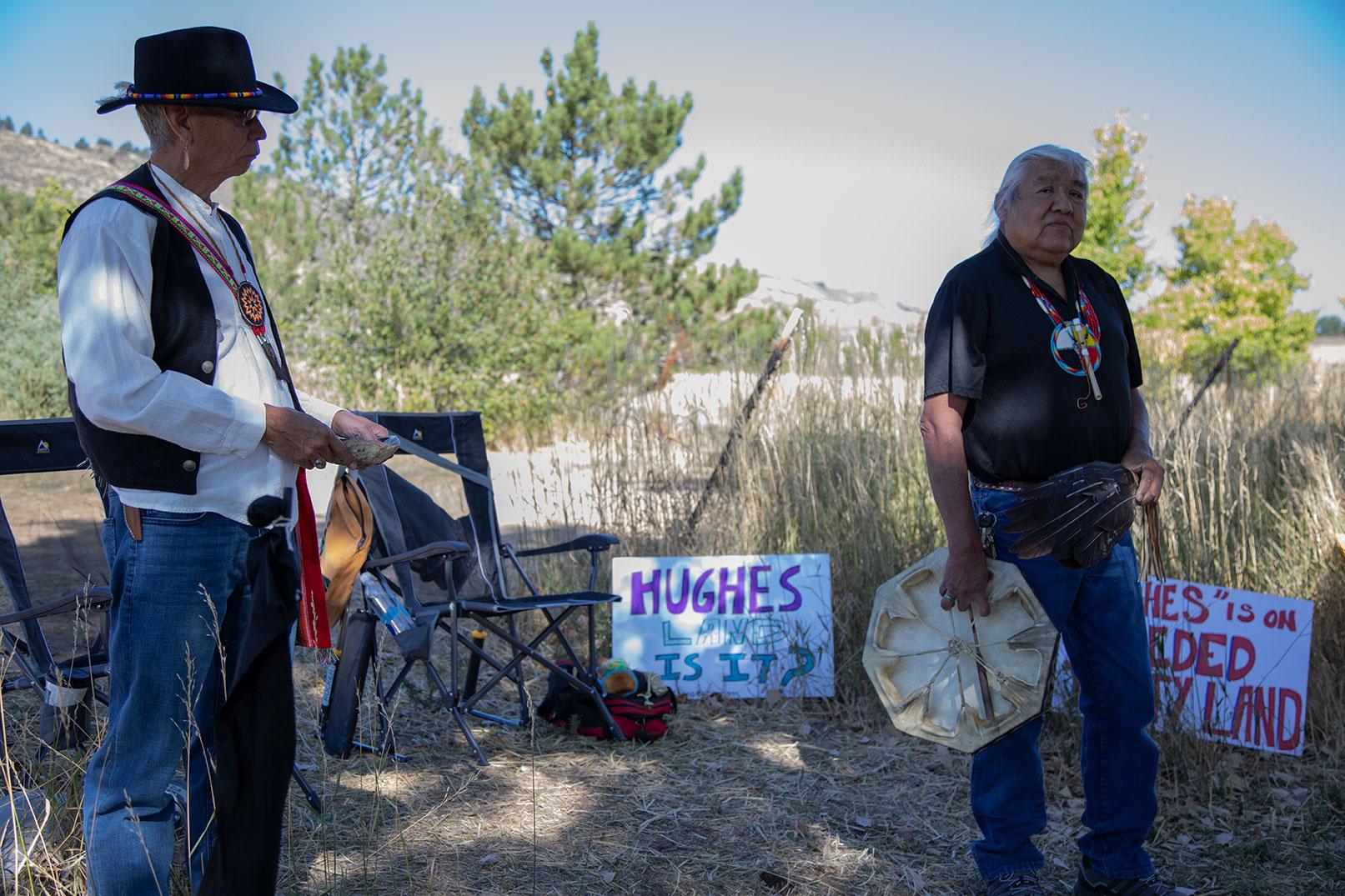 "We need these spaces where we can come unfettered — where we don't have to ask for permission," Young said. "Where we can just come and hold our ceremonies." 
"This is our land," Young said. "There were villages all along this Front Range."
The gathering took place at the "Twin Cottonwoods" located on the Hughes land, and there were prayer flags set up around the two tribal spokesmen.
"We set (flags) up in a particular way," said Christinia Eala, an activist for Native American rights. "We do that because then it creates order in our mind." 
During the gathering, Frost also passed around smudge (burning herbs) so everyone in attendance could bless themselves.
Native peoples that are part of the Land Back movement want the land so they can freely worship. 
"We're not asking for the land back so that we can build casinos," Young said. "We're not asking for the land back so we can build our own cities. … We need access to the land, to our ancestral home, so we can hold ceremonies. Step up and do the work that needs to be done. Help us achieve these objectives that we set up." 
For more information on future gatherings and press conferences, people can go to the Hughes Land Back webpage.
Editor's Note: This article has been corrected to reflect the proper title of Kenny Frost. 
Austria Cohn can be reached at news@collegian.com or on Twitter @AustriaCohn.