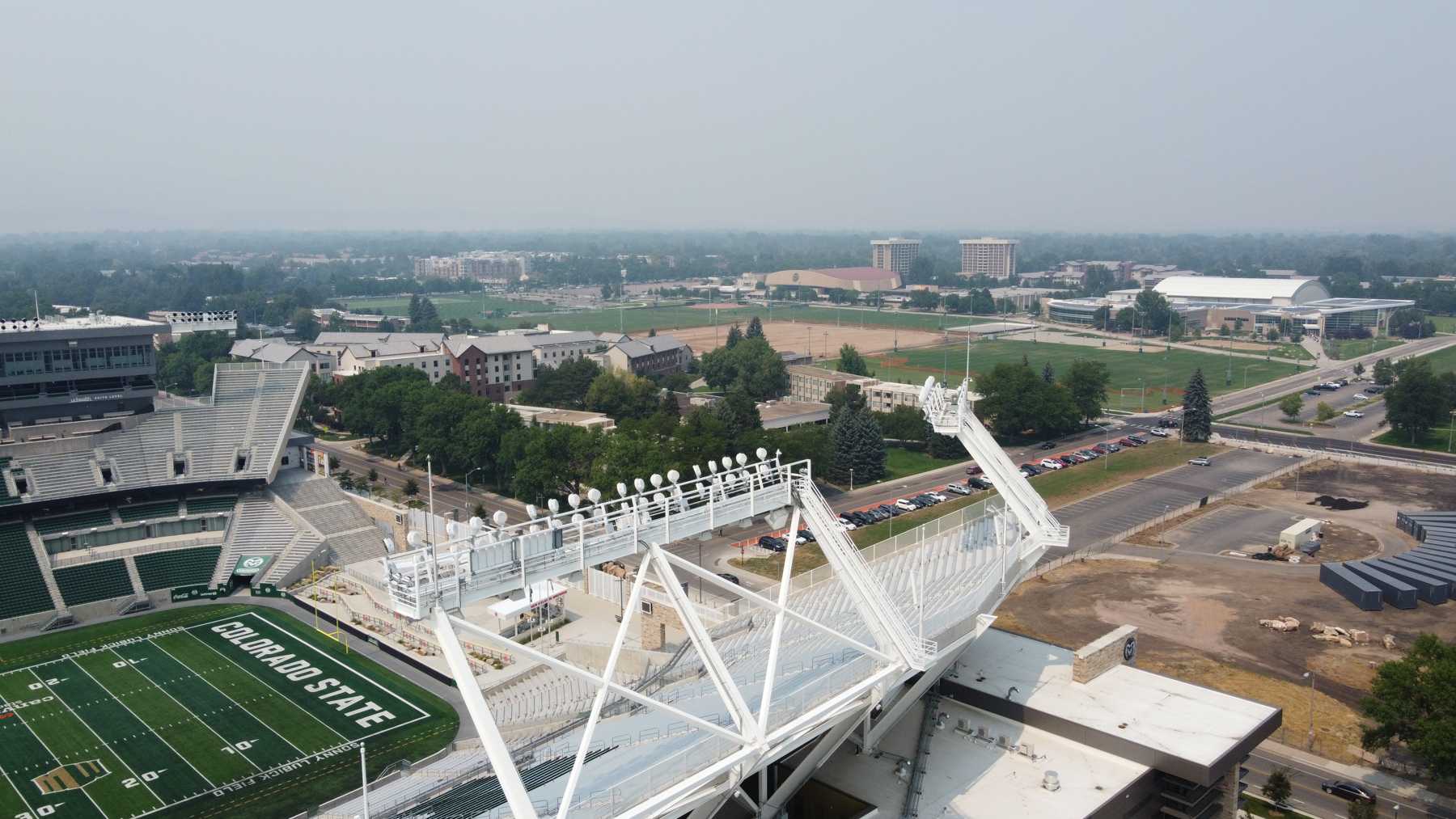 Fort Collins residents are no strangers to waking up with scratchy throats from poor air quality. Fort Collins was recently ranked the 17th-worst city in terms of high ozone days, according to a new report from the American Lung Association, bypassing its 2020 placement of 19th-worst. 
"The primary sources contributing to ground-level ozone pollution are oil and gas and transportation," Lea Schneider, Larimer County environmental health planner, wrote in an email to The Collegian.
Jeffrey Pierce, a professor at Colorado State University's department of atmospheric science, explained that nitrogen oxide from car pollution mixes with volatile organic compounds leaked from the oil and gas industry in Colorado on hot days, creating the ozone we experience in Fort Collins.
"In the wintertime, we can have high particulate matter concentrations due to NOx emissions and ammonia emissions in the area," especially on cold mornings when these chemicals settle near the Earth's surface, Pierce said.
Fort Collins has had particulate matter pollution due to nationwide wildfire smoke, Schneider wrote.
"Last year, it was both local from the Cameron Peak fire and long-range transport from the West Coast," Pierce said. "This year, it has been entirely California and the West Coast. The amount of particles in the air is about five or six times worse than it normally is."
Fort Collins' future pollution ranking may not be going down any time soon. According to Pierce, this is due to wildfires.
Pierce said the air has "lost that campfire smell," so citizens are often unaware of smoke conditions day-to-day. Residents can check air quality through AirNow.gov or IQAir.com. However, pollution from ozone and wildfire smoke is having an effect on polluted-city residents' health nationwide.
"Though we do not have the current local data on incidents of health outcomes related to air quality, it is scientifically proven that elevated levels of ozone and particulate matter can cause respiratory issues and exacerbate existing respiratory and cardiovascular health conditions," Schneider wrote.
"Through detailed epidemiological studies, we do know that when wildfire smoke hits, hospitalizations for asthma go up; inhaler refills for asthma go up," Pierce said. 
He recommended staying inside, especially to exercise, and using air filters or purifiers, especially MERV 13 filters, which help remove more particulates than other filters. Pierce said these actions can help reduce smoke pollution at home, and wearing masks with filters can also help reduce irritation from smoke inhalation outside, according to Pierce.
Fort Collins' future pollution ranking may not be going down any time soon. According to Pierce, this is due to wildfires. He said earlier snowmelt gives wood more time to dry out during hot, dry summers, and it becomes fuel for wildfire. Wildfires are expected to become more severe and frequent in Colorado due to decreased snowpack and increased drought conditions, according to Colorado Public Radio. 
Decreasing carbon emissions can help offset the effects of these conditions, the article says. Pierce and Schneider agreed that driving less will help reduce ozone pollution in Fort Collins. 
A recent article from The Denver Post suggested pollution due to smoke and ozone levels in the state is currently the lowest it will be in coming years, even though it is at an all-time high.
"I'm cautiously optimistic that cars will continue to get cleaner; maybe the oil and gas industry will leak less," Pierce said. "Although with climate change, things are getting hotter, and that gives a tendency for things to get worse." 
Noelle Mason can be reached at news@collegian.com or on Twitter @noellemaso.