CSU sees 3rd-highest fundraising year on record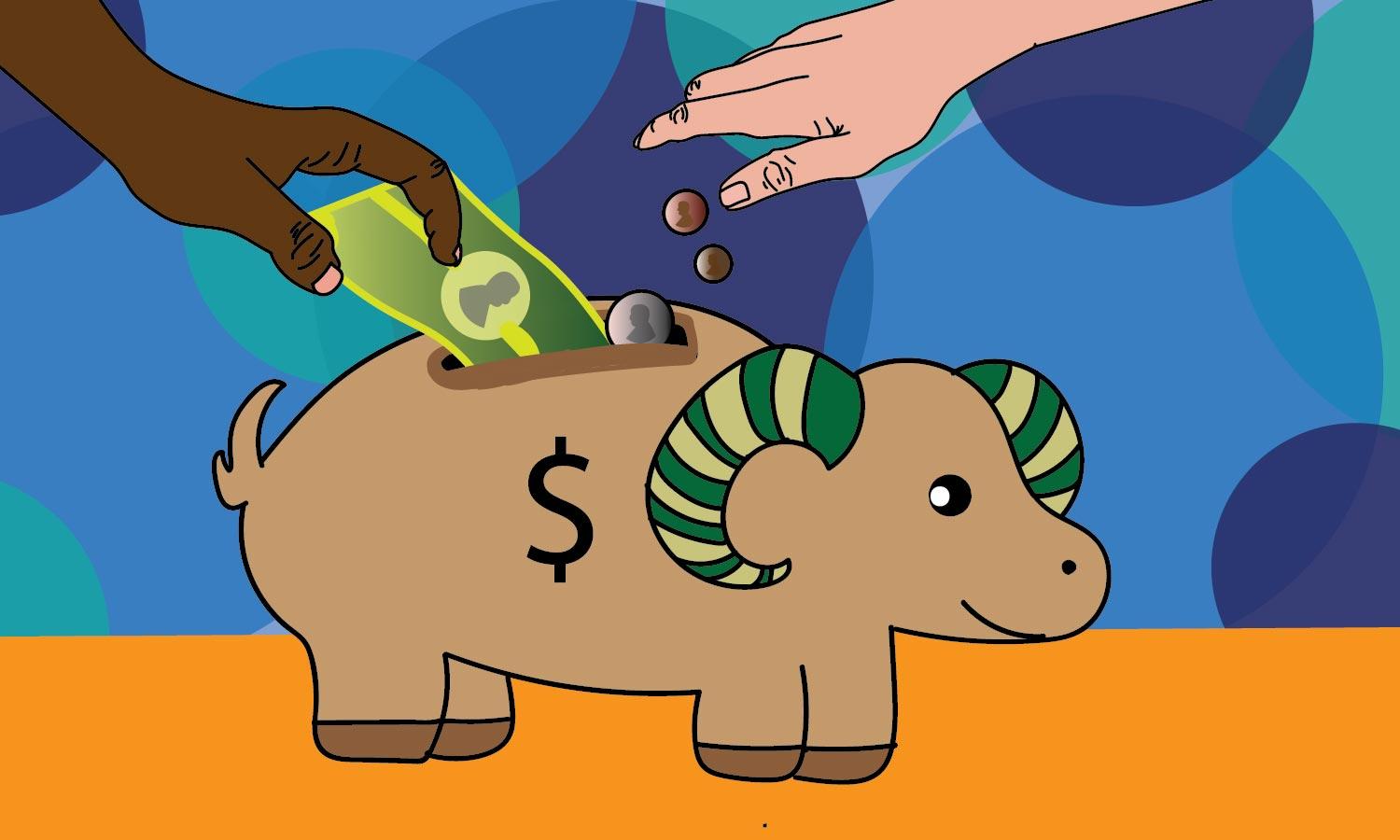 Even with the challenges presented during the COVID-19 pandemic, Colorado State University has had its third-highest fundraising year ever.
28,078 donors, about 7,000 of which were first-time donors, gave over $178 million to CSU students, programs and faculty.
"The act of giving is a choice to believe and invest in the potential of humankind," said Matthew Helmer, assistant vice president and chief communications officer for University Advancement at CSU. "Doing so during a crisis such as a worldwide pandemic reflects a hopeful optimism that tomorrow will be better and that, through a community such as CSU, we all can be part of creating it."
According to SOURCE, throughout the fiscal year, 2,375 donors gave $271,595 to Rams Against Hunger, an organization that helps CSU community members experiencing food insecurity, including a meal-swipe program, a food pantry, pocket pantries and assistance with federal aid eligibility.
"The surge in giving we experienced to emergency and crisis funds on campus was truly inspirational, as it provided a safety net to sustain our community during an uncertain time, ensuring the learning and teaching at the heart of CSU's mission could continue," Helmer said.
377 donors gave $253,240 to Ram Aid. Ram Aid also received an anonymous donation of $1 million in spring of 2020.
Ram Aid was founded in 1991 to help low-income students cover unexpected expenses related to their attendance at CSU that may otherwise cause a student to drop out. This program helps with emergency expenses that go beyond food.
294 donors gave $90,752 to CSU's CARE Program, an aid program for CSU employees. The program provides employees with information on organizations in Northern Colorado that offer low-cost or no-cost services related to health care, food, clothing, housing, transportation and more.
Philanthropy represents the difference between excellence and the status quo at CSU." –Kim Tobin, vice president for University Advancement 
CSU also received a $2 million grant from The Anschutz Foundation, a donation to upgrade CSU's Instrument Rehearsal Hall's acoustics, $6 million to fund two new service chairs at the Veterinary Teaching Hospital and $1 million for the Center for Human-Carnivore Coexistence.
Helmer said the mission of University Advancement is to "connect alumni and donors with their passions at CSU."
The University Advancement team partners with the eight colleges and administrative units at CSU — including Student Affairs, Athletics, Research and the Division of Enrollment and Access — to identify priorities that align with donors' interests.
"Donors choose what's important to them and are able to direct their generosity to support this at CSU," Helmer said.
Helmer said this system of fundraising is why donations are reflected across CSU's entire campus.
"Philanthropy represents the difference between excellence and the status quo at CSU," said Kim Tobin, vice president for University Advancement. "When donors choose to give, they invest in a more hopeful future, whether that's providing scholarships to help students achieve their academic dreams, supporting the members of our community facing food insecurity through Rams Against Hunger or boosting infectious disease research that combats worldwide pandemics. Every gift matters and every gift makes a difference in how CSU fulfills our land grant mission."
Piper Russell can be reached at news@collegian.com or on Twitter @PiperRussell10.