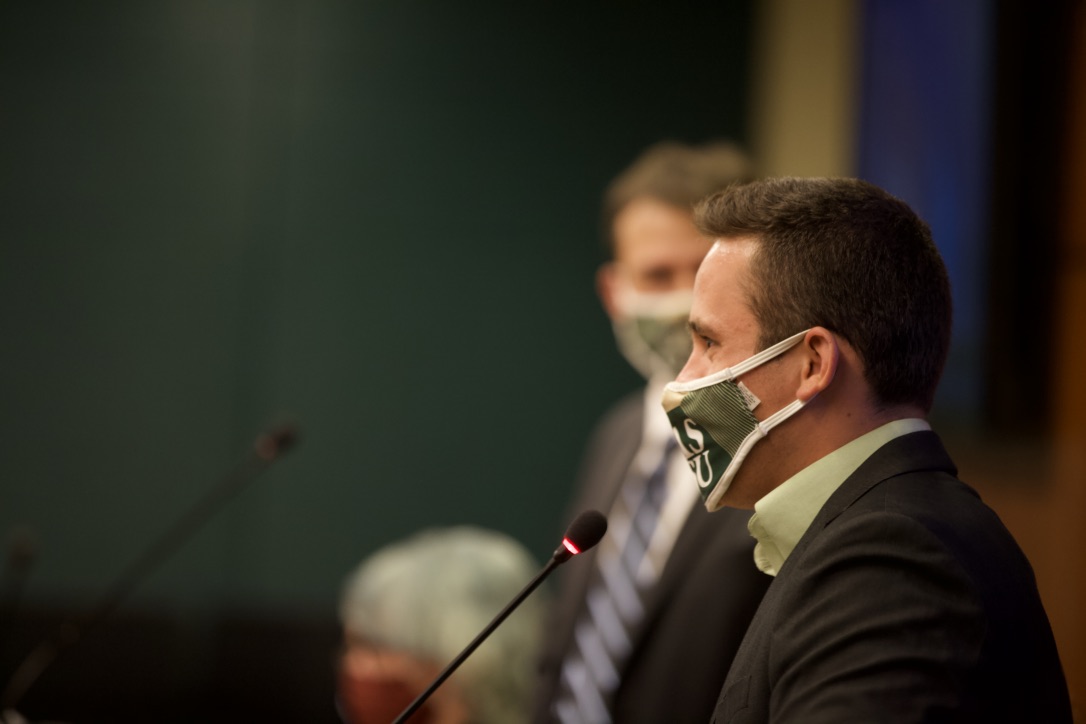 The Associated Students of Colorado State University held their fifth senate meeting of the school year on Sept. 29. 
The meeting began with a call to order and the swearing-in of three new senators. Two of these senators were sworn in for the College of Liberal Arts, and a third was sworn on for the College of Health and Human Sciences. 
Following the ratification of new senators, the senate heard a presentation from Alternative Transportation Manager Aaron Fodge regarding the West Elizabeth Corridor Engineering Design Project. 
This project would create a Bus Rapid Transit system to enhance transportation services along a fixed route in a high-concentration area. According to Fodge, the majority of students who live off campus are concentrated along West Elizabeth Street, with many of them utilizing the transit system.
"Our decision was to apply for a grant with the City to design this corridor or to be the second MAX corridor or bus rapid transit in Fort Collins," Fodge said. 
The senate then heard from Director of Specialty Counseling Services Lisa Miller and Interim Director of Campus Safety and Security Wendy Rich-Goldschmidt regarding the Community Support Program. This program partners a CSUPD officer with a mental health clinician responding to calls together, a model referred to as "co-response." 
"It's no longer surprising to me why ASCSU is seen as an exclusive space that is inaccessible and avoided by many students at CSU- Charlie Williamson
"This idea at the time of crisis to have some additional tools onboard through a mental health counselor is to follow up with some care and referrals to resources on campus and in the community," Miller said. "The hope is to divert and redirect from ERs and the criminal justice system and to increase the safety for everyone who is on scene." 
The meeting then pivoted to gallery input, where transfer student Rachel Hernandez questioned why CSU still pays student employees minimum wage.
Hernandez argued that students who need to work part-time jobs in order to survive may have to skip class in order to work enough to make ends meet, which can create academic problems. 
Charlie Williamson then spoke about the 11 demands presented by #CallOutCSU in response to instances of hate speech on campus and what they feel is a "toxic" culture within the ASCSU Senate.
"It's no longer surprising to me why ASCSU is seen as an exclusive space that is inaccessible and avoided by many students at CSU," Williamson said. "Many of our organizers do not wish to enter the space again, students present in the gallery, both virtually and in-person, were uncomfortable, intimidated and scared. Students you represent do not feel safe here."
Williamson explained that the 11 demands brought forth by #CallOutCSU have been tabled and will not be brought back to the Senate floor "until inclusivity work is done by the organizers, and we feel confident in our movement and especially in our representation within the Senate."
Later, ASCSU President Christian Dykson presented the meeting's executive report and Chief Justice of the Supreme Court Erin Freeman presented the judicial report. 
During committee reports, Budgetary Affairs Committee Chair Lizzy Osterhoudt apologized for the "tense" atmosphere in last week's committee meetings. 
"I just want to apologize and just say that there were members of my community who came up to me after telling me how they did feel racially traumatized and silenced in that space," Osterhoudt said. "What happened in committee was, honestly, my most racially traumatic experience in that space, and I've been here for a long time."
The meeting then switched gears to cover logistical items within the senate, such as tabling and timesheets and senator and associate senator reports. 
Osterhoudt used her time to call attention to Orange Shirt Day on Sept. 30, which is intended to raise awareness of the negative impact residential schools have had on Indigenous children, as well as Indigenous People's Day on Oct. 11. 
The Senate meeting concluded with no legislation to be passed or new business to attend to.
Natalie Weiland can be reached at news@collegian.com or on Twitter @natgweiland.