ASCSU convenes to swear in senators, discuss meeting procedure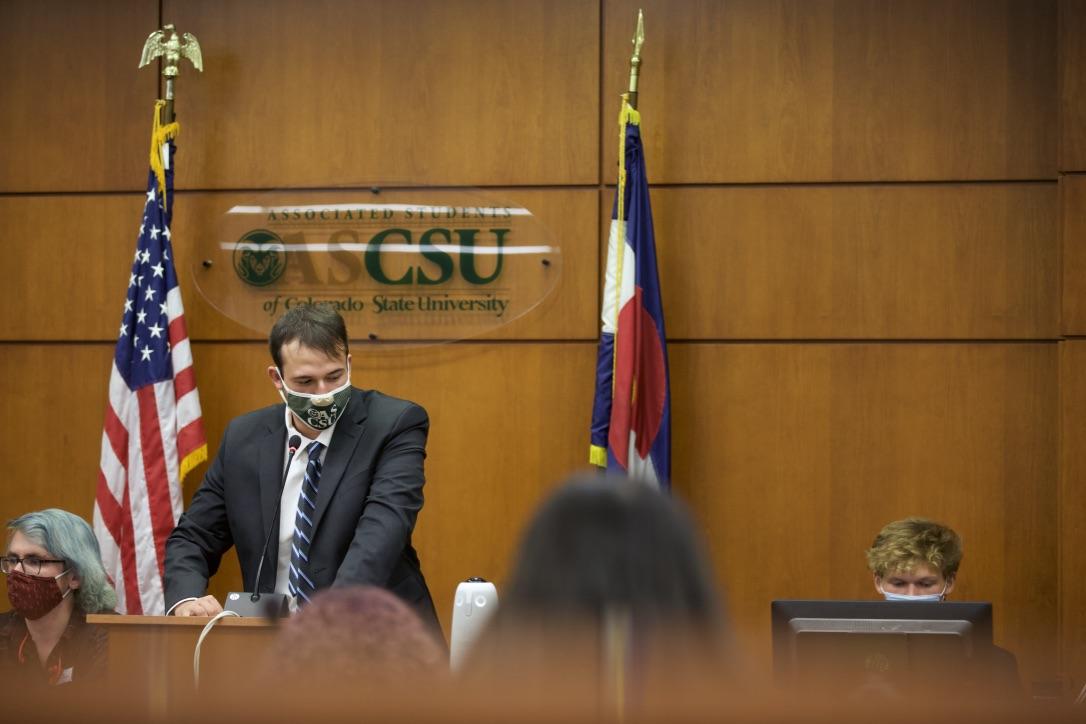 The 51st senate of the Associated Students of Colorado State University convened on Wednesday, Sept. 8, for their second session of the semester to swear in two new senators, discuss plans and goals for the semester ahead and debate policies and procedure.
Rob Long was sworn in as a senator of the College of Business and Elijah Sandoval was sworn in as a senator of the Black/African American Cultural Center.
In his executive report, ASCSU President Christian Dykson spoke about the importance of senate committees and his goals to create opportunities for first-generation college students. 
"It's a powerhouse at this campus," Dykson said. "It's 90 committees that decision-makers look to, so if you don't have student voices and representation there, obviously those voices won't be heard."
Dykson also spoke about his goals to create opportunities for first-generation college students and create an intentional structure for their voices to be heard within ASCSU and the CSU System Board of Governors. Dykson said he's noticed that first-generation student's voices and testimony often aren't represented with the Board of Governors.
"My hope is that we can connect the dots there between CSU Global and CSU Pueblo and then CSU Fort Collins, to have a task force to really critically assess the plans that the Board of Governors have for the University as a whole related to first-gen issues," Dykson said.
Budgetary Affairs Committee Chair Lizzy Osterhoudt spoke about Native Women's Equal Pay Day on Sept. 8.
"It's really important to our community that we recognize the disproportionality that has affected Native women," Osterhoudt said.
Osterhoudt said the Land Acknowledgment is said at the beginning of every ASCSU meeting, but it is performative if nothing else is done to help Native people.
"We say the Land Acknowledgment in our spaces, yet there is no action being taken," Osterhoudt said. "This is just one step that we could make to really drive home the meaning behind the Land Acknowledgment because if we just don't do anything within our community, within this space, we're being performative."
ASCSU also debated procedure when Dykson made a motion, which was later rescinded, to have elections for the Legislative Strategy Advisory Board, a legislative task force that Dykson, the speaker of the senate, three members of the executive branch and three members of the legislative branch serve on.
"The reason it's so important is because it's the legislative arm of ASCSU while helping coordinate testimony at the state level, and sometimes the federal level, on legislation, helping write our stances on legislation and helping track legislation," Dykson said.
This prompted Osterhoudt to speak on the importance of following policy and procedure, as elections for the Legislative Strategy Advisory Board weren't on the agenda for the meeting.
"I'd like that we follow policy and procedures in this space, and it's unfair for us to be pushed into elections last minute," Osterhoudt said.
Anya Hartnett, the director of governmental affairs, said there was a miscommunication that resulted in the elections not being put on the agenda. Due to the amount of interest in the Legislative Strategy Advisory Board and procedure, the senate held the elections until next week.
Piper Russell can be reached at news@collegian.com or on Twitter @PiperRussell10.