600 show their colors at 3rd annual Fort Collins Pride March
Isaiah Dennings
July 19, 2021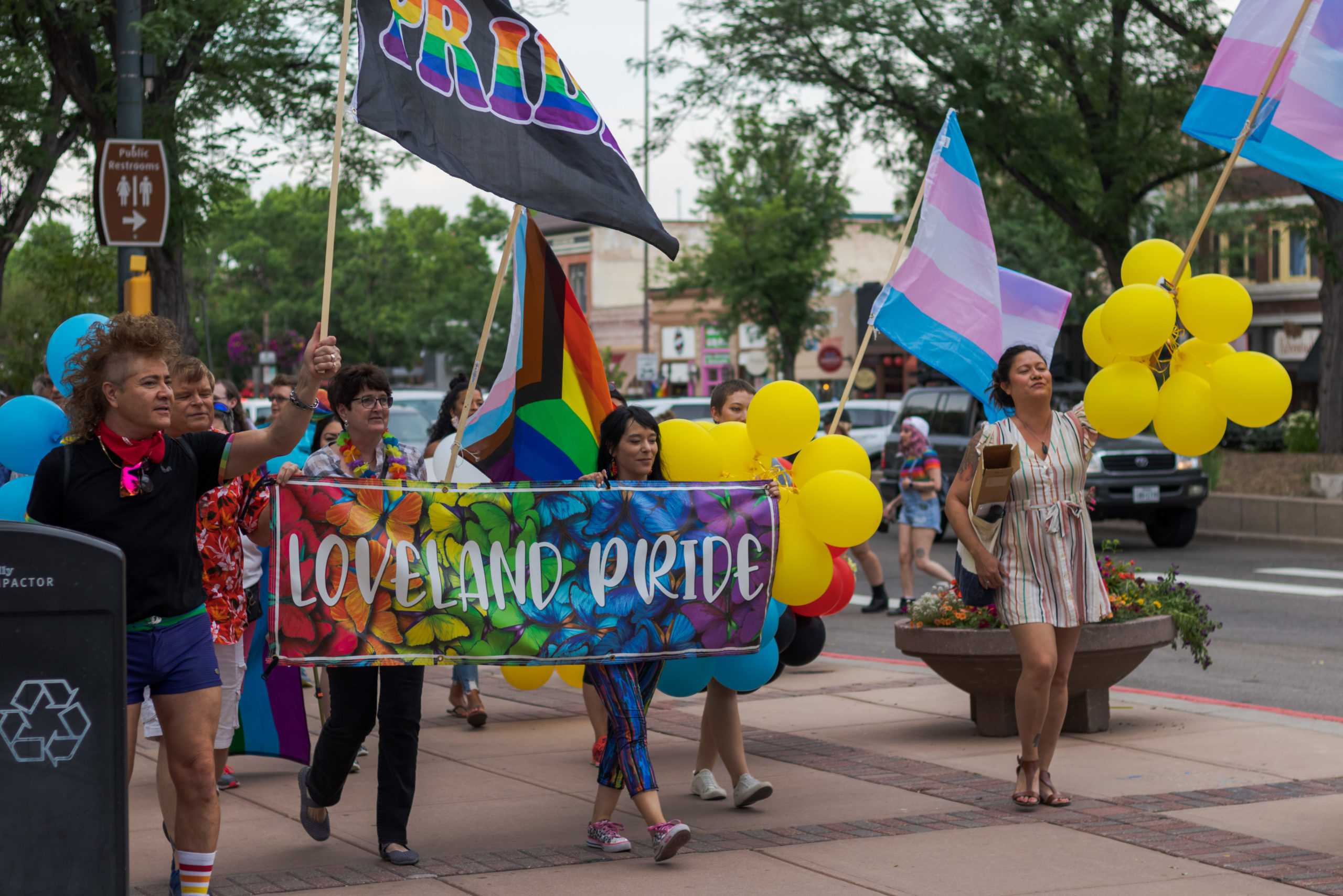 The phrase "out of the closet and into the streets" echoed through Old Town Fort Collins on Friday; it was a popular mantra among the demonstrators at the 3rd annual NoCo Pride March. The march was organized by NoCo SafeSpace, and it saw support from nonprofit SPLASH Youth. 
The march began in Old Town Square and attracted over 600 demonstrators, according to Kimberly Chambers, the founder of NoCo SafeSpace and the director of SPLASH Youth. 
Chambers uses NoCo SafeSpace to build up community and elevate voices that need to be heard. SPLASH Youth was founded in 2015 with a goal to provide queer youth within Northern Colorado a safe space to express themselves and connect with others like them. 
Demonstrators marched from Old Town Square down College Avenue all the way to Mulberry Street and back. Members of SPLASH Youth led the march while carrying flags that represented different queer identities. 
Star Frierose, a five year member of SPLASH Youth, was marching at the front and kept the same energy for the last leg of the march. Frierose is from Greeley, Colorado, and joined SPLASH Youth because they were the only person at their school who identified as queer. SPLASH Youth gave them a place to meet friends and feel truly free and safe within Northern Colorado.
"Please embrace those who identify as LGBT in your community, and if you are a queer person, love and embrace yourself because you are awesome," Frierose said. 
Frierose is one of the many queer youth who struggled to find belonging within Northern Colorado. Frierose and those like them now participate in the larger movement to ensure that the queer youth of the future feel like they have a place in Northern Colorado.  
The NoCo Pride March affected more locations than just Northern Colorado. Jake Owens participated in the march as a visitor from Michigan, coming to Fort Collins with his family to support his two LGBTQ+ aunts who live in town.
"We just wanted to bring our children here and show them that whoever they are is OK and that people deserve to be loved no matter who they are," Owens said. 
The fact that it is outside of Pride Month means that recognition of Pride is growing and becoming less performative." -Finn Gleason, volunteer
Owens and his wife have two kids that are 3 and 5. He wore a Pride flag as a cape with his kid on his shoulders, marching in solidarity with his aunts and other queer residents as an ally. 
The march was peaceful with several businesses in Old Town having their staff come out and cheer on the demonstrators. People driving down College honked their horns in support and flew Pride flags. A handful of drivers, however, were angry about the traffic and a few even yelled at demonstrators while driving by. 
Finn Gleason was a volunteer who helped lead the march; they stood at the front with a high-visibility vest to direct marchers. Gleason kept demonstrators safe from cars while also boosting morale with passionate chants through a megaphone. They were honored to be a part of such a pivotal event in Northern Colorado.
"The fact that it is outside of Pride Month means that recognition of Pride is growing and becoming less performative," Gleason said. "I am gay 12 months out of the year." 
Gleason became affiliated with NoCo SafeSpace through their nonbinary partner, AJ, who was an organizing member for the march. Gleason hopes to help make a difference with NoCo SafeSpace. 
Chambers wants to organize a full-fledged parade in the near future as the number of demonstrators increases, but for now, the next event that Chambers is organizing for NoCo SafeSpace will be a similar Pride March in Greeley this coming August. 
"The Fort Collins community has this queer boom happening," Chambers said. "There are a ton LGBTQ(+) residents here, and there are safe places on campus as well as off campus that they are all welcome at." 
Isaiah Dennings can be reached at news@collegian.com or on Twitter @isaiah_dennings.
Editors Note: Finn Gleason was mistakenly referred to as he/him, and pronouns have been corrected to they/them.