CSU's Little Shop of Physics continues to thrive virtually
Ceci Taylor
March 10, 2021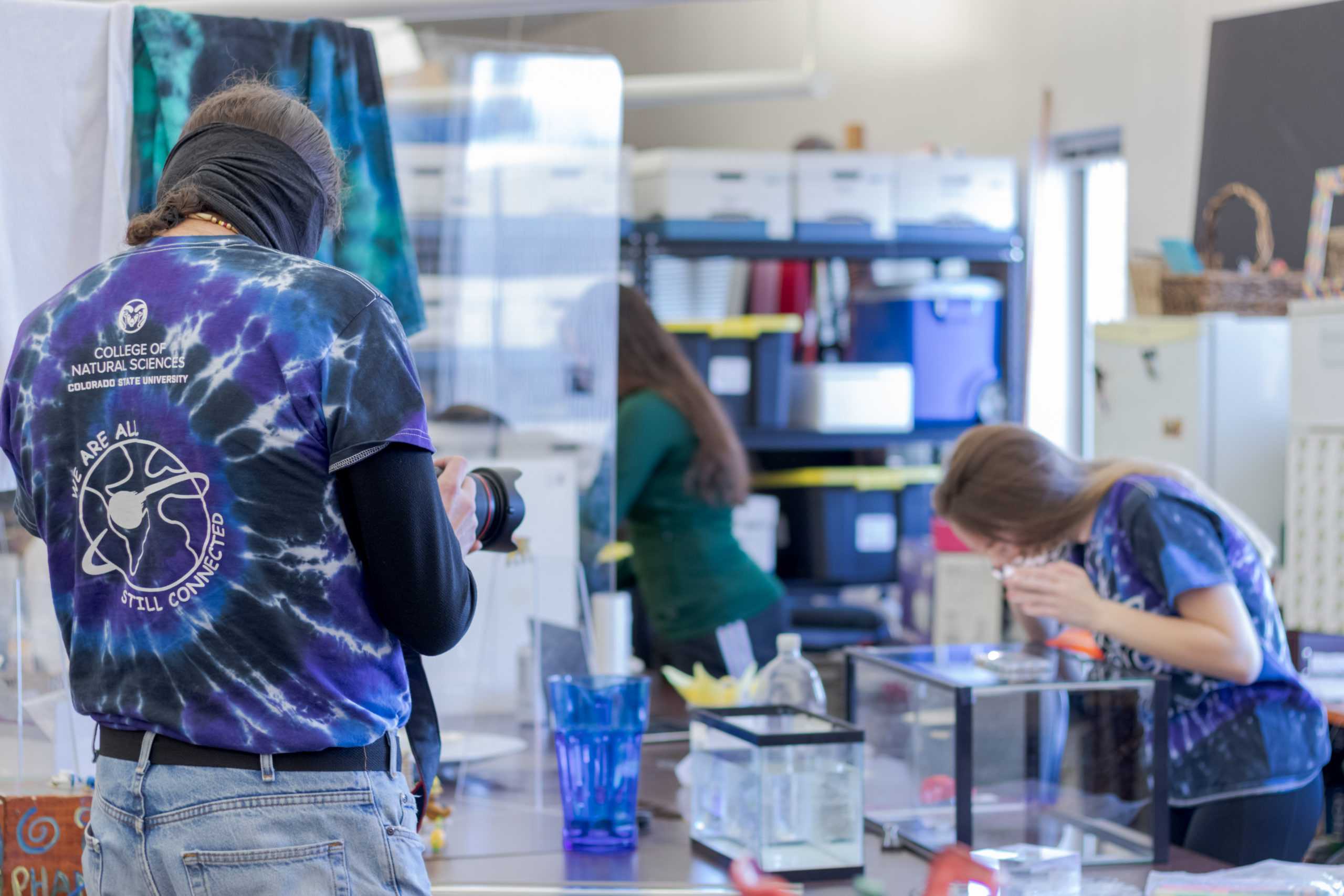 For years, Colorado State University's Little Shop of Physics has strived to inspire kids to pursue science and show them how interesting the subject can be. With the COVID-19 pandemic, the program had to find new ways to engage kids in science.
"Our focus is that we're going to show you some really interesting things about the world in a way that this is something you can try right now, (and) you don't need a lot of fancy equipment," said Brian Jones, master instructor and director of Little Shop of Physics. "You don't need a laboratory. You don't need a lot of background knowledge; you could just dig in and experiment and explore and start learning amazing things about the world."
Before the COVID-19 pandemic, Jones said the program would take a van full of hundreds of hands-on science experiments to schools in Fort Collins. CSU students would join and help them experiment and learn about science.
Jones said it would be impossible to format the program in a similar way now because it would be like designing a super-spreader event. A lot of the science experiments are hands-on, and kids would be too excited to pay attention to social distancing guidelines. 
"We're not doing that now, but we're trying to keep that same spirit going," Jones said. "So can we take the kids and show them: 'Here's some really awesome stuff about the world, and here are ways you can engage with it? Here are some things that you can do.'"
Jones said the shop has been doing Zoom shows every Friday, each week with a different theme. One week, Jones said, participants learned about bouncing, bending and twisting light. 
Maude Pointet, an intern with the program, talked about an experiment involving polarization that can be shown over Zoom. The experiment required a small amount of easily found material, such as transparent tape, a phone screen and polarized sunglasses. 
"That's basically what the spirit of Little Shop is," Pointet said. "'Hey, check out this stuff that you would normally consider junk or just stuff you have around the house, and we make something really cool and sciencey with it.'"
Besides the weekly meetings on Fridays, the group also does work with the Boys and Girls Clubs of Larimer County, which, according to Jones, connect K-12 students with CSU students to learn about and explore science together. 
Reagan Guerrero, another intern with the Little Shop of Physics, said they meet with the Boys and Girls Clubs over Zoom, but they give the kids science kits so they can have a more hands-on experience. 
"We have the materials in our possession as well," Guerrero said. "And then we show them what to do with them and talk about it. One week, we worked with polarized light and glow in the dark. They seem to really like that."
With most schools taking place virtually, Guerrero said the kids love working with the Little Shop of Physics, especially because it gives them opportunities for hands-on learning. Guerrero said the kids also get to keep most of the materials given to them for learning. 
"We have a new kit in the works," Guerrero said. "We are working on an engineering kit where kids design their own kind of little car, and we're also planning on doing a magnet kit." 
At first, Guerrero said it was a bit daunting to work with kids, but they later learned to love the experience.
"I love their wonder," Guerrero said. "They get really excited about things, and they don't hide it. … So they'll tell you something really cool or if it's kind of boring. They're very honest. But I love seeing their excitement for science."
Jones said he's worked with the program for 30 years and stressed that it's thanks to the CSU students who get involved that the Little Shop of Physics continues to thrive and work with kids in local communities.
"The whole program runs on the energy and the enthusiasm and the ideas of the undergraduate students at CSU," Jones said. "For me, that's the joy: This is really driven by the passion and the interest of the students who come through our doors."
Jones said he encourages anyone who is interested in science to get involved — it doesn't matter their major. 
"You just come in, and you grab things, and you see how things would work," Pointet said. "And if you need help or have questions about how something scientifically works, there's always someone around to answer. But you get to be creative and find things that you wouldn't normally think about." 
Throughout the pandemic, the Little Shop of Physics program has persevered and continued to put on events that inspire kids to learn about science. 
Jones said the program has taught a one-credit online course for teachers on the Pine Ridge Reservation, held a new competition, Art of Science, and received funding for the development of a kit of instructional materials for Poudre School District fifth grade classes, among others. 
Ceci Taylor can be reached at news@collegian.com or on Twitter @cecelia_twt.