ASCSU VP debate: Community engagement, platform priorities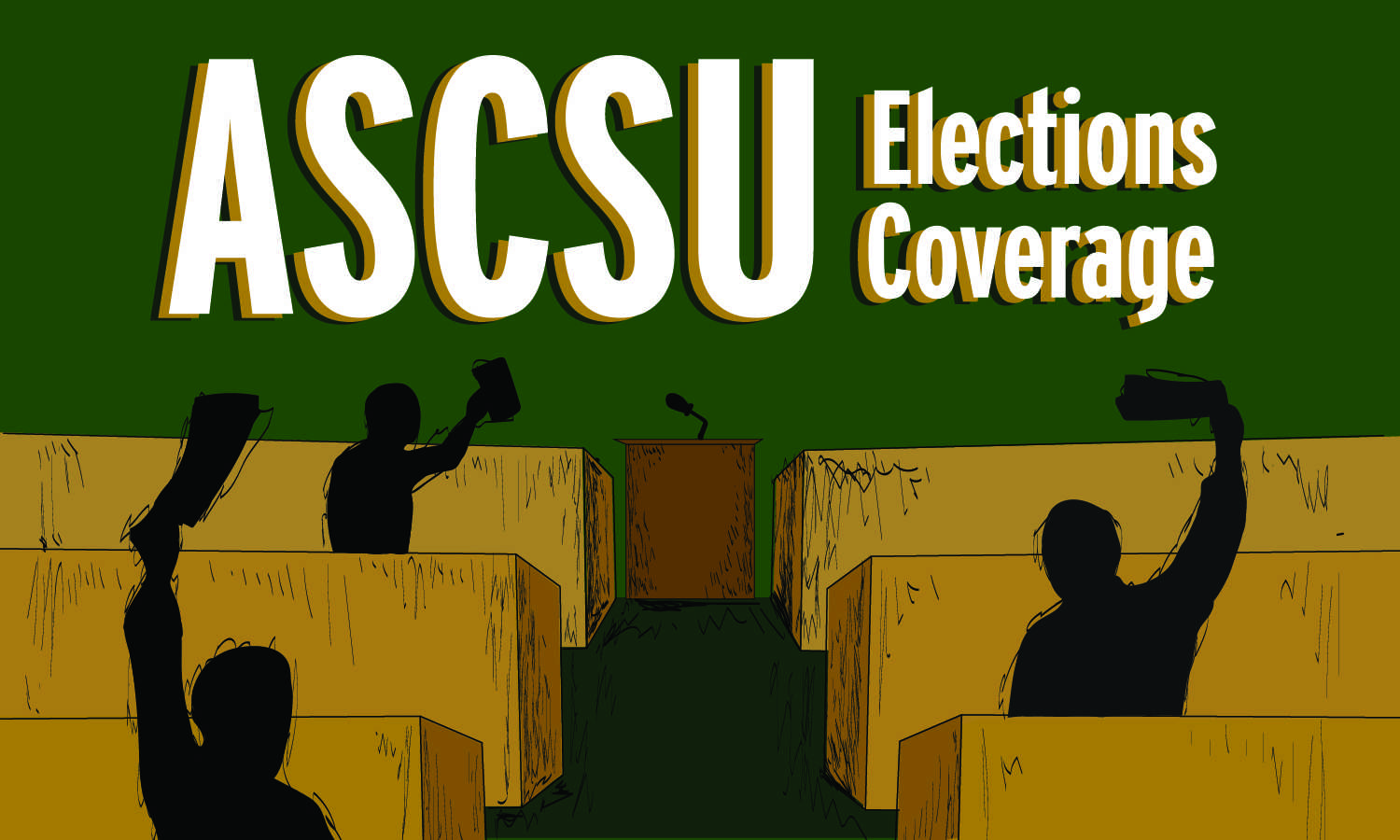 With the elections for the Associated Students of Colorado State University one week away, candidates continue to vie for the attention of the student body. 
Vice presidential candidates, who run on a ticket with presidential candidates, debated March 23 on their campaign platforms, student government experience and the issues most important to the CSU community. 
Campaign priorities
Merry Gebretsadik, a third-year political science major running with Christian Dykson, said priorities for their campaign include working with the City of Fort Collins to change the U+2 housing ordinance and increasing transparency within ASCSU.
"We are dedicated to listening with heart," Gebretsadik said. "In order to understand all students from all backgrounds, … we want to be equitable in running on three values: radical inclusion, stewardship and transparency." 
Gebretsadik said her first priority would be to ensure the accessibility and awareness of ASCSU executive cabinet positions and to codify the process of applying to the Student Fee Review Board into the ASCSU constitution.
David Pringle, a third-year civil engineering major running with John Williamson, said their campaign priority centers around including the student voice in ASCSU.
"We fully believe that CSU is a wonderful campus, and we believe that being a student at CSU is not just attending classes and going to school, it's about the people you meet, the organizations you're in and everything along those lines," Pringle said.
Creating a dialogue with CSU's Parking and Transportation Services to address the high cost of student parking and parking tickets would be Pringle's first act if elected into office, he said.
Weston Schroeder, a second-year student majoring in political science and running with Lys Taddei, listed investing in student well-being as a top priority.
"I'm here tonight as an ally for possibility," Schroeder said. "We believe in the resilience of unity and the possibility of a forever campus — a space where 10 years from now, nothing short of empowerment and community will thrive on this campus." 
Schroeder said his and Taddei's first act as president and vice president would be the implementation of a mental health app to connect students with easier access to available resources. 
Lydia Zuklic, a third-year student studying business administration, is running alongside Cinque Mason and said their top priorities involve bringing safe events to campus for students to engage with each other, something they feel was lost during the COVID-19 pandemic. 
"We would hope to bring a lot of events to campus, safely, that students actually want to attend," Zuklic said. "We hope that this would bring a sense of community and give students a sense of purpose on campus again."
Zuklic said their first act if elected would be to ensure they get as much training as possible and have a smooth onboarding process.
Voter and community engagement
ASCSU voter engagement is historically low, and debate moderators asked the candidates many times about what strategies they would use to increase voter turnout, increase student engagement with ASCSU in general and support ASCSU engagement with the City of Fort Collins. 
Zuklic said she has been using her wide social circle to reach out to people on social media and educate them on what ASCSU is and does. This has also included attending chapter meetings for fraternities and sororities on campus to get out the vote for the upcoming ASCSU elections. 
In terms of community engagement, Zuklic called CSU the social and economic "powerhouse" of the Fort Collins community and said CSU students should work to have a greater voice in that community.
Schroeder contrasted Zuklic's statement and said Fort Collins is not just CSU, it is made up of multiple communities whose interests need representation. 
Schroeder's main voter engagement style has been to talk to as many students on campus as possible.
"It's just learning about who these students are," Schroeder said. "(Through) wearing my Taddei/Schroeder mask, they'll see 'this person is running for something, this person is standing for something,' and they'll go look it up."
Pringle also said their campaign has increased social media usage to find students who are unaware of ASCSU and engage with them, not just to get those students to vote for them, but to vote in general. 
Gebretsadik said that one strategy she has used is going to all of the dean's leadership councils on campus and talking with the members to further get the word out about the elections.  Additionally, with her current experience in ASCSU, Gebretsadik said she has a good relationship with the Fort Collins City Council and can continue with that if elected.
"We really want to emphasize the fact that we want more community engagement and more community building, and that is only going to be done with our experience," Gebretsadik said.
Acting as SFRB chair
The ASCSU vice president also serves as the chair to the SFRB, which looks at what campus organizations receive funding, and how much, from student fee dollars each year.
Schroeder said he has personal experience in finance management and would feel comfortable taking on the role. 
Zuklic, a business administration major with concentrations in accounting and finance, said that the role of SFRB chair is perfect for her, as it is exactly what she is studying and interested in. 
"It's important for the VP to have an understandable knowledge of all this, and I have that going into it, which I think is really important," Zuklic said.
Gebretsadik said her experience in the ASCSU senate and working for the executive cabinet this year gives her a good understanding of how student fee money is used and what all is at stake with the SFRB position.
Pringle, a student with limited ASCSU experience, said that even though he does not have experience with the SFRB or something similar, he is confident he would lead the SFRB well. 
"I'm very conscious of what money means, and I'm not just going to go out there and spend a lot of money," Pringle said.
To hear more about individual campaign promises, CTV Channel 11 has the vice presidential debate available to watch on their YouTube page. 
The presidential debate is March 24 and the speaker of the senate debate is March 25. Both will be livestreamed by CTV, and students can submit questions for the candidates via the YouTube livestream. 
Voting for ASCSU is open on RAMWeb March 30-April 1. For detailed information on all candidates, view The Collegian's coverage here. 
Serena Bettis can be reached at news@collegian.com or on Twitter @serenaroseb.