ASCSU campaign: Senators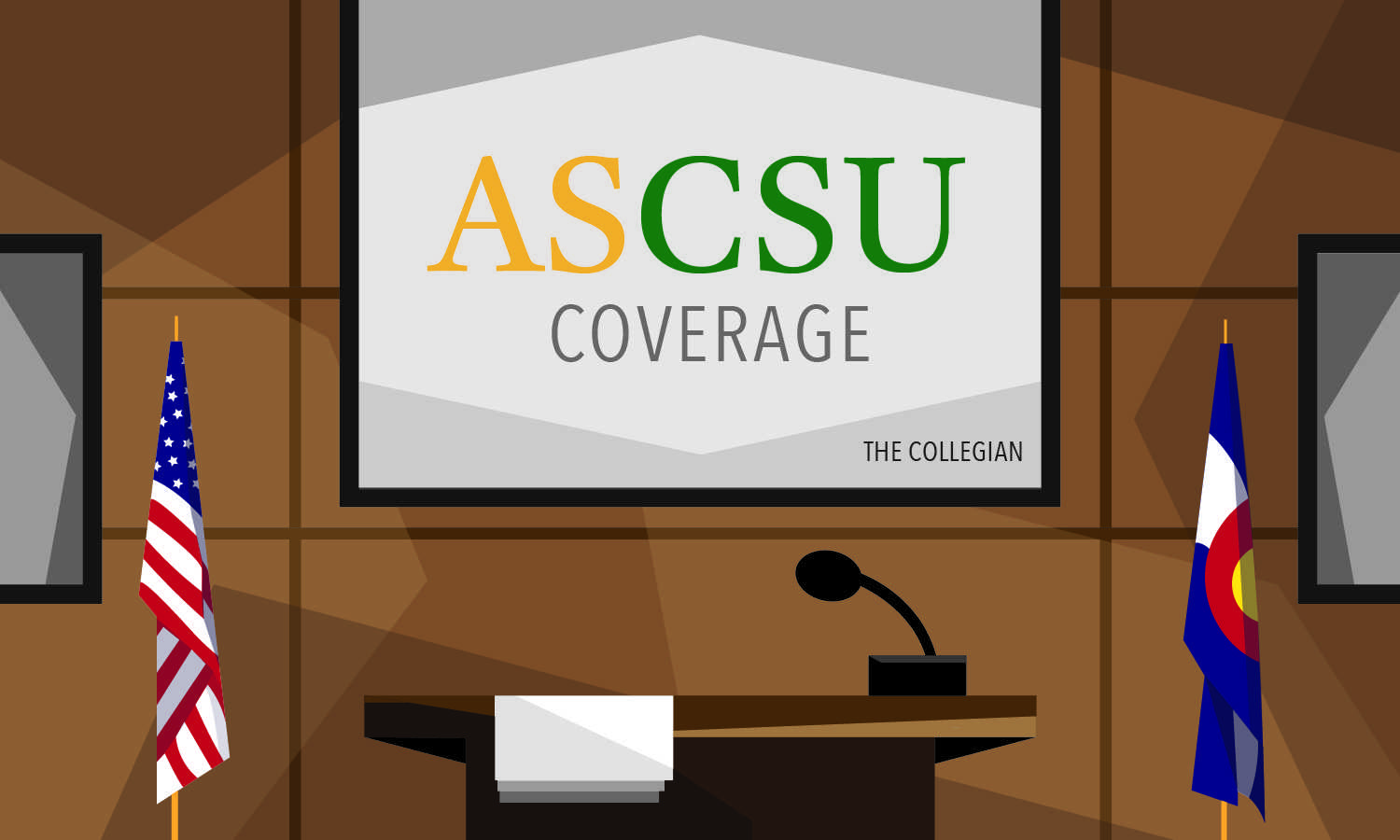 Editor's Note: Bailey Shepherd and Sam Moccia are currently reporters for The Collegian.
Election season for the Associated Students of Colorado State University is in full swing.
There are 18 senators from seven different colleges this year, some running for contested seats and some running unopposed. Only students can vote for senators that are a part of their college. 
Below is a guide to get to know the candidates. 
College of Liberal Arts
Bailey Shepherd
Bailey Shepherd, a third-year political science major, said he is running for senator because he wants to ask more from the administration at CSU. 
"I want to create change for students that is all-encompassing and that involves administration and that also involves the student body government," Shepherd said. "That's what my main goal is going to be."
Shepherd said he would make a good senator because he is good at communication and public speaking. 
"I think I can be a real voice for change for students that are struggling in these times," Shepherd said. "I think we all want to be where we were a year and a half ago, so anything that can get us there faster is something that I'm an advocate for."
Shepherd said, as a senator, he hopes to further work on changing the U+2 law and getting more funds for student organizations. 
"Students make the school," Shepherd said. "I think student organizations you know allocating more funding benefit students. Those are the main things that I want to run on."
Ava McCall
Ava McCall, a second-year who is double majoring in political science and communication studies, said she is running for senator because she enjoys helping students and serving their needs.
"I feel like I have a privilege to be able to participate in ASCSU and have the resources that I do," McCall said. "I feel like I should use them to serve others because I'm also a student and I'm also paying tuition, so I get it." 
McCall, who currently serves as an ASCSU senator and as the chair of the ASCSU Women's Caucus, said she would make a good senator because of her ability to collaborate with others. 
"It's nice that I have that so if I were to be elected again, I can continue on the projects that I'm currently working on as a senator and as the chair in the women's caucus," McCall said. 
As a senator, McCall said she mainly wants to advocate for gender equality and accessibility.
"A lot of my projects will revolve around making sure that that is something that is a focus of the College of Liberal Arts because we are a big college," McCall said.
Samantha May
Samantha May, a third-year political science major, said she wants to be a senator for the College of Liberal Arts because she wants to make sure everyone on campus has a voice.
"There's also a lot of people who don't even know much about ASCSU," May said. "Reaching out to people and getting them involved in student government is really important since it's responsible for making decisions about campus life and student fees." 
May said her experience working with a variety of people in the community will make her a good senator. Through being president of her National Honor Society chapter in high school and other community service projects, May said her ability to talk to others in the community has improved greatly. 
As a senator, May said she wants to get more students involved on campus and to figure out what students want from ASCSU and CSU. May said she wants more students to know about programs such as the Lyft partnership with RamRide.
"One of the most important parts is to be able to implement programs more effectively and ensure that the student body knows about them and that they're important enough to them that they'll take advantage of them," May said.
Anna-Noel Imbriaco
Anna-Noel Imbriaco is a second-year student from Apex, North Carolina, studying dance with a minor in music, stage and sports production. On campus, she is a member and officer in the sorority Delta Delta Delta and a member of the Science Fiction and Fantasy Club.
Imbriaco said that having a senator from the music program would bring a different perspective to senate. 
"If I were a senator, I would do my best to take into account what I can for all the experiences for every person there is at CSU," Imbriaco said. "I think it's really important that we have senators who are willing to take all that into account when they're doing their job."
Imbriaco has noticed that the School of Music, Theatre and Dance is "fairly underrepresented." As a senator, she hopes to bring awareness to this underrepresentation in the program and beyond. 
Jackson Hunter
Jackson Hunter is a first year double majoring in political science and economics with a minor in history. Along with serving one term as a senator already, he is also the director of media for the Liberal Arts Dean's Leadership Council.
"Over the last year I've worked hard to create a more sustainable campus, create a safer environment for students to share their ideas and promote diversity and inclusion on campus," Hunter said. "I want to serve a second term in the ASCSU senate because I believe there is more work to be done in the realm of elevating student voices and efficiency."
He explained that ASCSU is "far from efficient" and needs to represent the student body in a more accurate way. Hunter said the most important thing for him is to be a messenger for student voices on campus. 
"I pride myself in being accessible to all students, whether they're in my college or not, and I will be an open ear and voice for all students during my second term," Hunter said. 

If elected, he hopes to focus on sustainability, accessibility and efficiency through waste management, inclusivity and promoting a more collaborative senate. 
Evan Welch
Evan Welch is a first-year political science major from Eerie, Colorado. He is also part of The Navigators, an on-campus ministry. Last year, he was elected as senator before winter break.
Welch said he wants to represent the students and create bills that will benefit them. 
"With all of my classes being online, I was able to be active in ASCSU and learned a lot about how it works," he said. "I am majoring in political science and want to work in the government. I actually enjoy working on bills and will enjoy working for all the students at CSU."
If elected, he wants to work on transparency so that students know what is going on in ASCSU. 
"I also want to work with all of the students at CSU and make their voices heard," Welch said. "I want to pass and vote on bills that they support and will help them."
Isaac Neivert 
Isaac Neivert is a third-year student from Denver studying sociology and political science. He has been an ASCSU senator since September 2020 and works in the Education Building. 
Neivert said he wants to help provide solutions to larger problems impacting both the college and University. 
"I think I'd make a good senator because I listen," Neivert said. "I take in information, and I'm open to changing my mind on a wide variety of things. … I do a lot of listening, and I like to turn what people tell me into a formidable conversation starter or policy." 
Neivert said that as senator, he would like to create programs that help students' lives easier.  
Sanskar Vyas
The Collegian could not reach Sanskar Vyas for an interview. 
College of Agricultural Sciences
Sam Moccia
Sam Moccia is a third-year student studying environmental and natural resource economics and is the director of the Student Sustainability Center at CSU. He wants to be a senator for the College of Agricultural Sciences because he wants to make sure the college and its students are heard within ASCSU as well as advocate for the work the college does.
Moccia said he would make a good senator because he really likes people and wants to advocate for them. 
"We need people who don't go into this with high opinions and higher egos," Moccia said. "We need people who go into it because they just care about working on the issues that have affected their community."
If elected, Moccia said he wants to focus on sustainability on campus. 
"Agriculture, unfortunately, across the political conversation is often seen as a non-green industry and a field of people who aren't necessarily environmentally active," Moccia said. "I would love to be able to help position the Ag college and myself as a senator as a compassionate legislation that really improves sustainability here on campus from a student perspective."
Tanna Tennyson
Tanna Tennyson is majoring in environmental and natural resource economics. They said they had been looking forward to becoming more involved in ASCSU and being a senator would be a great opportunity for that.
"I knew once election season was beginning, I wanted to apply for the position of a senator because I believe it would be a great experience and I would be able to share student's voices and input within the important changes on campus," Tennyson said. 
Tennyson said they'd make a good senator because they will put the student body's needs first. They said they want their devotion to success to transfer into their role in senate. 
"As a senator, I will become an important advocate for the major decisions on campus," Tennyson said. "I will be committed to my responsibilities and be a reliable leader for the student body."
Ian Clancy 
Ian Clancy, a soil and crop sciences student in his first semester at CSU, is from New York City and Colorado Springs, Colorado. He is a transfer student from Pikes Peak Community College and is the state director of a political action committee and volunteers for a food bank in southern Colorado. 
Clancy said he wants to be a senator because he loves what CSU is doing for sustainability and wants to continue working on it. 
"You can't stop — you gotta keep going, and I have some ideas that I'd like to get done," Clancy said. "I have a little bit of experience talking with different people about politics and trying to get people involved."
Clancy said he hopes to increase more opportunities for non-traditional agriculture students and make resources more easily available to students.
College of Engineering
Ryan Pyfrom 
Ryan Pyfrom is a fourth-year student pursuing a dual degree in biomedical and mechanical engineering. He said he wants to be a senator for the College of Engineering because he feels the college is underrepresented. 
"I think there are open seats we're not getting our voice out as we should," Pyfrom said. "I think this gives us the opportunity to do so."
Pyfrom, who has experience working with the American Society of Civil Engineers at CSU, said he would be a good senator because he will properly represent his college and its students. 
"What makes a good senator is someone who's not making policy or not making decisions on their own but based on what their constituents want," Pyfrom said. "And what's important to them, that is what's important to me."
Pyfrom said, as a senator, he will focus on representation above anything else.
"(Representation) is the number one for me," Pyfrom said. "It's just making sure that our voices are heard, that we get what we need to and that we're making sure that we're part of the changes that occur at CSU."
College of Natural Sciences
Willa Sauer
Willa Sauer is a junior studying chemistry along with a minor in Russian. Originally from Waterloo, Illinois, Sauer has served on the Student Fee Review Board and been involved with the Air Force Reserve Officer Training Corps. She also participates in Russian Club.
Sauer wants to be able to represent women in STEM for the College of Natural Sciences.
"I think I'll be a good senator because of my leadership experience from AFROTC," she said. "Something I hope to accomplish is helping foster an attitude of collaboration in the ASCSU space."
Warner College of Natural Resources
Mena Sherer
Mena Sherer is a first-year student studying fish, wildlife and conservation biology with a concentration in conservation. From Colorado Springs, Colorado, Sherer has no prior ASCSU experience and is involved in the Defenders of Wildlife Club and The Wildlife Society on campus. She is also a residence hall Eco Leader and volunteers at the Cheyenne Mountain Zoo. 
"I want to be a senator for my college because I think it's important that everyone's voice is heard, and I want to make sure that everyone within my college is equally represented and that our voices are heard."
Sherer said she would make a good senator because she is open to new ideas and perspectives. 
"I am always willing to grow and learn from other people," Sherer said.
She hopes to make everyone feel represented within her college.
"I want all of the students to feel comfortable and satisfied with what we're doing in ASCSU so they feel represented and heard."
Haydyn Deason
Haydyn Deason is a first-year student studying ecosystems science and sustainability with a minor in global environmental sustainability and is from Denver. Deason is part of the Residence Hall Association and the CSU Young Democrats. 
Deason believes student representation and leadership is important when getting things accomplished.  
"The saying goes, 'if you want something done right or you want something to get done, do it yourself,'" Deason said. "I think being a part of active change is incredibly important, and being a part of active change on CSU's campus is what I'm passionate about."
Deason described herself as diplomatic, explaining that she is good at hearing different perspectives. 
"I think representation is … incredibly important, so I'm willing to hear anyone who thinks change needs to happen," Deason said. "I'm also really passionate about sustainability and good leadership and moving CSU in a positive direction."
College of Veterinary Medicine and Biomedical Sciences
Marlis Hazleton
Marlis Hazleton is a second-year student from Keller, Texas, studying cognitive neuroscience. She has been an ASCSU senator since September of her first year and has been the Internal Affairs Committee chairperson since March 2020. Hazleton also serves as the vice chair of the University Technology Fee Advisory Board. 
"I have been a senator for my college the entire time I've been at CSU, (and) I absolutely love it," Hazleton said. "It's a great way for advocacy." 
Hazleton said that she'd make a good senator because she takes charge in senate, noting that she speaks at every meeting. 
"Being the Internal Affairs chair, … I have effectively written certain portions of our bylaws and constitution," Hazleton said. "I'm all for diversity and inclusion in that space, so I have been working on steps to include that."
She said she is working on getting all-gender restrooms into campus buildings that don't have any. 
"Pushing for advocacy in that space and increasing the amount of inclusion in that space is important to me and that is one of my primary goals is to promote diversity and inclusion, not only in ASCSU but also in STEM spaces."
Alex Silverhart
Alex Silverhart is a first-year student studying biomedical sciences with a concentration in anatomy and physiology. From Parker, Colorado, Silverhart does not have experience yet in ASCSU but was the student council president at his high school. Silverhart is also an editor for the Journal of Undergraduate Research and Scholarly Excellence and is a chemistry lab assistant.
"The biggest reason why I want to be a senator is because I want to get more involved with the college community," he said. "I understand how important it is that (different) voices are heard, and I think I would be a great person for people to express things about the campus."
Silverhart said he would act as a good middleman between students and ASCSU and has good public speaking skills. He said he wants to learn what ASCSU is all about and provide his own perspective and the perspective of those around him to the senate.
College of Business 
Brandon Baum 
Brandon Baum is a third-year finance major from Denver. Baum has no ASCSU experience and has involvement in the Finance and Real Estate clubs on campus, is in the fraternity Pi Kappa Phi and is a member of Sigma Alpha Lambda, a National Leadership and Honors Organization.
Baum said he wants to be a senator to have a better impact on campus and to have a career sense going into politics.
"I always have an open door policy, I always 'listen first, talk later' and I always try looking at the best of two evils when it comes to policy," Baum said.
As a senator, he hopes to impact student lives and his biggest goal is to lower tuition.
ASCSU elections will close April 1. 
Ceci Taylor, Serena Bettis and Molly O'Shea can be reached at news@collegian.com.