ASCSU campaign: Cinque Mason and Lydia Zuklic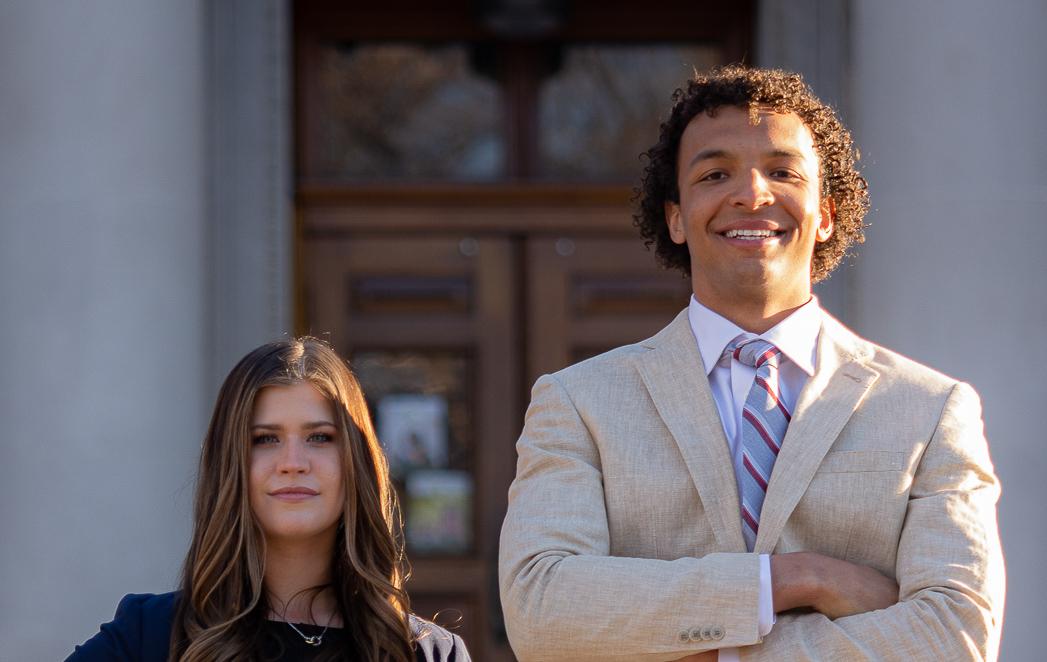 With a campaign slogan urging students to "rethink our potential," Cinque Mason and Lydia Zuklic are running to become the next president and vice president of the Associated Students of Colorado State University. 
While neither candidate is currently a member of ASCSU, both have extensive records of community and campus involvement and plan to use learned skills from these experiences in their positions if elected president and vice president. 
Cinque Mason, presidential candidate
Cinque Mason, a junior communication studies major with a minor in anthropology and peacekeeping, currently works as an intern for President Joyce McConnell. Mason also previously served as a Student Affairs intern under Blanche Hughes. 
Despite being a newcomer to CSU's student government, Mason maintains that his experience in student outreach, as well as his connections with both President McConnell and Vice President for Student Affairs Blanche Hughes, would be well-utilized if he is elected president. 
"I know how the system goes, how to do stuff and get things done, so I feel quite prepared to do that," Mason said. 
Mason's running mate, Zuklic, feels that Mason was "made for leading."
"I haven't known him a super long time, but it already feels like I've known him for a while," Zuklic said. "Anyone can be smart and be an eloquent speaker, an effective communicator … but I think a key component of leadership is having people that care and that will listen, and (Mason) does have that." 
Lydia Zuklic, vice presidential candidate
Junior Lydia Zuklic, a current member of Kappa Kappa Gamma, feels that her major in business administration and background in leadership create a solid foundation for the role of vice president. 
"While I haven't been involved in ASCSU before, I truly believe that I have the perfect, well-rounded skill set for this position," Zuklic said. 
Zuklic credits her concentration in finance and accounting with preparing her for the role of vice president and hopes to leverage the leadership skills she's developed over the years to be an effective leader for the student body. 
Outlining her experience in creating budgets and allocating funds as a result of her concentration, Zuklic feels that her skills would be well-utilized if elected vice president. 
"I think one of the most rewarding things for me would be knowing that I'm actually making a difference," Zuklic said. 
Their platform
Mason and Zuklic are running on a platform with an intent to "reclaim the last year." If elected, the duo hopes to increase next year's student activities and host events such as a movie night at Canvas Stadium, a fall concert and a cultural week to showcase the various cultures represented at CSU. 
"What we want to do is give the students an opportunity to have something to look forward to and more things to feel accomplished about," Zuklic said. 
Among their other goals is a plan to increase sustainability on campus, which Mason and Zuklic refer to as "green and gold goals." 
This initiative, as described by Mason and Zuklic, would bring "carbon-capturing technology" to campus and collaborate with the President's Sustainability Commission to do so. Further, the two hope to work towards eliminating single-use plastics on campus. 
Zuklic and Mason also plan on implementing a program focused on the redistribution of leftover food from the dining halls by working with Student Leadership, Involvement and Community Engagement and Student Affairs. 
The candidates intend to continue ASCSU's efforts to overturn U+2, a Fort Collins law that prohibits more than three unrelated individuals from living together in one home. The law has long been criticized by students, and efforts to change the law have so far been unsuccessful.
"U+2 is a racist law that was created in the '60s, and we want to overturn it on that basis of ethics," Mason said. 
Zuklic expressed a desire to promote fair and equitable access to housing within the CSU and Fort Collins communities. 
"We don't believe that the government should be able to tell us how many people can sleep in one house," Zuklic said. "It's just unjust."
In the first month of their administration, Mason and Zuklic said they will focus on a "fair and equitable" selection process for committee members to ensure that every department is well-represented and every student has a chance to apply. Mason also hopes to publish a budget early on. 
Ultimately, Mason and Zuklic hope to be accessible to students and focus on unity within the student body. 
"We want to not create a campaign or a presidency that's going to be having any division or criticisms of other people," Mason said. "We want to move past that." 
 Natalie Weiland can be reached at news@collegian.com or on Twitter @natgweiland.