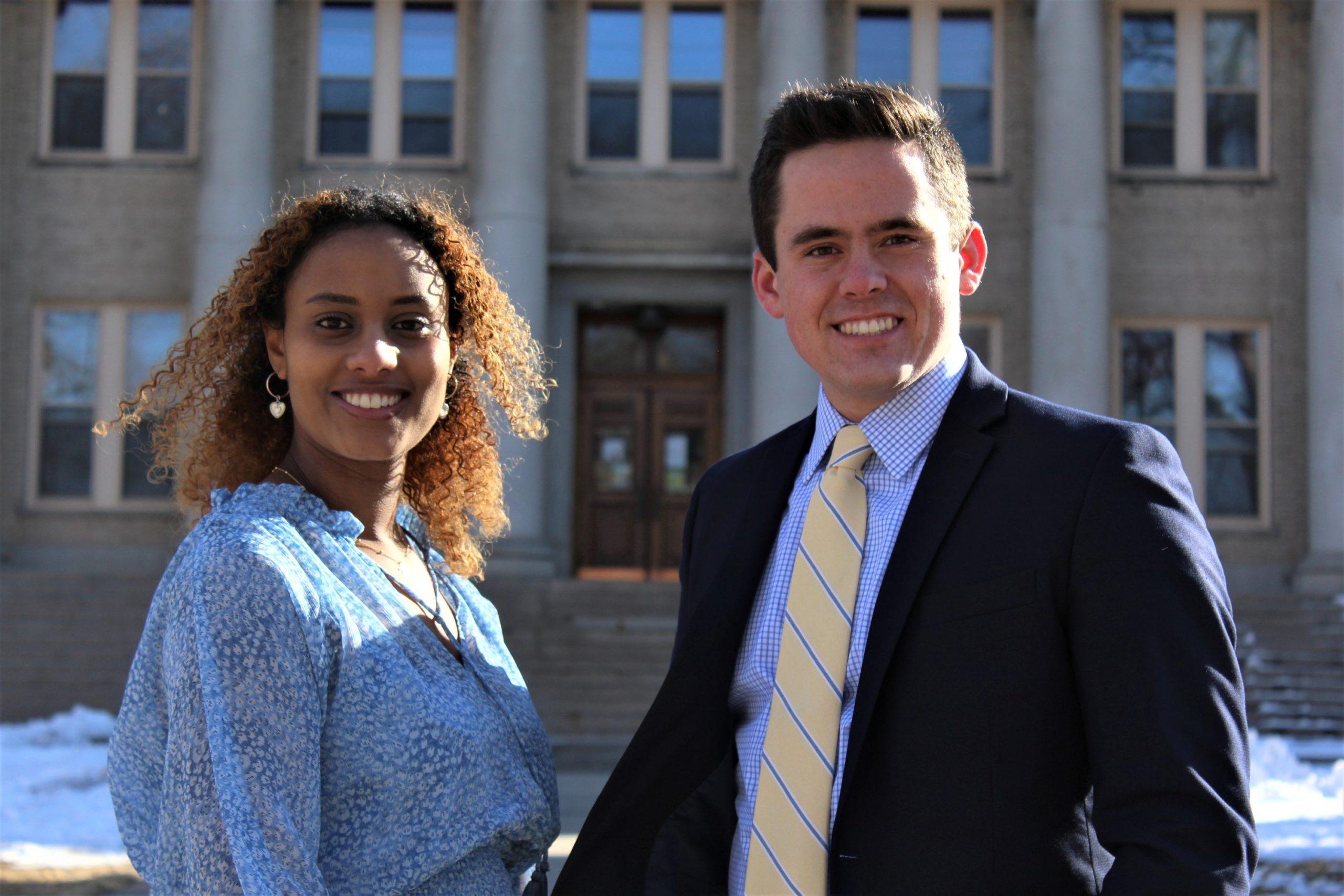 Campaigning under the banner of transparency and citing extensive campus involvement, Christian Dykson and Merry Gebretsadik are running to become the next Associated Students of Colorado State University's president and vice president.  
Dykson and Gebretsadik are hoping to bring more transparency to student government. Additionally, they want to promote more involvement among CSU students when it comes to governing. 
Christian Dykson, presidential candidate
Dykson, a second-year political science major with minors in Spanish and natural resources, has made being involved around campus a priority, as shown by his participation in a multitude of campus organizations and programs.
Along with being the current speaker of the senate, Dykson was the University Affairs Committee chair last year. He is currently a member of the Liberal Arts Dean's Leadership Council, a member of the CSU Honors Program and a member of the Lory Student Center Governing Board. He is also part of the Navigators, a ministry on campus. 
Dykson is running to bring transparency into student government and to put students at the focal point of ASCSU's work.
"Students have really powerful solutions, and oftentimes we don't hear about it," Dykson said.
Dykson stressed that student government often does not have all of the solutions to problems and that the solutions should come from students. He wants a student government that is as transparent and open as can be. Dykson said that student government is not always accessible, and it is not always clear what happens behind the scenes. 
"Specifically, the idea we had was CSU students with solutions and stories," Dykson said. "A multi-faceted campaign of storytelling that tells the stories of successful solutions that have worked in the past for CSU students and also opens up the door for new ideas." 
Merry Gebretsadik, vice presidential candidate
Gebretsadik, a third-year political science major minoring in ethnic studies, has three years of experience in ASCSU. In addition to being a senator, she is now the chief diversity officer, a cabinet position. Gebretsadik is part of the College of Liberal Arts student ambassador team, serves as a presidential ambassador and is part of the President's Multicultural Student Advisory Committee.
"(Dykson) and I have been doing the work on campus," Gebretsadik said. "We've been working on these things, but this is just a way for us to amplify that work and take it to a larger scale that will impact all students on campus." 
Extensive time in governing positions can often be a turnoff for voters, but Gebretsadik thinks that this plays to their advantage. 
"We just have a great network on campus, and we want to give back to a community that has given us so much," Gebretsadik said. 
Their platform
Dykson and Gebretsadik are running on three core values: radical inclusion, transparency and stewardship. 
"We are going to stand for values that we know we can fight for," Dykson said. "We recognize that values are constant. Policy positions and policies: those shift; those are fluid. Values are constant." 
Underneath each of the core values are policy goals the duo hopes to accomplish. 
With radical inclusion, Dykson and Gebretsadik want to foster a community in which every student feels welcomed. Part of this is having all-inclusive gender restrooms around campus, not just inside of academic buildings but in the residential buildings as well. Another aspect is having a Universitywide framework for pronoun usage.
Dykson's plan to boost transparency involves implementing a New York Stock Exchange style ticker on the ASCSU website to show when any amount of student fees has been spent by ASCSU. 
"If I spend $100 on gas sending lobbyists to go down to the state capitol to fight for affordable housing, that shows up," Dykson said. "Let's say I spend $2,000 to go on a retreat with me and five other colleagues — that shows up, and it gives students a chance to comment on all of those."   
Additionally, Dykson and Gebretsadik want to do away with U+2 as part of their stewardship platform.
Dykson, a long-time Fort Collins resident, wants to leverage the influence CSU has in the area to end the controversial housing program. By filling already existing infrastructure and building up, the Fort Collins community "will be acting in the best interest of our environment," Dykson said. 
Michael Stella can be reached at news@collegian.com or on Twitter @michaelstella_.