Stickers from white supremacist group found on campus
Abby Vander
November 17, 2020
Editor's Note: This article contains images of propaganda materials from a white supremacist group. Please view with discretion and be advised that The Collegian condemns the nature of this messaging.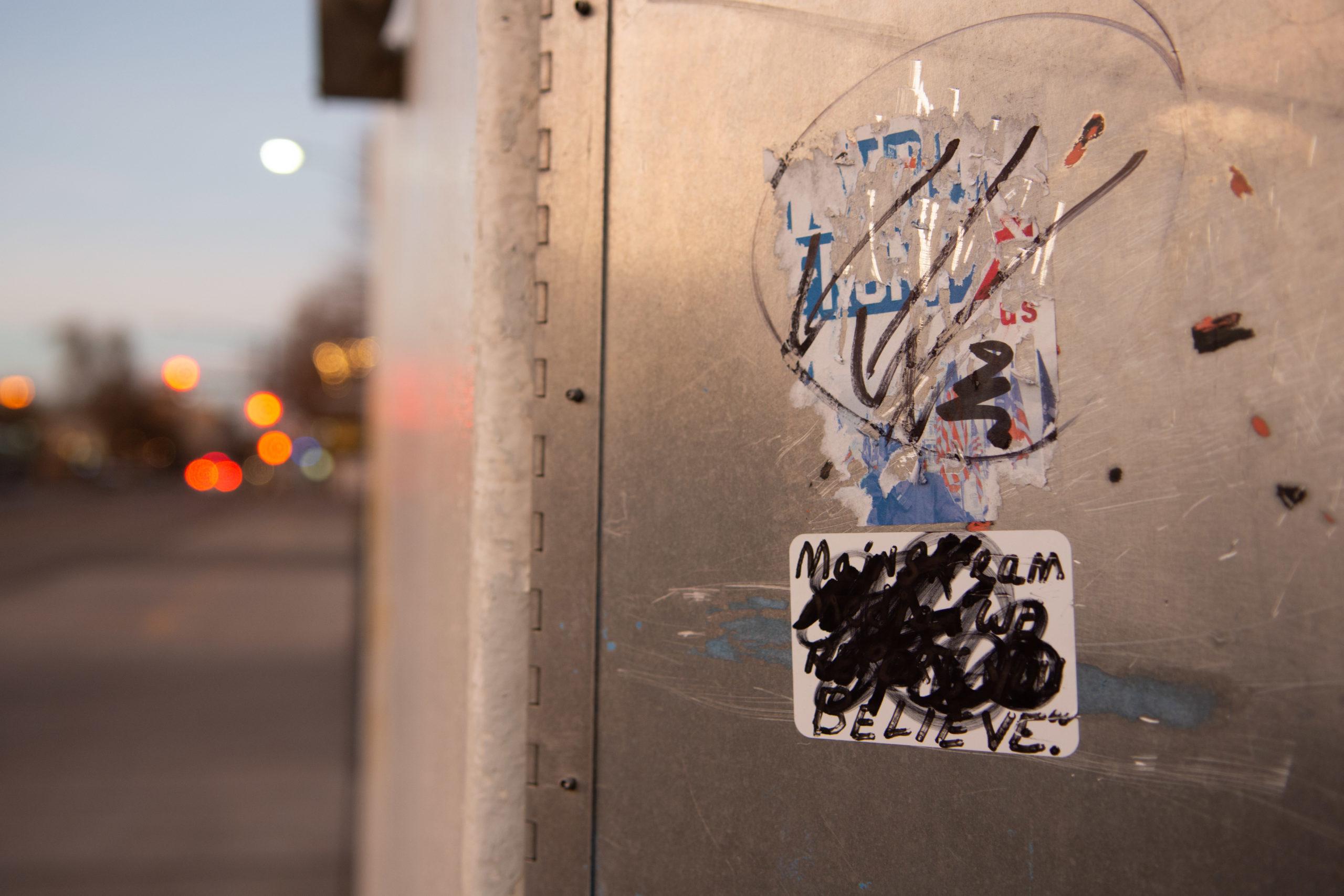 Stickers and posters from a white nationalist hate group, Patriot Front, have been found placed on streetlights and other public property along the bike path between Prospect Road and Laurel Street.
According to Southern Poverty Law Center, the group focuses on image-driven propaganda that supports an "explicitly fascist agenda." Its leader, Thomas Rousseau, was affiliated with Vanguard America, a neo-Nazi group that participated in the 2017 "Unite the Right" rally, where one of the participants drove a car into a crowd of protesters, killing one person.
The stickers contained imagery and a web address leading to the group's website. The majority of them have been removed or covered up and appear next to other stickers relating to the COVID-19 pandemic and anti-fascism. It is unclear where these other messages came from or if they are related.
Some of the Patriot Front stickers were removed by a CSU student who originally came across them last Thursday. The student asked to remain anonymous due to safety concerns. 
"These stickers are a threat," the student said. "We need to recognize that in the context of CSU within the last four years, since 2018 when members of the Traditionalist Worker Party came to campus to beat the sh*t out of students with shields and batons … to last fall when members of the Proud Boys came to campus. … This is another attempt."
This is one in a series of hate-motivated imagery campaigns that has appeared on CSU's campus over the last few years, including the appearance of swastikas in Aggie Village in 2019. 
"There's a message," the student said. "That message is a specifically white supremacist one. These are exterminationist white supremacists. These people want Jewish people, Black people and brown people either removed or killed. … That's what those stickers mean."
The Collegian will update this story as more information becomes available.
Editor's Note: Matt Tackett contributed reporting to this article.
Abby Vander Graaff can be reached at news@collegian.com or online @abbym_vg.