It looks like a plain white storage house. But behind the unassuming storefront is a dynamic operation dealing in tens of thousands of pounds of Colorado State University's expansive list of unwanted items. 
From office supplies to brewery equipment, CSU's Surplus Property accounts for the reselling, recycling or repurposing of all the items the University no longer needs, with a focus on landfill diversion.  
By state law, Surplus must account for the dispositions of every item purchased by the University, including horses and livestock. They also manage supplies students leave behind, like abandoned bikes.
This makes for an interesting thrifting experience at the Surplus Property store, as the stock is wide-ranging and constantly changing. While the most popular items are
the typical furniture, computers and bikes, more exclusive items are also dealt with. 
"Unique and odd items are kind of normal now, but we recently sold a set of wildlife teeth specimens, which was something you definitely don't see all the time," Surplus Property manager Jake Drenth wrote in an email to The Collegian. 
Tucked on the edge of Lake Street, the Surplus Property may be easy to miss. Drenth referred to the store as a "hidden gem" not many students know about. In fact, Fort Collins residents make up the vast majority of its customer base, Drenth wrote.
The Surplus Property store is trying to change that with more event attendance and sales that focus discounts to students at the beginning of each semester. With this, the store began accepting RamCash in early January.
"I think that the Surplus Property store is an amazing resource for students to find great deals on a wide variety of items, and with our location on campus, they do not need to travel far to find these deals," Drenth wrote.
From binders for 25 cents to bikes for $25, the Surplus social media has no shortage of deals to push. It prices items by researching its market-selling value, sometimes dropping the price further if merchandise is really not moving. 
The store also sells larger or more specialized items on GovDeals.com, an online auction service. A four-vat brewing assembly starting at $10,000 currently sits at the top of the list. 

Between these platforms, the store sold 44,530 items through 3,681 transactions in fiscal year 2019, Drenth wrote. 
After accounting for its own operating costs, Surplus Property allocates a percentage of its remaining merchandise revenue back to the original University departments. Last year, that number hit $336,633.26, according to Drenth.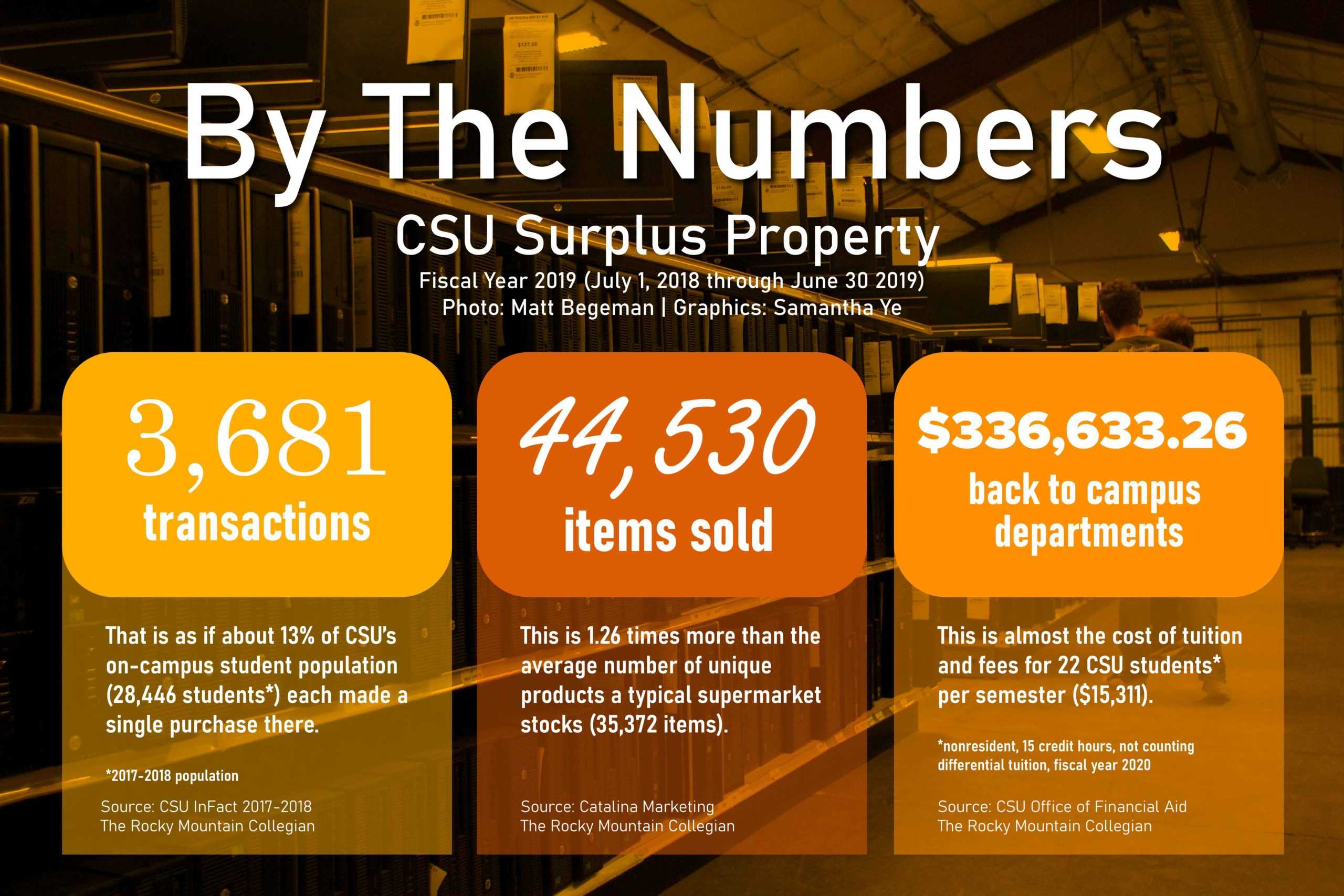 A significant portion of what Surplus does is keep material out of landfills, if only for a while longer. Drenth wrote that Surplus only sent 166,080 pounds of waste to the landfill in FY19 but recycled three times more pounds of material in the same time, in addition to the thousands of items sold and repurposed. 
A majority of the recycling came from scrap metal, which makes up 87% of FY19's recycled material weight. The next largest recycling category was electronics at 7.8%, with 39,792 pounds. Surplus also offers electronics recycling for students and faculty for a fee.
And while it is not able to track the weights of all its inventory for landfill diversion metrics, reusing the material puts a sizable dent in the amount of unwanted material the University is throwing away. The Surplus Property store and auction sold 44,530 items in FY19 while campus departments purchased and reused 1,798 items from Surplus. 
Over the last five years, the department has seen an "exponential growth" in the amount of material it picks up, Drenth wrote. It has more than doubled from 85,449 items picked up in fiscal year 2015 to 198,848 items in FY19.
Much of this has to do with departments updating their equipment or experiencing building remodels, which CSU has seen an explosion of over the last decade thanks to former President Tony Frank.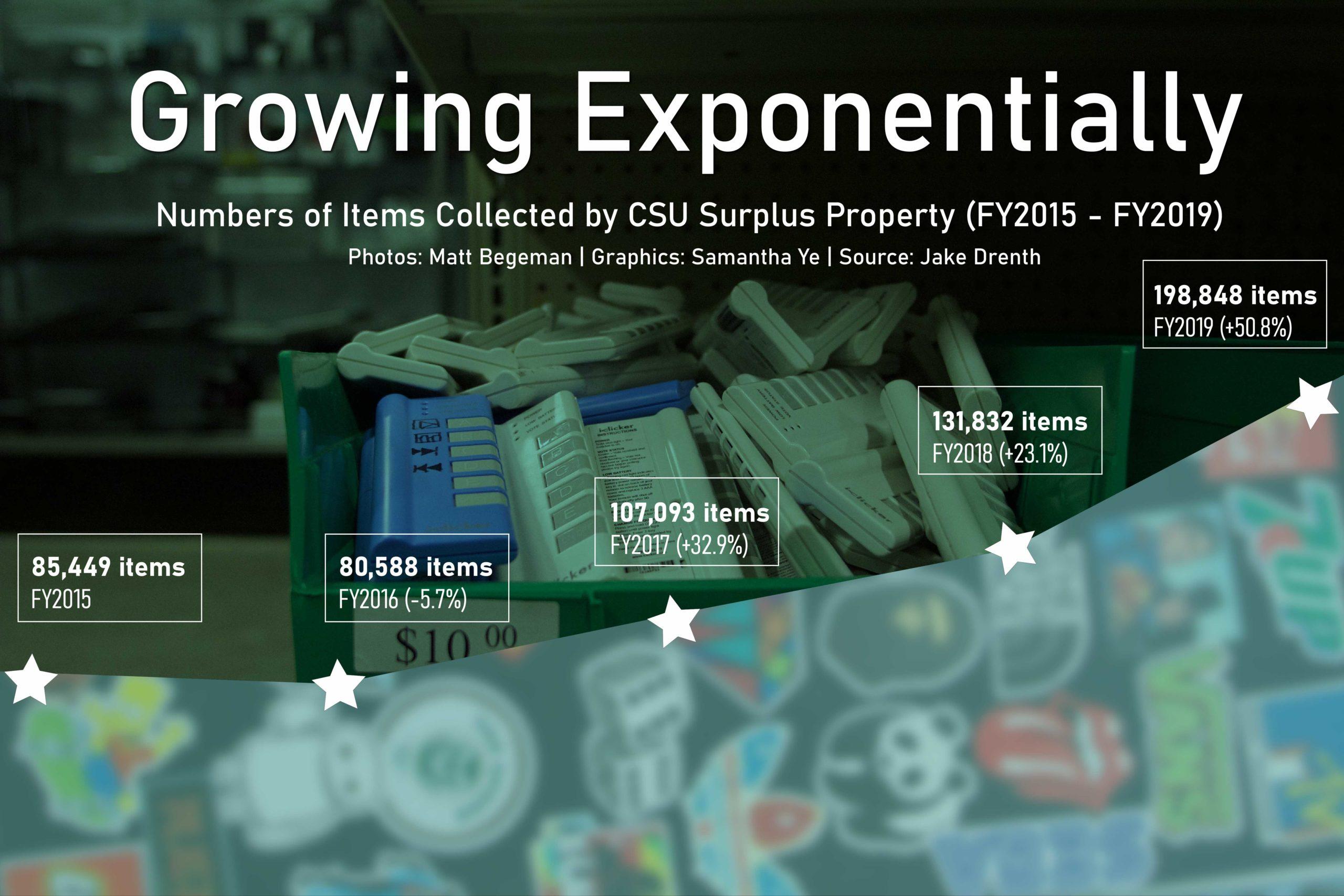 Every step of Surplus Property's extensive operations — from picking up surplus items to advertising on social media to repairing electronics — happens in large part due to student employees, Drenth wrote. 
"At any given time, we have between 25 and 30 student employees from all different backgrounds and seeking all types of degrees," Drenth wrote. "We are heavily dependent upon student employees to help in every aspect of our operation and wouldn't be as successful as we are without them."
Samantha Ye can be reached at news@collegian.com or on Twitter @samxye4.