The question of compensation: NTTF part 2
Samantha Ye
October 16, 2019
Editor's Note: This is the final article within a five-part series regarding NTTF at Colorado State University, going into a week in which NTTF will be heavily discussed. See Part 1: A student's guide to your professor's career | Part 3: Fortifying faculty appointment types | Part 4: Opening paths for promotion | Part 5: The Future of Faculty
How much Colorado State University should pay its non-tenure track faculty has been at the forefront of the recent public demonstrations. 
The pay situation of the previous decade has left many NTTF as financially strapped as their students, or at least working like it. 
"You have all sorts of people that are often called 'three-way fliers' who have to teach nearly full-time here, may have to have another job part time just to feed their families — just to keep their body and soul together to enable them to teach here and do the job they're very well-qualified to do," said political science professor Stephen Mumme. 
Numerous faculty have talked about living in "shoebox" apartments, the burnout of multiple jobs or even considering leaving CSU as their income stream remains stagnant after years of teaching. NTTF began getting 2-3% annual cost of living salary increases around 2012 to keep up with inflation, said Jenny Morse, chair of the Committee on NTTF.
The pay issues are particularly concentrated in colleges with high proportions of NTTF, such as liberal arts, health and human sciences and business, all of which are made up of over 50% NTTF. 
The petition in April and the protest in May both centered on raising the floor salaries of NTTF by about 30% so it would match the median household income of Fort Collins. 
Between those events, the University publicly announced it was raising the NTTF salary floor over the next three years.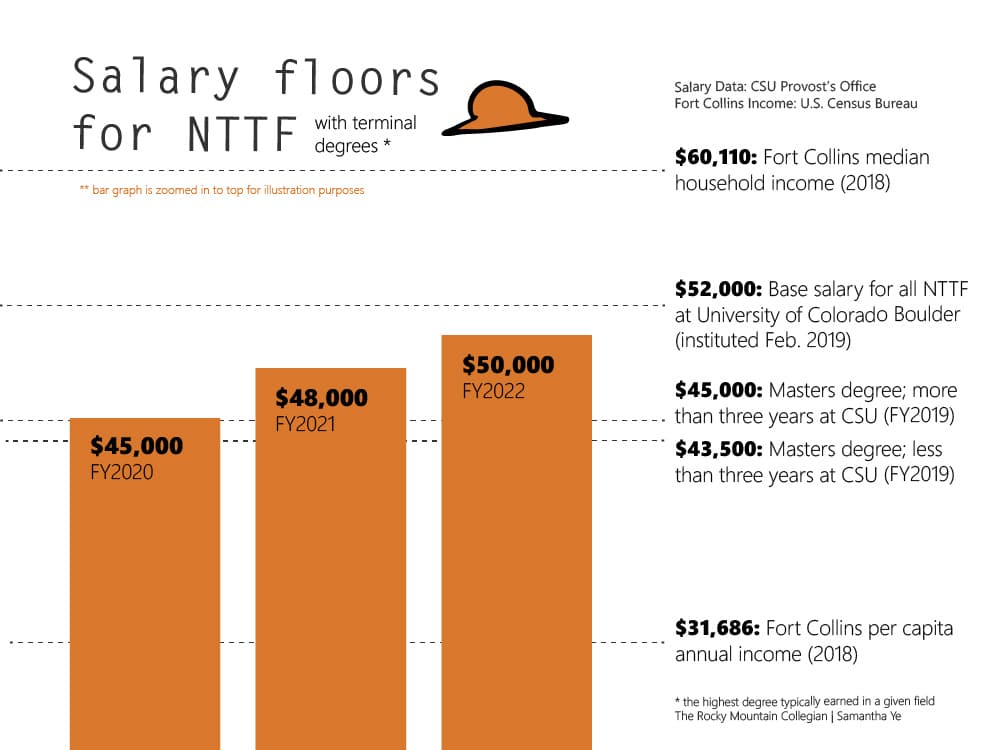 NTTF with a terminal degree or with three years of teaching experience at CSU will get their floors raised to $45,000 this 2018-19 school year or the 2020 fiscal year. That will go up to $48,000 and $50,000 in fiscal years 2021 and 2022, respectively.  
A terminal degree is the highest degree typically earned in a given field (typically a master's or a PhD), and for NTTF who do not have a terminal degree and have taught less than three years at CSU, their salary floors will start out at $43,500 in the 2020 fiscal year. 
But the top floor of $50,000 still falls short of the $52,000 demanded in the NTTF petition for all faculty. Rather than satisfying the asks of faculty, the announcement of the floors became a tipping point for many NTTF who saw it as a tiny attempt at appeasement. 
"It's good," Morse said of the $45,000 floor. "But it's not that much. … Basically they're just saying, 'Here's a little bit.'"
Lurking behind the living wage discussion is also the discrepancy between NTTF and TTF salaries.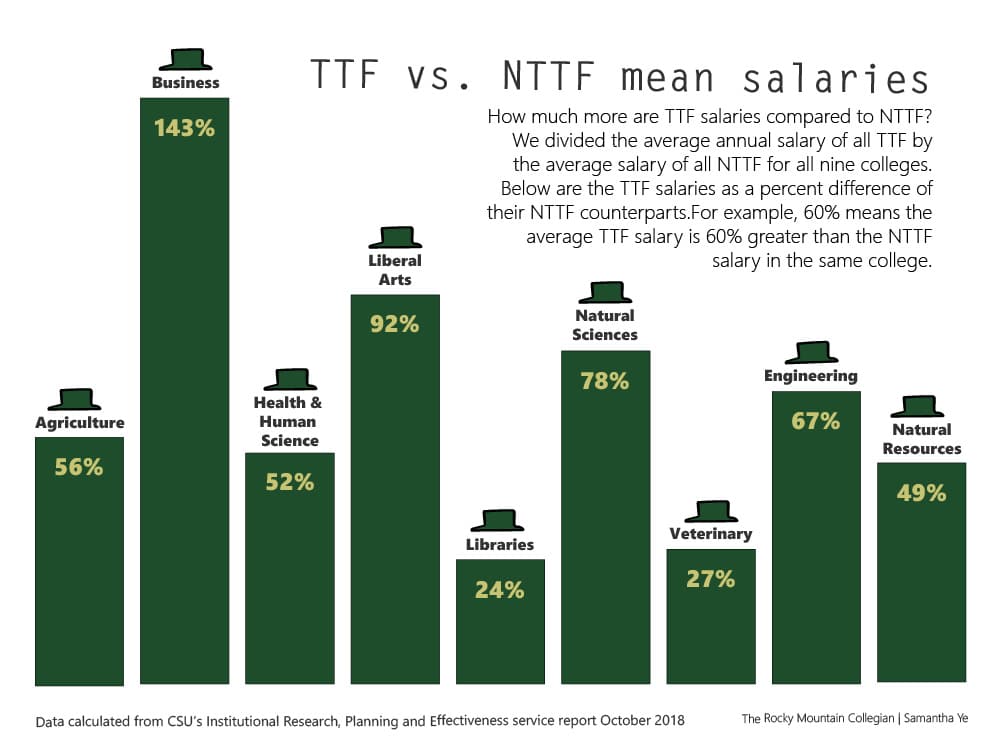 An analysis of fall 2017 data by CoNTTF shows that the average salary of NTTF is lower than the minimum salary of TTF in seven out of nine of the CSU colleges. Several faculty, including Morse, have observed how established NTTF get paid below the starting salaries of TTF in the same college. 
Pamela Duncan, senior instructor of political science, said this gap between salaries means more than just an imbalance in wages, and her perspective has been echoed throughout discussions of NTTF issues, including at the May protest filled with chants such as "Value teaching? Prove it!" 
"That gap at least sends the message that teaching is not as valued as scholarship," Duncan said during the May listening session. 
"I'm just wondering when that's going to change."
Samantha Ye can be reached at news@collegian.com or on Twitter @samxye4.