The future of faculty: NTTF Part 5
Samantha Ye
October 22, 2019
Editor's Note: This is the final article within a five-part series regarding NTTF at Colorado State University, going into a week in which NTTF will be heavily discussed. See Part 1: A student's guide to your professor's career | Part 2: The question of compensation | Part 3: Fortifying faculty appointment types | Part 4: Opening paths for promotion
The faculty changes enacted at Colorado State University this year are the culmination of roughly five years of labor between non-tenure track faculty, tenure-track faculty and administration. 
They are the tip of the "enormous cultural change" necessary to "reimagine NTT as faculty and colleagues who belong on this campus rather than as expendable, disposable (and) flexible labor doing work that tenure-line faculty cannot or do not want to do," said chair of the Committee on NTTF Jenny Morse in her 2018 comments to Faculty Council.
I'm very proud of what CSU has done." -Dan Bush, vice provost for faculty
Dan Bush, vice provost for faculty, said he was impressed by the thoughtfulness departments and colleges put into writing the changes into their codes to recognize NTTF contributions, create job security and instill a sense of career longevity. 
"I'm very proud of what CSU has done," Bush said. "We might have a couple bumps getting it right, but I think in the long run, it'll really significantly improve the livelihood and job satisfactions for our non-tenure track faculty."
But the long-run will include years of evolving issues for the CSU community to work through before reaching such a point.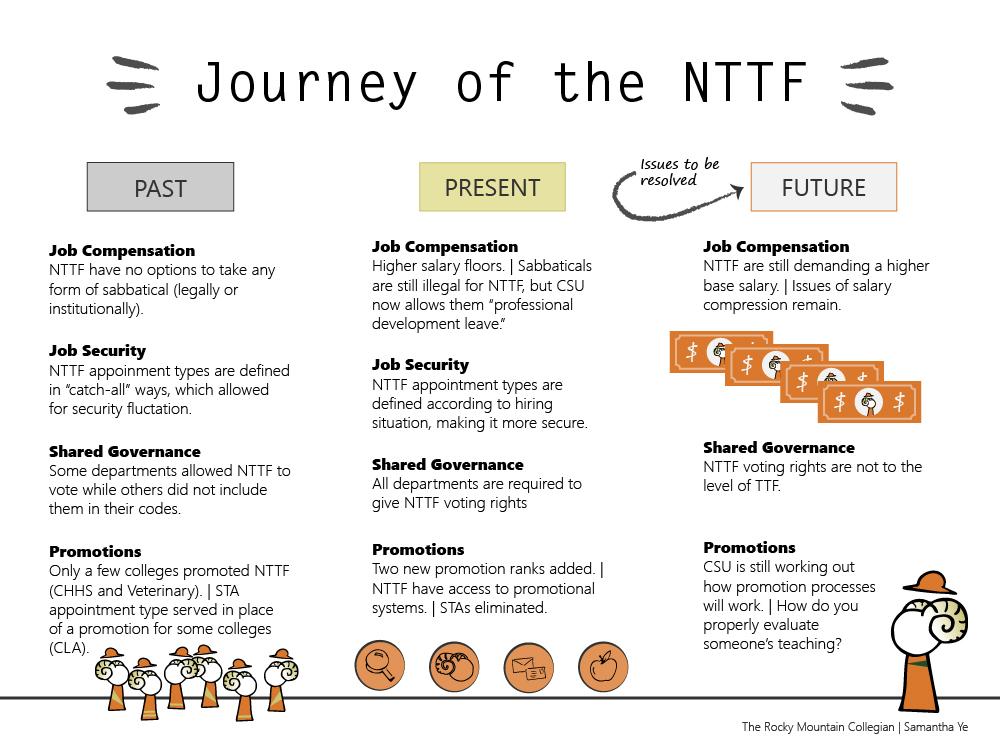 This year, when President Joyce McConnell declared that all 285 eligible NTTF could apply for promotions, she also declared the formation of a new task force charged with educating people about the promotions and keeping the process efficient and fair.
A committee of different faculty and administrative stakeholders, formed in September, will be addressing the continued NTTF issues relating to pay, shared governance and promotions.
If 300 people apply for promotions this year, it would be three to four times more than in past years. So, in McConnell's words, CSU will be "navigating … uncharted waters" and will require some serious cooperation to make it happen.
People expect the system to change." -Jenny Morse, chair of the Committee on NTTF
In September, the CSU chapter of the American Association of University Professors sent an open letter to McConnell outlining five faculty priorities they urged her to take up moving forward. The priorities included strengthening commitment to NTT and TT faculty, enhancing shared governance, promoting budget transparency and addressing issues of equity and inclusion among faculty, particularly regarding gender.
Those will likely make up some of the topics during Campus Equity Week this week. Drawing on the movement "The Gig is Up," a reference to how the "gig economy" is reflected in University contingency hirings, NTTF will host events to inform and update people about NTT faculty issues. 
CSU Campus Equity Week 2019 (Oct. 21-25)
Tuesday: Oct. 22 
Wednesday: Oct. 23
Friday: Oct. 25

CoNTTF listening session: Bring your questions and comments for a conversation

3-5 p.m.
Avogadro's Number

Speaker: Rolf Norgaard, chair of the Instructor-Track Faculty Affairs Committee at the University of Colorado Boulder

Meet and greet: With the CSU chapter of AAUP (AAUP-CSU)

12:15-1:15 p.m.
Clark C140
And, of course, the issue of pay still lingers. 
As long as NTTF are still being asked to do too much while being paid too little, quality instructors will continue leaving to the detriment of students' education, Morse said. 
"I do think we're at a critical moment where the possibility exists for the University to do the right thing and the good thing and the thing that's in the best interests of the students who pay to go here and the faculty who spend their careers here," Morse said. "People expect the system to change."
The more students know and care about these issues, the greater the opportunity for change, because, ultimately, that's where a University's power is, Morse said. 
"It's your tuition," Morse said. "So, you have the loudest voices about what happens. If you want faculty to be treated appropriately and be here to help you and write your recommendations and be interesting and exciting teachers — this matters to you."

Samantha Ye can be reached at news@collegian.com or on Twitter @samxye4.