Fortifying faculty appointment types: NTTF part 3
Samantha Ye
October 20, 2019
Editor's Note: This is the final article within a five-part series regarding NTTF at Colorado State University, going into a week in which NTTF will be heavily discussed. See Part 1: A student's guide to your professor's career | Part 2: The question of compensation | Part 4: Opening paths for promotion | Part 5: The Future of Faculty
One of the main structural changes for non-tenure track faculty this year is a complete revamp of the faculty appointment types. 
All faculty at Colorado State University have an appointment type that reflects the track of their hiring and form of job security — or, at least it does now.
As of this semester, there are five main appointment types: contract, continuing, adjunct, tenure-track and tenured. Contract, continuing and adjunct are the new non-tenure track types, while the tenure-track and tenured types, which were once considered "regular" appointments, have now split into two different types.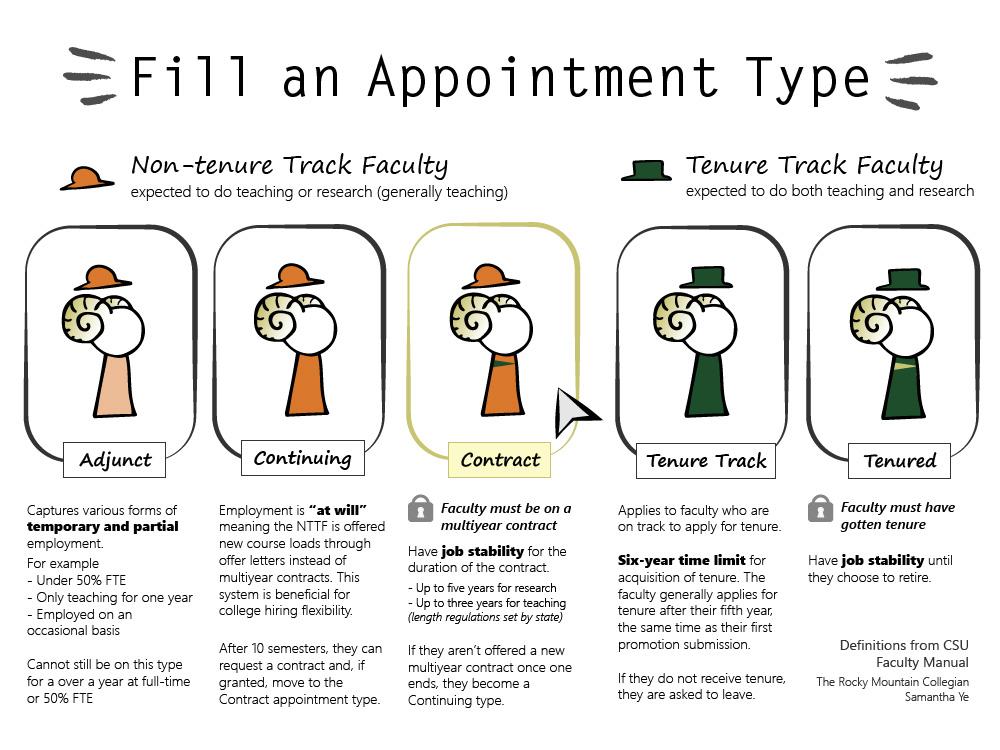 These newly applied definitions were advocated for by the CSU Committee on NTTF because they give NTTF more job clarity than the previous ones. 
Before now, NTTF were defined as either special or temporary, antiquated names referring to the position's source of funding. Most NTTF were lumped into one of the two categories, regardless of how long they were at CSU and whether they were on a multiyear contract or not. 
This gave rise to a number of issues, with healthcare in particular. 
A faculty employee qualifies for benefits only if they're at or over 50% full-time equivalent. However, the way special and temporary definitions were written, NTTF could be considered "part-time" if they were anywhere under 100%, rather than just between 50% and 100%, said Jenny Morse, chair of CoNTTF. This wording can be seen in a copy of the previous Faculty Manual.
That meant an NTTF could work full-time with health benefits one year but receive a different offer letter the next year that would put them below 50% FTE, thus losing their benefits. 
According to Dan Bush, vice provost for faculty, departments can not drop anyone below the percent time listed in their offer letters unless for strong financial or performance reasons approved by the Provost's Office and the Office of the General Counsel. 
Many NTTF are employed "at-will" though, meaning they get new offer letters at least once a year. Changing between part-time versus full-time usually depended on the course loads an NTT instructor was offered, Morse said. 
Non-tenure track faculty, because they're at-will employees, … they were being used." -Jenny Morse, chair of the Committee on NTTF
According to the Faculty Manual, at-will employment "is subject to termination by either party at any time." The authority to terminate from the University side lies with only the president, who uses advice from the OGC and the Provost's Office. According to Bush, it is generally only done for performance issues or financial emergencies.
At-will employment gives departments flexibility in hiring the amount of faculty they need to meet student enrollment numbers, which is helpful for the University but not necessarily beloved by the employees.
"Non-tenure track faculty, because they're at-will employees, … they were being used," Morse said. "So, instead of being treated as a person, they were being treated as a cog. I can use as many cogs as I want when I need them, and when I don't need them, I just let them go." 
But for a person trying to have a career, Morse notes, the system was not a good one. 
The new appointment definitions cover some old holes, so anyone in the contract or continuing positions can only work 50% FTE or over and are guaranteed benefits. 
The adjunct type, being more variable in nature, wouldn't guarantee benefits, but the person accepting the position would at least know this going in, Morse said.
The New NTTF Appointment Types
| | | |
| --- | --- | --- |
| Adjunct | Continuing | Contract |
| This captures various forms of temporary and partial employment, such as teaching under 50% FTE or only for one year.  | Employment is "at will," meaning the NTTF is offered new course loads through regular offer letters instead a multiyear contract.  | NTTF with a contract of at least two years. Faculty can count on having a job for the duration of the contract.  |
| If they have been employed full-time or part-time for more than two semesters, they can no longer be on this appointment type.  | If they do this for 10 semesters, they can request a contract.  | If they aren't offered a new multi-year contract at the end, they become Continuing.  |
Establishing an appointment for contracted NTTF and standardized paths to request contracts is also a big deal, as it allows the faculty to plan around having their job and protections regarding academic freedom. 
Academic freedom is the concept that faculty can research, teach or inquire about the intellectual topics they desire, even if they're controversial, Morse said. The concept assumes more investigations will broaden the overall knowledge pool. 
Tenured faculty theoretically have the most academic freedom because CSU has committed to paying their salary until they retire. NTTF on contract have "time-limited job security," which can at least offer assurance for the duration of the contract, Morse said.
NTTF only gained the multiyear contract option in 2012 with the passing of Colorado House Bill 12-1144, which allowed universities to offer teaching-based NTTF three-year contracts and research-based NTTF five-year contracts.
At CSU, the new appointment types were added to the Faculty Manual in May 2018. Morse said it took until spring 2019 for all the departments to reorganize their faculty into the new appointments.
Samantha Ye can be reached at news@collegian.com or on Twitter @samxye4.