Colorado State University representatives hosted an open listening session packed with roughly 50 faculty to discuss issues faced by non-tenure track faculty.
The session came on the tail end of a petition for a livable minimum base salary for NTTF, which garnered over 1,200 signatures in three weeks.
Though the petition was well-timed to precede the meeting, it wasn't the sole driver, as the University has really started moving forward on these issues over the last few years, said Dan Bush, vice provost for faculty affairs.
"Our bottom line is we want people to have job security and salary security and respect for the work that they do, and we want that for all our employees," Bush said.
Sponsored by the President's Council on Culture, the listening session addressed the four major issues for NTTF: compensation, job security, shared governance and professional development.
Upcoming plans to provide greater equity for NTTF were shared, and the dozens of faculty who attended voiced their concerns and appreciation for the progress.
The discussion centered on compensation and shared governance.
Compensation
Proposed plans include raised floor salaries and 10% promotion raises.
Currently, NTTF are paid by the credit hours they are contracted to teach. A full-time, special faculty instructor's mean salary is $43,406 to $77,967 per year, varying by college, according to a 2018 report from CSU's Institutional Research, Planning and Effectiveness service.
The new plan would give full-time, nine-month NTTF who hold a terminal degree, an increased "floor" salary. It would start next fiscal year at $45,000 and increase to $50,000 by the 2021-2022 fiscal year.
Faculty members noted that the requirement for a terminal degree, which is the highest degree typically earned in a given field, could limit who will be eligible for the salary increase.
The plans also give Senior Teaching Appointments — a position which will be converted to Senior Instructors this summer — a 10% raise this summer, and future promotions of general-fund-funded NTTF will also come with a 10% raise.
"I am concerned that this (10% raise) may be just an advantage and not a sustained effort." Antonio Pedro-Gascon, associate professor of Spanish
Provost and Executive Vice President Rick Miranda said there hopefully won't be a strict quota on how many NTTF can be promoted. Promotions themselves, in order to be academically defensible, can already be a laborious process.
Earlier this year, Faculty Council altered NTTF rank definitions to open more promotional opportunities, so departments may be looking at promoting over a dozen faculty this year when normally they only promote one or two.
However, these plans, though positive, still came across as "baby steps" to many of the faculty, including Antonio Pedro-Gascon, associate professor of Spanish.
"We need to understand that there are people who are working full loads at universities and they cannot be financially independent, and I think that that's a shame," said Pedro-Gascon. "I am concerned that this (10% raise) may be just an advantage and not a sustained effort."
Pamela Duncan, senior teaching assistant in political science, brought up how tenure-track faculty around her seem to be hired at much higher salaries than NTTF who have been teaching at CSU for years. The main apparent difference between them, she said, is TTF do scholarship or research.
"That gap at least sends the message that teaching is not as valued as scholarship," Duncan said. "I'm just wondering when that's gonna change."
Shared Governance
Different departments give their NTTF varying degrees of voting rights, including none at all. The Provost's office said they intend to change that.
As they review the revised department codes just coming in, they will send back any codes which "don't allow NTTF to be on department committees related to their job descriptions" and will expect "NTTF have some voting rights on issues related to their job descriptions," according to presented slides.
The qualifiers in those statements set off a number of concerns, as present faculty questioned the need for more language limiting what issues NTTF can participate in.
Joseph DiVerdi, assistant professor in chemistry, said these expectations "pigeonholed" NTTF from participating as full, well-rounded faculty.
"I want to be a faculty member, I want to participate, I want to give back as much as I'm receiving," DiVerdi said.
"I want to be a faculty member, I want to participate, I want to give back as much as I'm receiving." Joseph DiVerdi, assistant professor in chemistry
While compensation is important, DiVerdi said the issue of shared governance is one of great concern to him.
"I see that without shared governance, we will continue to have these problems," DiVerdi said. "Only when the government is fully shared, rationally shared, helpfully shared will we see a permanent solution."
Bush responded that NTTF and TTF are held to different expectations, and the main topics on which voting rights would be withheld from NTTF are hiring TTF and approving tenure. (The faculty manual already prohibits NTTF from voting on tenure approval.)
A different part of the plan, however, encouraged all faculty to vote on NTTF promotions, a disparity which drew one NTTF member to say "we're still second-class citizens."
Bush said NTTF are not second-class, just contributors to a different mission.
"I agree it's not symmetric," Miranda said. "But we're not there yet in 2019 to make it symmetric."
Moving Forward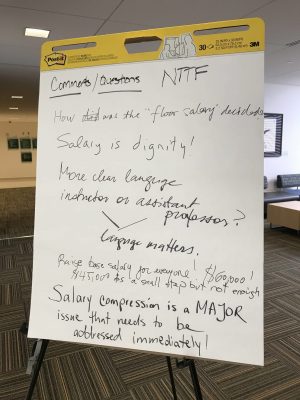 "We're trying to, in a variety of ways, raise the awareness and compensation and professional respect of those that are in our classrooms," Miranda said. "These are some steps we're taking to try and do that. Is it enough? Probably it will never be enough. But we're trying to move in the right direction."
The University intends on holding more listening sessions like these in the future, Miranda said. They will also work on communicating the progress and issues of NTTF to everyone who needs to hear it.
The University will also be updating their employee databases, which lack much NTTF information at the moment, in order to better understand and study best practices to improve NTTF's situations.
Faculty can send further feedback to the President's Council on Culture. Bush also emphasized that he was here to serve as an advocate for faculty.
Jenny Morse, chair of Committee for NTTF, recommended NTTF reach out to their CoNTTF representatives and stay up to date using their website.
Samantha Ye can be reached at news@collegian.com or on Twitter @samxye4.