Canvas analytics of students used for class, research
Charlotte Lang
April 22, 2019
Canvas does more than let students view assignments and announcements. According to the site's analytics page, it also lets professors view what students do.
Canvas, Colorado State University's primary learning management system, claims to "provide course and student analytics for instructors."
According to the analytics page, "student interactions in Canvas can show how they are performing in comparison to their peers and offers a high-level look at how course tools and materials are being used by students."
Canvas has no way to engage in personal surveillance of students." Patrick Burns, dean of libraries and vice president for IT
Patrick Burns, dean of libraries and vice president for IT, said that 80-85% of instructors currently use Canvas. In regard to the site's analytics, the Canvas instructor's dashboard shows class activity level, assignment submissions by due date and overall grade performance.
"Faculty are able to drill down to see what an individual student has done in these areas and to see if the student requires assistance," Burns said. "But this capability is not new. Faculty have always been able to do this in a learning management system, and our experience is that this is the rarest use of the analytics tool by faculty."
Faculty use the data in the dashboard to see how the entire class is performing, Burns said. Data from that can be used to adjust the content the instructor provides, the pace of delivery and the style of delivery. 
"The aggregate data are typically used by the instructor to enhance learning in the course," Burns said. "Some faculty also drill down to review an individual student's performance in the course and, if there are issues, sends an email to the student. This is used to enhance individual learning by the student."
Burns said this individual data has always been available in any learning management system.
"Canvas has no way to engage in personal surveillance of students," Burns said. "It does collect data but this is data collected by the computer and in no way should be considered surveillance."
Kaitie Wood, an engineering major, worked as a learning assistant — an undergrad TA— for BIOM 100 and 200. In this position, she had "TA view" and was able to access some of the analytics available to professors.
Wood said that Canvas shows how long students spend on a page as well as the participation they have, such as clicking on a page. In this way, viewers of the analytics can distinguish if a student simply had the site open in the background or if they interacted with it.
"The quick student view also pulls up how much total time a student has spent on the course page," Wood said. "You can also see which students contacted other students in the course and at what time— although the messages are private."
Other details available to instructors are the dates on which students first opened assignments and the page views on those assignments, Wood said.
"Canvas generates an insane amount of statistics for each student and assignment on each of these metrics," Wood said.
Wood said she'd use these analytics if a student kept showing up to office hours with questions that should have been covered in posted material.
"I can look in Canvas and see if they are actually attempting to understand the material on their own or just trying to finagle homework answers out of me," Wood said.
Wood also said that she knows professors mainly use these analytics when a student is on the cusp of a letter grade to see if they put in the effort and if they should bump the grade up.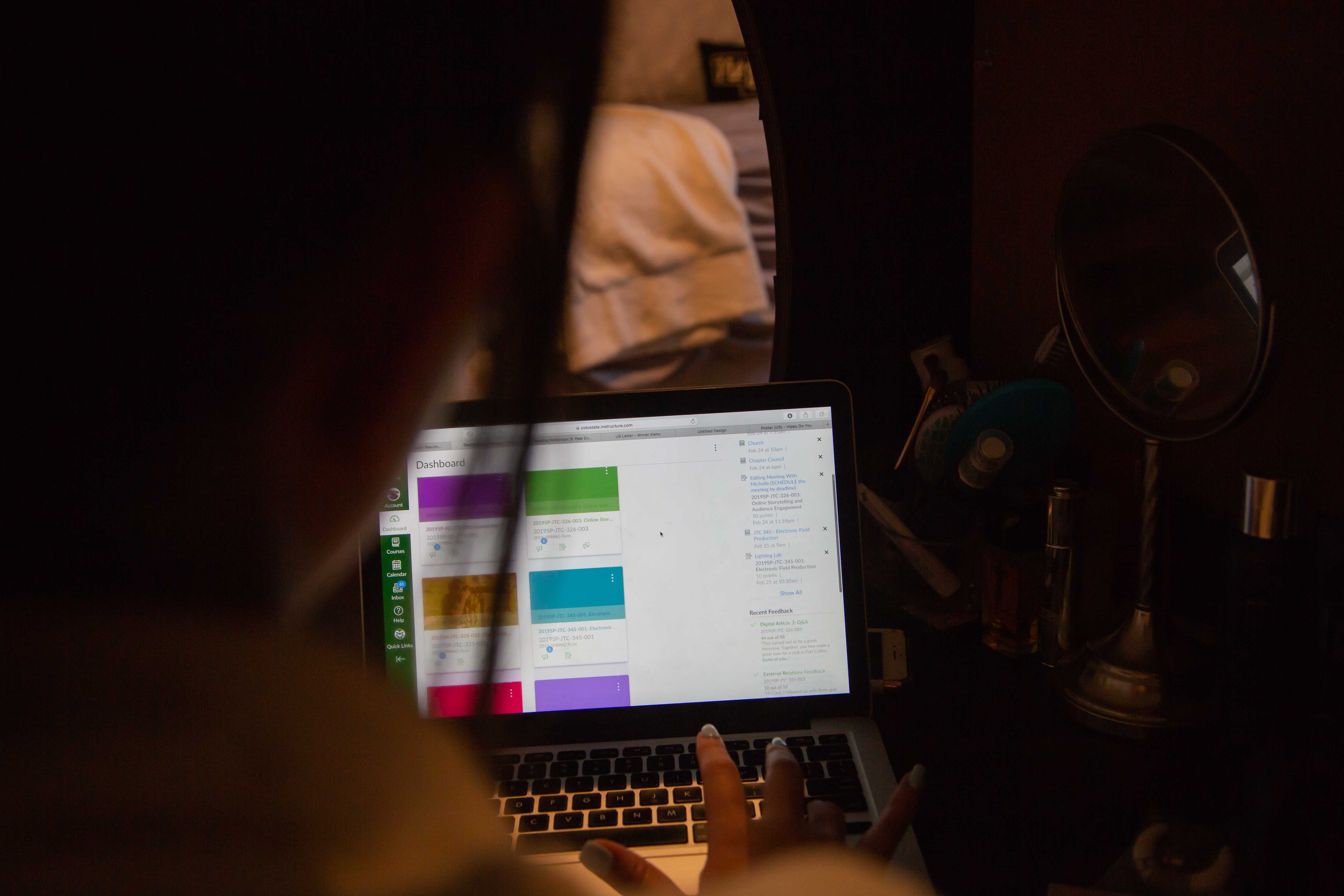 "I actually think that professors should use these stats more, as they could be used to figure out which assignments should be shortened, or made easier, or which subjects students are struggling with before assignments or exams," Wood said.
Another way these analytics are used is by the CSU Center for the Analytics of Teaching and Learning.
James Folkestad, director of C-ALT, said that he and his department are involved in looking at Canvas and its data from a research perspective.
"Right now we're interested in the analytics around quizzing. So, how students use quizzes in the course to help them learn," Folkestad said. "How did they perform on it, but also how many times did they take them? When did they take them? Those sorts of things."
Faculty have access to information about when students took a quiz and how many times they took it, as well as how many times they've logged in or how many conversations they've engaged in on the forums, Folkestad said.
Concerns about surveillance are covered in the C-ALT principles and the University's emphasis on transparency in regards to what data they collect and how it is used, Folkestad said.
"The center that we run was instrumental in putting together the ethical principles of learning analytics on our campus," Folkestad said. "They talk about ethical uses of analytics on our campus, and they're there to make sure that our campus is a place that is transparent about these things and we are protecting what we want our community to be."
Charlotte Lang can be reached news@collegian.com or on Twitter @ChartrickWrites.