Associate Dean for Research steps down after 12 years
Austin Fleskes
September 7, 2017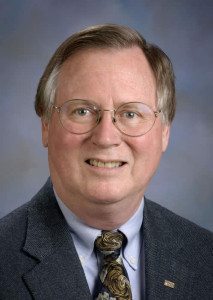 For the first time in over 12 years, the title of Associate Dean for Research for the College of Natural Sciences is being passed on from one professor to another.
Since late 2004, the position has been held by James Sites, a professor in the college of physics at Colorado State University, according to a release from the College of Natural Sciences.
The part time position that Sites held has a number of different duties, such as looking at submitted proposals and other logistics, which he called nuts and bolts. Sites also worked  with other associate deans and faculty members, especially those who felt stuck with different research issues, such as funding. 
Sites served for two five-year terms as the Associate Dean for Research. Sites served an extra two and a half years due to administrative change at the end of his first term, resulting in his second term being delayed officially. 
While Sites is leaving, he still plans to maintain his research programs as well as his position as a professor at CSU. Sites' main ongoing research program revolves around solar panels; mainly how to work with them to make them better without costing more. 
"It's kind of a natural state of affairs," Sites said. "When one is finished with something which (one) has spent a fair amount of energy there is a little bit of relief." 
Sites, along with others, has been working very closely with Melissa Reynolds, who will be taking up the position that Sites is leaving. 
Reynolds arrived at CSU in 2009, where she was hired as faculty member in the Chemistry department, doing research related to biomaterials. She also has taught courses in chemistry and biomedical engineering at CSU.
The college began an internal search for someone to fill the position once it was known that Sites would step down. Reynolds heard about the position, applied, interviewed and was then given the title of Associate Dean for Research. 
"I saw this as a really unique opportunity to expand out a little more," Reynolds said.
In her position, Reynolds' overall goal is to think of how research opportunities for faculty and students can continue to be available.
"One of the great parts about CSU is there are lots of opportunities for students to be involved in that cutting edge research," Reynolds said, adding that her biggest role is to see how CSU can continue to support those people making those great discoveries. "If people have ideas, bring them on. Let's make this work for all of us." 
Reynolds said she hopes to keep things moving in the program, as well as thinking about the best uses of resources and people in order to make things move forward in different research programs. One such program is the sustainability effort at CSU, which she wants to make sure there is continued support for. 
"In my life, I've always had this philosophy that you should do what you love. While people say that all of the time, I think sometimes we have to always reflect back and say, 'How can I do things that much better?'" Reynolds said. "I'm very excited about the opportunity to think with faculty and the college on how we can continue to be the best."
Collegian reporter Austin Fleskes can be reached at news@collegian.com or on Twitter @austinfleskes07.