CSU journalism staff member dies of cancer at 68
Logan Crizer
March 2, 2017
Marilyn Karius, a Colorado State University staff member in the Journalism and Media Communications department, died after a long battle with cancer in her home on Friday, Feb. 10 at the age of 68.
Karius, who went by Lyn, grew up in Media, Pennsylvania. She first attended school at Friends' Central School, and then moved to Washington D.C. to study at American University.
Passionate about the Rocky Mountains, Karius moved to Colorado in 1974. Upon initial arrival Karius dove into Colorado adventures, taking up a job with Skip Tip Ranch where she would ski and work in the lodge.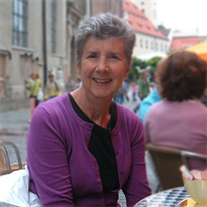 Few years into her adventure, Karius married and moved to Keystone, and after some time found her way to Fort Collins.
Karius was known for her hikes in the Rocky Mountain National Park, Steamboat Springs trips and bike rides along the Poudre River Trail.
Karius came to work at CSU in 2010 as the main administrative assistant and conducted both administrative and front desk duties.
Karius is survived by her two children and her three sisters.
In memory of Karius and her impact on the JMC department, a celebration of life will be held in the Lory Student Center. The celebration will take place at 1:30 p.m. on March 26 in the North Ballroom, room 384.
Logan Crizer can be reached at news@collegian.com and on Twitter at @logloc19.