Party-related tickets in campus west double compared to 2015
Savannah Hoag
September 8, 2016
Fort Collins Police Department wrote over 28 party-related tickets in campus west neighborhoods during the first weekend of the fall semester, over twice as many compared to last year.
There were only 10 tickets issued in the district during the first weekend of the fall 2015 semester, August 26 to 28. The tickets were also issued for the same charges in the same districts.
Fort Collins is divided into 10 districts, with Colorado State University directly in between multiple districts. The tickets issued from August 26-28 were mainly given to people residing in districts 3 and 5, which range from Overland Trail to Horsetooth Road.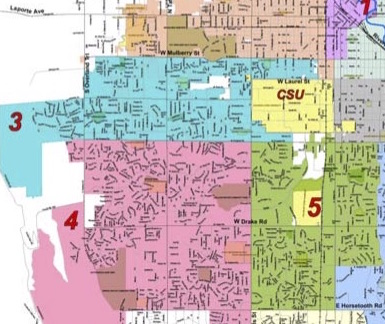 On August 27, Fort Collins PD posted a tweet regarding the issuance of multiple tickets by Neighborhood Enforcement Officers in the campus west area due to party-related activity. The tickets cited were underage possession of alcohol, nuisance gathering, noise violation and open containers.
NET officers are designed to develop a supportive community between citizens and Police Services. Each NET is assigned to a district of Fort Collins and is made up seven police officers, a crime prevention specialist and one sergeant.
CSU Off-Campus Life lists a variety of ways to "party smart," including party packs, which are free activities that hosts can use to entertain their guests without receiving multiple noise complaints.
Fort Collins PD and the CSU Police Department worked together in 2009 to create a way for students to host safe parties. Now, students are encouraged to register their Friday and Saturday parties as a way to avoid major party related fines.
Collegian news reporter Savannah Hoag can be reached online at news@collegian.com or via Twitter @sav_hoag.