NICHE Awards finalists include three Colorado State University Rams
Pamela Shapiro
November 2, 2015
Three Colorado State University students brushed away all of their inhibitions, creating art pieces that made them finalists in the NICHE magazine awards program. The competition included art students from both the United States and Canada, recognizing them for innovation in American and Canadian fine art.
The three CSU finalists are John Sullivan, a fine art major concentrating in metalsmithing and jewelry, Nicolette Tiongson, also a metalsmithing and jewelry major and CSU alumna Hayley Josephs. 
Sullivan created a piece made out of enamel titled "Motherboard." He took a piece of fine silver and formed it, put down a layer of glass enamel and put down a very thin fine silver wire, then drew out his image with the wire. Once this was completed, Sullivan had created a robotic fetus.
The meaning behind the piece had to do with technology and humanity, and how technology has changed the way we live our lives, Sullivan said.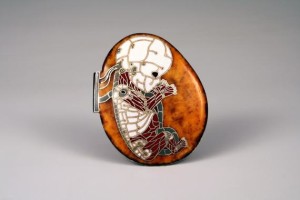 "The piece is about early childhood development and how children right out of the womb are introduced to touch screens and technology," Sullivan said. "The piece is about how that is going to affect their development. I chose a six-week fetus because that's when children first start development and I chose that because it's easily identifiable."
Sullivan did not start out at CSU studying art. He said he was an engineering major at first, but he was not very passionate about it.
"I wanted to create and work with my hands, as well as be very precise, so I found art and specifically metalsmithing, and it's an arts degree that I can really work with," Sullivan said. "There are a lot of people hiring for it. It's a medium I can really communicate my ideas through."
Another CSU finalist, Tiongson, created "Reine d' Argent." "It is a filligree teapot, which is a teapot made with delicate wirework.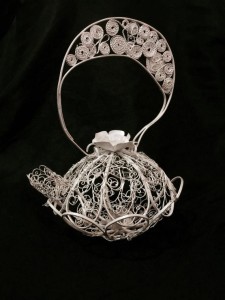 "When looking at the other finalists in the teapot category, I'm the only one with a non-functional tea pot, because mine is purely decorative and you can't put any liquid into it," Tiongson said. The meaning of her teapot also stands out.
"The meaning of the name of my teapot is the Silver Queen, and in London, there are a collection of teapots called the queen's teapots, and that's where I drew some inspiration from," Tiongson said.
It was not always easy for Tiongson to create a piece that would make her stand out from the other competitors. In just one month, she had to come up with something that the judges had not seen before.
"When entering a competition, you really have to differentiate yourself from the others, and that's what I was thinking of when I was creating my teapot," Tiongson said. "The project had to be mathematically accurate because one mistake and your whole piece can fall apart."
Her piece did not fall apart and neither did her love for art, which she said began when she was in high school.
"My high school had a jewlry and metalsmithing program," Tiongson said. "During my junior and senior years, I started competing a lot in art competitions and won quite a few awards. After that, I thought I could make a career out of this."
Tiongson said she hopes to become a professional fine jeweler in the future.
Finalist Josephs is currently working in California as a metalsmith, but is grateful for every opportunity the CSU art department gave her.
Josephs created a belt buckle that is one out of three in a series she hopes to continue. The specific piece she created is titled "April" and is made out of marriage metals. Marriage metals use different types of metals and cut out different pieces that all fit together like a puzzle, Josephs said.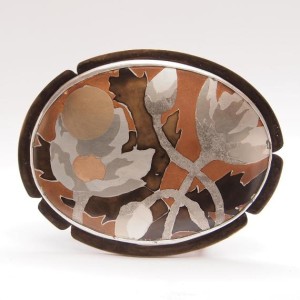 The meaning behind this piece is nature.
"Spending a lot of time in school and in the studio, I lost touch with the natural world," Josephs said. "Through the whole series, the gold disc will move across the top to signify how the sun moves across the sky."
Josephs did not always spend time in the art studio. She came to CSU as an engineering major.
"It wasn't clicking for me. I didn't love it," Josephs said. "I started thinking of what I love to do, and I love to make things. I love to produce."
Josephs said the CSU art program gave her the ability to leverage her creative skills, as well as mathematical skills, because of the outstanding professors.
"I feel like the teachers really take an interest us as students," Josephs said. "We really get that one-on-one time and get to know the professors well."
The NICHE winners will be announced in January at the awards ceremony during the American Made Show.
Collegian Reporter Pam Shapiro can be reached online at news@collegian.com.