The first time Adam Johnson, CEO of Rocky Mountain Vaping, became aware of a city ordinance that lumped e-cigarette use with tobacco use was after a city code enforcement officer came into his Fort Collins store to collect payment for fines he never knew about. Johnson then took it upon himself to look up the city's municipal code, and found out that the ordinance was passed without his vaping business being informed of the changes.
As a company affected by these new laws, Johnson said he would have driven from his residence 10 hours away in Kansas to debate the ordinance in City Council and provide perspective as a business owner, if the city had properly informed him.
"I feel like it's taxation without representation," Johnson said.
The story is the same for Old Town Vape Co, Colorado Vapors, hookah lounge Narghile Nights and multiple other tobacco and e-cigarette stores in the city. When interviewed, managers and owners of these establishments all said the city should have done more to reach out to them before making decisions that would affect their business. 
Narghile Nights relocation
The most recent ordinance passed banned smoking and vaping in public parks, city buildings and most city-sponsored events. In addition to this, starting Jan. 1, 2016, smoking and vaping will be banned in almost all of downtown — both in open air and in commercial buildings.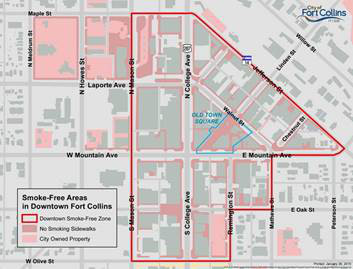 Narghile Nights moved from its old location to 223 N. College Ave. just a few days before the most recent ordinance was signed into law. Throughout the entire process of moving into their new Old Town building, owner Aria Khosravi said he was never told that the city was debating laws which would affect his business downtown.
"We feel the city has made us jump through many hoops only to pull the rug out from us at the last minute," Khosravi wrote in an email to the Fort Collins City Council. "We are honest, respectful, law-abiding business owners, and it simply isn't right for the city to make us comply with their strict policies, grant us a C.O., and then pass a law that jeopardizes our business' future." 
Because of his tireless work with the city, his businesses will stay open come the new year thanks to an amendment to the ordinance exempting retail tobacco stores. In an email sent to City Council member Gino Campana of District 3, Khosravi said he believes the new laws were put into place to discourage tobacco-related stores from developing in the future. 
"We had no idea that this was going to be an issue," Khosravi said. One provision Narghile Nights had to implement in order to stay open was the installation of an air filtration system costing more than $40,000, to ensure that no secondhand smoke could make its way outside to the public. 
While Narghile has sorted out most of its issues with the ordinance, other stores' problems are just beginning. 
Taxes or tickets?
The City of Boulder similarly banned public smoking and vaping in a large sector of the city earlier this year in a Boulder City Council decision. There was much outcry about this — most notably in a Rooster article which called the ban "draconian."
Fort Collins plans to enforce the new laws by relying on community members to contact police if they see someone smoking or vaping where they should not. The vaping ban in Boulder has not been strictly enforced, so it is hard to tell whether the ban has been effective in reducing city-wide tobacco consumption, or whether it was just enacted to improve the city's image. 
Delynn Coldiron, neighborhood services manager for the city, said no citations have been issued for the first phase of the ordinance. She said this is because the city is focusing on outreach and education of the new laws before applying them.
Johnson said the current taxes on tobacco and e-cigarette stores provide more revenue to the city than would be created in fines and tickets given to users of the products. He said the new laws are anti-vaping, and would only serve to dissuade the growth of e-cigarette business in Fort Collins.
"We pay $20,000 a year to a place where we aren't told that our business will be affected," Johnson said. "We were not informed by mail, in person or over the phone."
In 2013, Goldman Sachs named e-cigarettes one of top eight disruptive themes of the future and stated that e-cigarette use has the potential to totally disrupt the tobacco industry. Johnson asked why we would want to regulate and ban one of the fastest-growing industries in America.
According to the city, the ban was enacted in the name of public health.
E-cigarette health safety

Mayor Wade Troxell said that one of the issues with public smoking was that it infringed upon peoples' right to breathe clean air.
"The issue is that smoking is banned within 20 feet of the front doors of establishments," Troxell said. "What was happening was people were smoking in the public right of way and putting people into dangerous situations." 
An American Heart Association statement released in 2014 said 67 percent of e-cigarette users in the United Kingdom who switched from cigarettes to e-cigarettes completely stopped using tobacco products. It also found that there was no evidence to suggest that secondhand vapor from e-cigarettes harms others.
[aesop_quote type="pull" background="#282828″ text="#000000″ width="70%" align="center" size="2″ quote="There would be a public health benefit if e-cigarettes proved to be much less hazardous than combustible cigarettes and if smokers could switch entirely from conventional cigarettes to e-cigarettes." cite="- quote from the AHA Electronic Cigarettes Policy Statement" parallax="on" direction="left"]
The study stated the public would benefit if all cigarettes were replaced with e-cigarettes, but also that there was not enough research into the long-term effects of vaping to claim that it is a totally healthy option for the user.
Jan Moraczewski, a health educator for Larimer County with the tobacco prevention program, said that there have not been enough studies into e-cigarette use to say that they can be an effective cessation tool. 
"They aren't approved by the FDA as cessation devices and they aren't regulated, so you can't tell how much (nicotine) is in one, which is really important to someone who is quitting," Moraczewski said. "They don't have the smoke that traditional smoke has, but they are finding that the aerosol contains heavy metals."
The website for the smoking ordinances states that the new smoke-free zone was created to improve public health, which is obviously true for cigarette use. In fact, most e-cig shops interviewed said they support a ban on smoking. Moraczewski said e-cigs are important to include in smoke-free ordinances because the health effects of secondhand vapor are totally unknown. 
"The whole idea behind smoke-free laws, in addition to reducing secondhand smoke exposure, is to develop a culture of health," Moraczewski said.
Even so, Colorado Vapors owner Shane Stringer said that should not be an excuse to ban the use of e-cigarettes in the open-air downtown area, as the decision to use e-cigarettes is the choice of the user. Stringer claimed that every employee at Colorado Vapors used to smoke tobacco, but have since moved on to use e-cigarettes exclusively. 
Wade Meyer, an employee at Old Town Vape Co., said he only vapes in the store, in his car and at home. He, along with many e-cigarette users, do not vape in public, as they do not want to contribute to the stereotype of the obnoxious e-cigarette user. It is a ban on a personal choice, Meyer said, as most e-cigarette users do not flaunt their devices or release thick clouds of vapor in public. 
Communication breakdown
Coldiron said surveys were sent out to the public and locals were invited to weigh in on the downtown smoking ban. There were also social media polls put out by the city government which aimed to get a basis for how the public would receive such a ban.
According to documents provided to the Fort Collins City Council for their Feb. 3 meeting this year, 60 percent of those polled in Old Town were in favor of smoking restrictions, and 63 percent were in favor of creating designated smoking areas, which never made it into the final law.
However, Coldiron also said that no surveys or polls were sent to retail tobacco shops, hookah lounges or e-cigarette stores.
Stringer said the city never informed his business, and instead found out about the smoking ordinances in a totally different way.
"I actually found out about the ban when a reporter from the Collegian called me for a comment," Stringer said. "It was the first time I had ever heard about it."
Stringer said he attended later meetings discussing the ordinance. Although he said he provided professional insight to the council about e-cigarettes and their benefits, the law remained unchanged. 
Khosravi found out about the ordinance when a friend of his texted him during a reading of the new laws at City Council. No e-cigarette or tobacco businesses contacted by the Collegian were informed of new laws by the city, and instead found out through alternative means.
Regulation without representation
Because the city did not inform many prominent e-cigarette and tobacco stores of the change in smoking and vaping laws, some business owners are frustrated that the ordinances were passed without enough consideration into why the city would want to ban vaping at all. 
[aesop_quote type="pull" background="#282828″ text="#000000″ width="50%" align="center" size="2″ quote="We feel the city has made us jump through many hoops only to pull the rug out from us at the last minute" cite="-Aria Khosravi" parallax="on" direction="left"]
Narghile Nights survived this ordinance, shelling out tens of thousands of dollars just to stay in compliance with laws they were not aware of. Colorado Vapors, Rocky Mountain Vaping and the Old Town Vape Co. all expressed frustration with the city for not consulting with them before making it illegal to vape wherever it is illegal to smoke.
The businesses also found it frustrating that the potential health benefits of e-cigarettes were not considered before the city outright banned them in Old Town, despite the potential for protecting the health of those who would breathe in secondhand vapor. According to Stringer, e-cigarette restrictions were passed as a knee-jerk reaction to the increasingly popular device. 
The second phase of the most recent smoking ordinance is going into effect Jan. 1, 2016, banning smoking and vaping in most of the downtown area.
Collegian City Beat Reporter Erik Petrovich can be reached at news@collegian.com or on Twitter @EAPetrovich.