ASCSU releases results of student poll on stadium
Skyler Leonard
December 5, 2014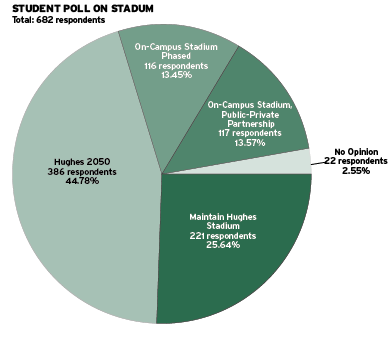 According to a survey conducted by the Associated students of CSU, majority of students polled were in favor of renovating Hughes Stadium instead of options that would allow construction of an on-campus stadium.
The poll results were sent to CSU President Tony Frank over Thanksgiving Break, however in a memo sent on Nov. 29. Frank recommended the opposite of the poll results citing an on-campus stadium as CSU's best option.
The poll was conducted by ASCSU Director of University Affairs Scott Ricketts and his staff. Over 800 people responded to the email survey sent to 3,000 random students. According to Ricketts, the amount of responses was higher in comparison to past surveys.
"Student voice surveys normally have a pretty low turnout," Ricketts said.
Friday at 12 p.m. in Denver, Frank will officially present his recommendation for an on-campus stadium to the Board of Governors. After public input, the board will discuss and vote on stadium options.
During this meeting, ASCSU President Samantha Guinn will present the ASCSU survey results to the Board of Governors.
For those unable to attend the meeting in Denver, the meeting is being streamed live through CSU's website and also on the Fort Collins public TV channel 14.
Collegian Reporter Skyler Leonard can be reached at news@collegian.com or on Twitter @skyler_leonard.
Related articles