In memoriam: Professor Michael Elliott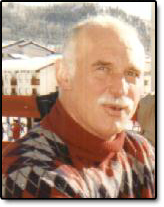 CSU Chemistry Professor Michael (Mike) Elliott, born Aug. 1, 1949, died July 2.
He entered the Colorado State family in 1981, embracing his love of science for the next 30 years where he was known for his humor and honest approach to life. Throughout his tenure, he assisted young and old minds alike in the Department of Chemistry by spurring on lively debates and nourishing the many relationships he cherished.
Mike met his wife, Elizabeth Elliott, in 1982, shortly after he arrived in Fort Collins. Two years later they married. The couple just celebrated their 30th anniversary.
He is survived by his wife, Elizabeth; his step-son, Trey Tanner (Jackie); grandsons Alex, D.J., and Nathan; and sister, Sally Sasser (Bill).
A memorial service will be held at 3:30 p.m., Friday, July 11, in the Lory Student Center Theatre. A reception will follow in the University Club.
In lieu of flowers, contributions can be made to the C. Michael Elliott Scholarship Fund online or with a check made out to the CSU Foundation, mailed to P.O. Box 1870, Fort Collins, CO 80523-1870. In both cases, be sure to list C. Michael Elliott Scholarship Fund in the memo lines. Donations can also be made in Mike's name to Opera Fort Collins, at P.O. Box 503, Fort Collins, CO 80522 or on their website.
Collegian Managing Editor Lawrence Lam can be reached at news@collegian.com.