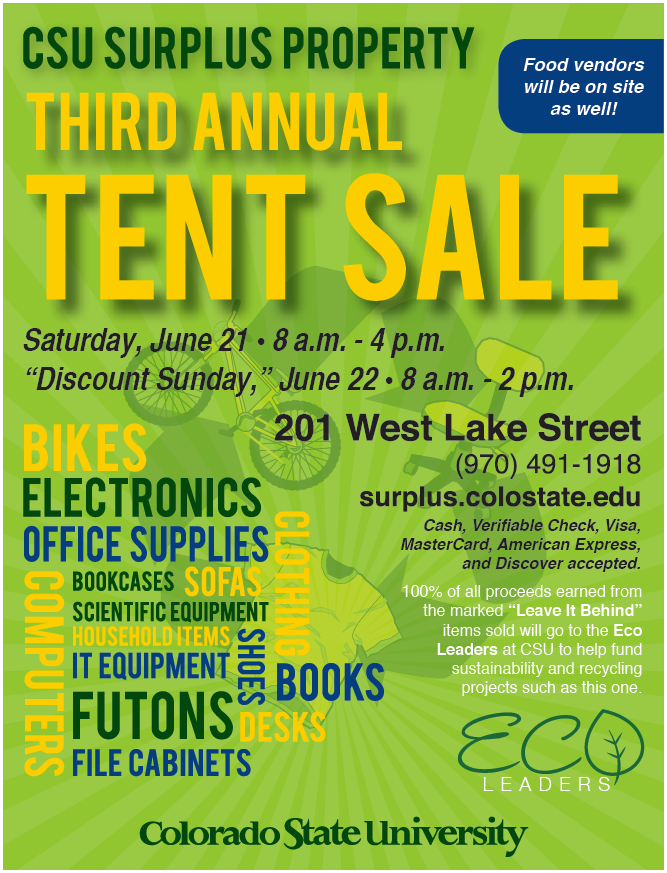 CSU Surplus Property is holding their third annual Tent Sale this Saturday and Sunday at 201 W. Lake St.
The event will run from 8 a.m. to 4 p.m. on Saturday and Sunday from 8 a.m. to 2 p.m.
The Tent Sale will have approximately 20 tons of items that were collected as part of the Leave it Behind program put on by Eco Leaders at CSU.
Everything from clothing, bikes, electronics, small furniture items, household goods to school supplies will be found.
According to CSU Surplus employee Corey Arthuleta, Sunday will feature heavily discounted items throughout the day for their "Discount Sunday."
Proceeds from the two days will go Eco Leaders Student Organization at CSU to help fund programs like Recycle Mania, Leave it Behind, the Green Warrior energy campaign, the annual trash audit and Earth Week programs.
Food vendors will be on site both days. On Saturday, attendees can feast on Nomad Street Cuisine and Umami Mobile Eatery. Nomad and Common Link will be there Sunday.
To find more about the event, visit their website or call 970-491-1918.
Collegian News Editor Hannah Hemperly can be reached at news@collegian.com.