Food trucks days are numbered at CSU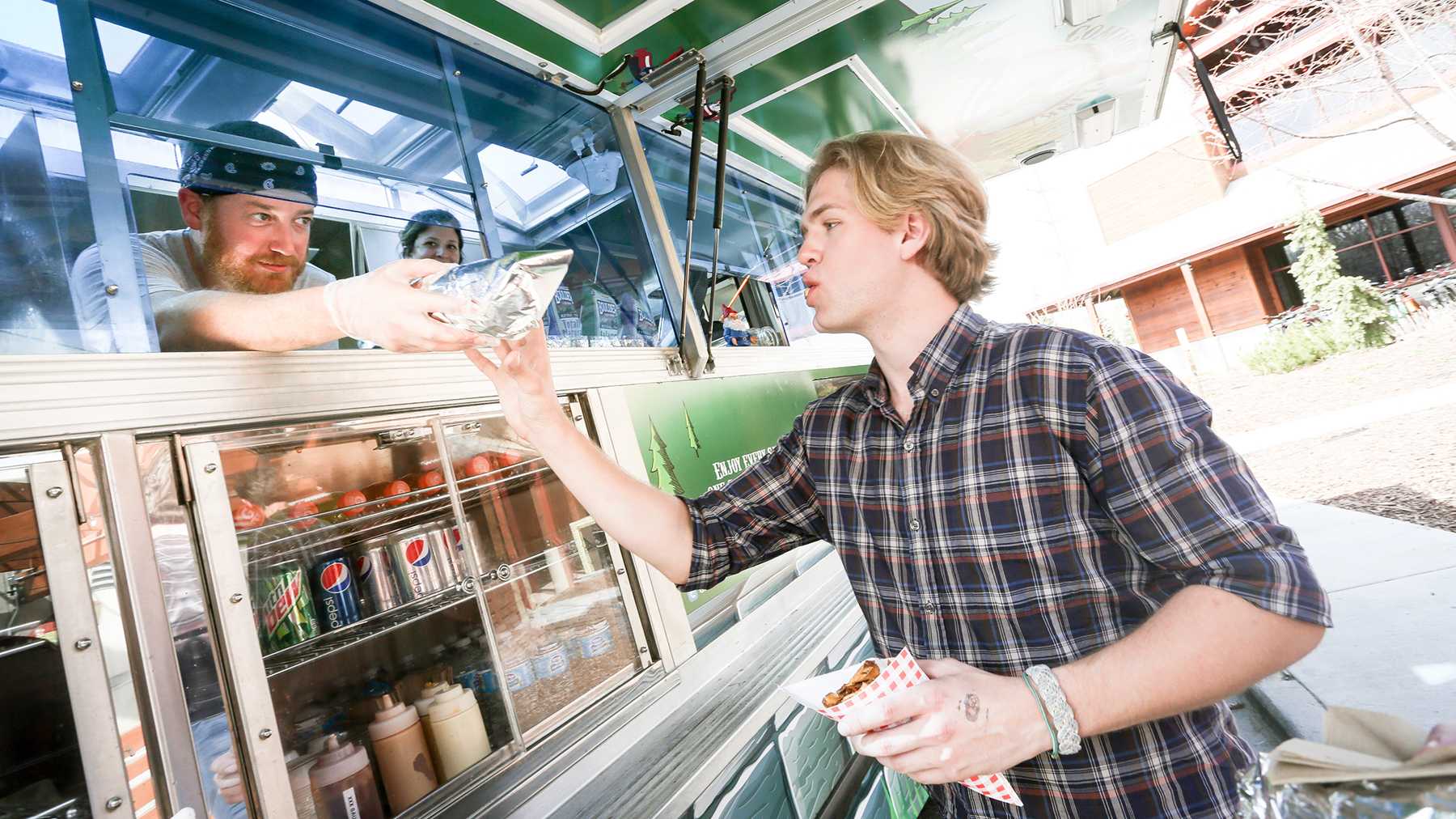 Corrections were made to this article after the date of print.
The food trucks want to stay if the University will have them.
After a year of inhabiting the CSU campus, the five food carts will not be returning to CSU after the Lory Student Center construction is finished.
This summer, four out of the five carts – Umami Mobile Asian Eatery, Common Link, La Piadina and B's Breakfast Cart, intend on scoping out campus for numbers, before deciding on a permanent schedule.
"We definitely would like to be there," said Menyus Borocz, owner of Italian flatbread truck La Piadiana. "Hopefully, if it's worth it."
Borocz, who received his masters in business management in 2013, opened La Piadina in July of 2013, among 12 of the larger food trucks in the city. According to Borocz, the food truck market is competitive in Fort Collins, and the University is a prime location.
"It seems like a lot of people are getting out of it because it's not that easy," Borocz said. "If you can't go to the breweries, it's really, really hard to make it."
Unlike Umami and Common Link, which frequent New Belgium Brewing and Odell Brewing Company on the weekends, Borocz's cart has yet to find a permanent downtown location.
Due to the delayed LSC construction, the University has given the food carts two more weeks at the start of the fall semester.
"I wanna come back for as long as they'll have me," said Brandon Mau, owner of B's Breakfast Cart. "I think students are receptive to students to food trucks. In the end, it's not my decision and I recognized that from the very beginning. This is just a bonus."
After catering several weddings and events this summer, Ryan Martin, owner of Umami Mobile Asian Eatery, said if other food options become available on campus in the fall the food carts will no longer be on campus.
"We're not allowed to return if the LSC is done and the food court is open," said Ryan Martin, owner of Umami. "They'll no longer need us and we won't be able to come back."
Common Link owner and operator Derrick Smith, said this decision was expected.
"We knew that we were doing this while the Lory Student Center was down and after that, they told us no," Smith said. "We all knew that coming in, too. It wasn't a surprise."
Common Link sells 70 to 80 meals a day on campus, better than their other locations. Smith would want to return permanently if the University allowed it.
"Even here, our worst day here is better than our worst day anywhere else," Smith said. "This is an awesome place."
Mau, who started his food cart as an experiment in the fall of 2013, said he loves the bonds he made with students, faculty and the community throughout his experience.
"It was really amazing to network and make interesting connections from a little cart," Mau said.
Mau plans on returning to the CSU campus for the summer session, without his burritos. He wants to transition his cart into a go-to snack joint, along with considering new concepts of ice cream, vegetable and flowers.
According to Borocz, the food trucks as a whole sell 300 to 400 meals per day to students and faculty on campus. With expected sales at the LSC food court to be roughly 800 meals a day, Borocz does not expect the food trucks to take more than one to two percent of their market, considering they are reaching a different demand.
"Most of the people that come to us wouldn't necessarily go there," Borocz said.
Borocz said that if the students argued for the food trucks to stay, the University will look at the idea.
The Collegian reached out to University officials for comment but they haven't responded.
"They make it clear that if the students get mad and really ask for it, then they will consider it," Borocz said. "Students aren't gonna care until we're not there anymore and then they're going to be like 'Oh where are the food trucks? I want them back.'"
Collegian Features Beat Reporter Hannah Hemperly can be reached at news@collegian.com.
Related articles