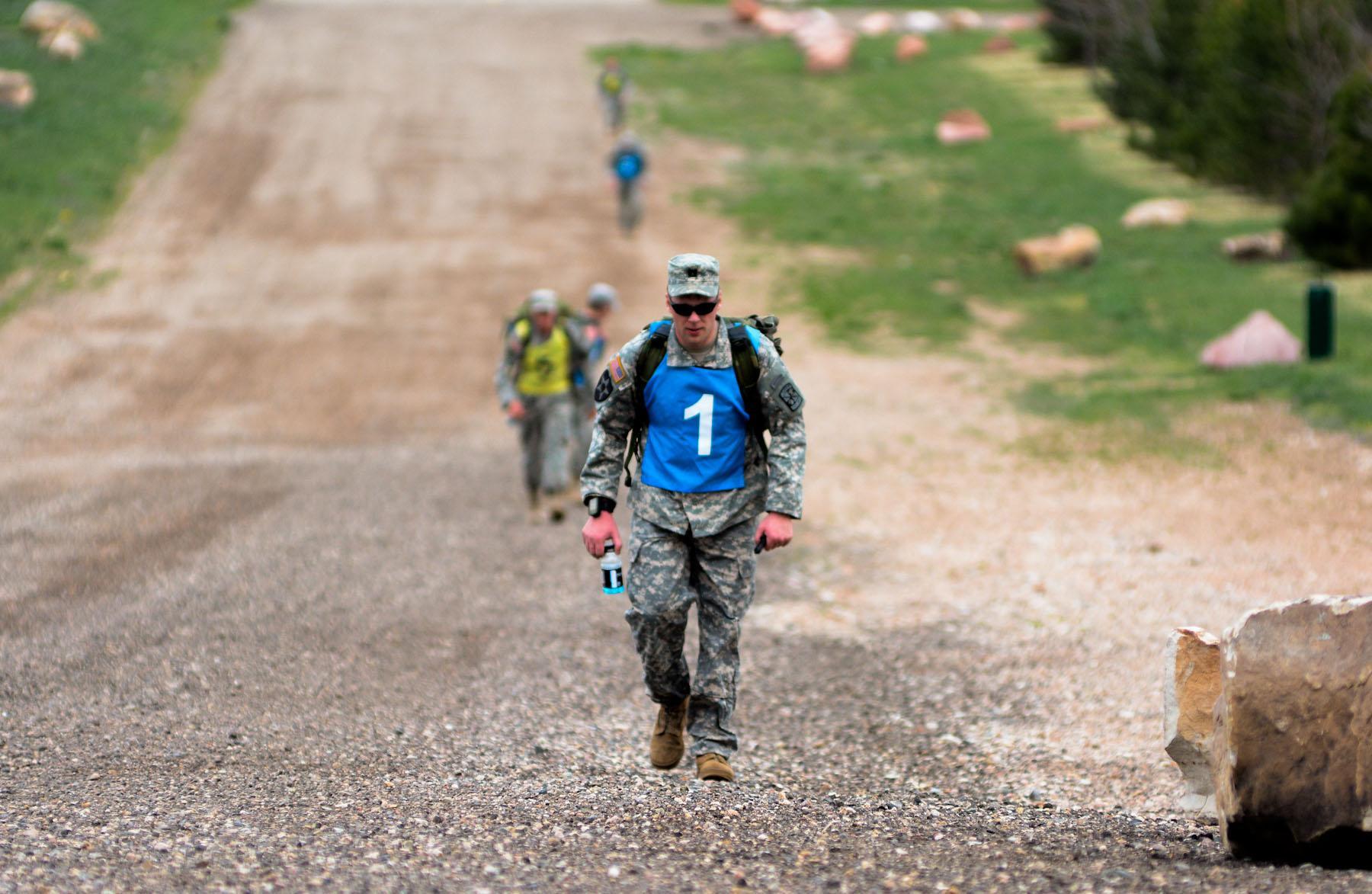 On April 12th, 14 Army R.O.T.C. cadets along with five Army reservists from Fort Carson participated in a fitness test to qualify for the German Airforce Proficiency Badge.
Twenty-one year German Air Force veteran Col. Thomas Hiller oversaw the event and administered the badge.
The reason why the German forces allow everyone to do this program is to have a connection; some starting point t0 talk about.
Once the cadets finish the fitness test — which consists of intense sprinting, flexed arm hang, combat life saving techniques and pistol qualification — they get to wear the badge for the rest of their Army career, even after they finish R.O.T.C..
Matt Brewer, a political science junior and R.O.T.C. officer in charge of the event helped other cadets in the Moby Annex as they performed the test.
"It's a German military award," Brewer said. "Every two to three years, German soldiers have to receive this award to stay in their military. For them it's an overall measure of basic soldier skills. For us, this a formal award that we get to earn. Especially to us in R.O.T.C., its a great chance to train on some things that we wouldn't get to see normally."
The program is the first ever at CSU. It was a joint exercise that involved actual Army medics and soldiers that came up from Fort Carson to help, participate and oversee the event.
One Army R.O.T.C., student and double major, Brittany Dannewitz, is also in the Army reserves as a medic.
"So, if we have any injuries during physical training and I'm there, I'm usually called over to check them out," Dannewitz said. "Just to check heart rate, and any basic things really."
CSU alumnus Chris Aldretti graduated from CSU in 2011. He was in Army R.O.T.C. all four years of college. He was at the event as a combat lifesaver instructor.
"They wanted to do a combat lifesaver course so they called us. We are a medevac unit down (in Fort Carson), so I actually came up and taught them the CLS class. Basically, they told us in exchange for that, a few of our guys can come up here and get the badge. We don't ever get to do that."
Aldretti went on to flight school after he graduated and then joined the reserves down in Fort Carson. He's a medevac pilot, but hopes to one day work for military intelligence.
The German proficiency test started at 9:30 a.m. and culminated with a grueling exercise at Hughes Stadium around 4:00 p.m. Col. Hiller has to sign the paperwork and send it to headquarters before he hands out the badge to the qualifying soldiers and cadets.
Collegian Reporter Scott Fromberg can be reached at news@collegian.com.