New scholarship to aid student veterans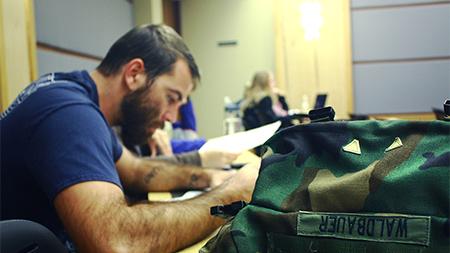 A new scholarship will help out the student veterans at Colorado State who have served in combat overseas.
A $2 million donation from David and Gail Liniger in January established the Liniger Honor, Service and Commitment Scholarship.
Each scholarship awarded will give $2,500 each semester to a CSU veteran who served in combat. Within 24 hours of the scholarship opening, over 90 students applied for it and ultimately, 175 students won the award this semester.
"David's a veteran himself and they've been very generous," said Tim Weddington, programs coordinator for the CSU Adult Learner and Veteran Services. "What they wanted to do was honor combat veterans specifically and provide financial assistance to them."
Applicants are required to have an Armed Forces Expeditionary Medal, Campaign Medal (Afghanistan, Iraq, Kosovo), Vietnam Service Medal or a service combat medal or a Purple Heart. Other requirements included being either a full-time or part-time undergraduate or graduate student, having a GPA of 2.5 or better and being in good standing with the University.
"It's helped a ton and it only took about 30 minutes online," said Julia Makiejus, a Liniger scholarship winner and senior geology major. "I worry a lot less about where the money is."
Makiejus served seven years in the Air Force and is now finishing up her second bachelors degree. Like many other student veterans, Makiejus is going to school full time, and without a full-time job, funds are low.
"I've been able to worry less about the money and focus more on finishing up school," Makeijus said.
One misconception non-veteran students have about veterans in school is that the G.I. Bill covers all their expenses. One student veteran, Penn Dant — a senior studying business administration and computer information systems — was awarded the Liniger scholarship and has found it to be incredibly helpful in places where money from the G.I. Bill couldn't help him.
"I've heard a lot of people say things like, 'Oh, you're on the G.I. Bill, you don't need anything else,' but in reality, the G.I. Bill only covers so much," Dant said. "It's definitely helpful to have that little extra boost — it's like a safety blanket."
The application for the Liniger scholarship this spring is closed, but the scholarship application process will be opening back up next fall at the beginning of the semester.
"For the veterans on campus who have seen combat, they should take this scholarship," Dant said. "It doesn't take very much time, it's not very difficult — I've applied for quite a few scholarships and Liniger was probably one of the easiest to fill out and it helps a bunch."
Collegian Reporter Rick Cookson can be reached at news@collegian.com