Highlights from last night's ASCSU debate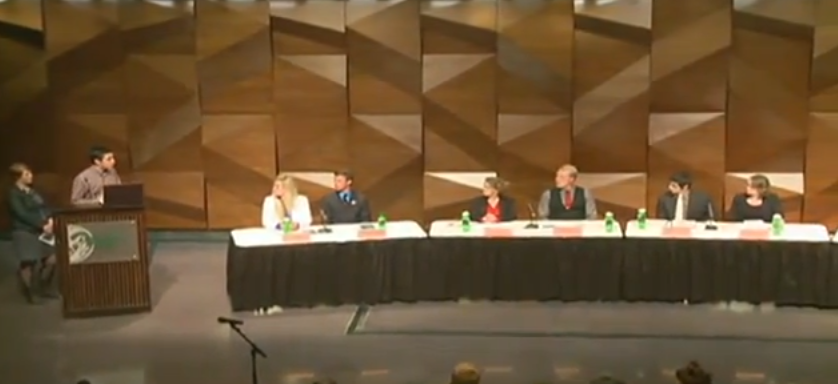 Last night, the four ASCSU presidential and vice presidential tickets took part in a two hour debate to discuss their campaigns.
The debate, run by Rocky Mountain Student Media and moderated by CTV station manager Katie Spencer and Collegian Editor in Chief Andrew Carrera, covered issues regarding problems with ASCSU visibility on campus, senate retention and how each ticket hopes to make positive changes in the CSU community.
The candidates were asked what made them stand out from the other campaigns.
Badesha started the conversation by saying that his diversity initiatives are unmatched by the other campaigns.
Chelsey Green said she looks to hold forums and focus groups so ASCSU can meet the needs that are clearly evident for the student body.
"We believe the best way of leading is by serving others," Green said.
Alex Corona said that his campaign is the most representative of the students.
"We have seen all of these promises made before," Corona said. "We are the most diverse candidates. We are here to represent you."
Sam Guinn explained that her campaign goals are feasible and that everything that her ticket has promised can be completed in one year.
"We have everything ready, we are just waiting to pull the trigger," Guinn's running mate Lance Li Puma said.
As the debate continued, Corona addressed other candidates about their goals.
"I just want to know your plan for some of these semi-unrealistic goals," Corona said.
The candidates were also asked what they want to change about ASCSU.
"Let's be honest, ASCSU is broken," Badesha said. "There is not a lack of student leaders. I don't know why ASCSU constantly faces a shortage of student leaders."
After two hours of debate, the floor was open to audience members to ask questions.
One audience member raised a question of greatest weaknesses in their campaigns.
"I have OCD. It can be very limiting. It has its ups and downs," Green's running mate, Kohl Webb said.
Corona jokingly gave the one word answer of "Kryptonite" to the question.
Audience member Brian Fosdick addressed Corona on an issue regarding a personal online gaming matter.
"He is very elitist and talks down on everyone in such a way that demoralizes others," Fosdick said during the question and answer section of the debate.
Corona rebutted the statement.
"This is a personal issue and I'm willing to address it," Corona said. "This is not the time."
The debate provided a space for each candidate to respond to criticisms of their platforms and talk openly with students about their initiatives. The audience easily picked up on the candidates' anxiety.
"When candidates were challenged on certain platforms and were not certain they would be successful, it caused tension," audience member Lauren Hartsough said after the debate ended.
Collegian ASCSU Beat Reporter Stephanie Mason can be reached at news@collegian.com.