Fort Collins home to some legendary climbs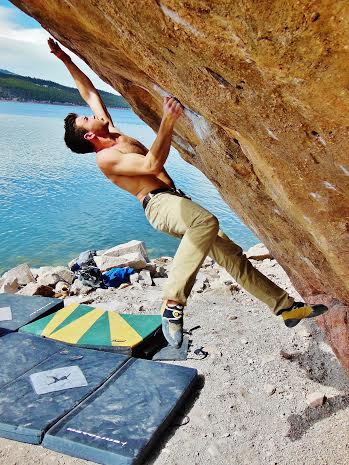 Northern Colorado provides climbers some of the most diverse and accessible routes in the lower 48. Fort Collins is no exception.
Within 25 minutes of town we have Horsetooth Reservoir, Lory State Park, Horsetooth Rock and Carter Lake. Within an hour's drive we have Poudre Canyon, Estes Park, Rocky Mountain National Park and Red Feather Lakes. These places house thousands of different rock climbs.
People climbed on the sandstone and granite of the Front Range for more than 40 years, according to Ben Scott, president of the Norther Colorado Climbers Coalition.
Back in the 50s, John Gill — known as the godfather of American bouldering — went to Colorado State University. During his time here, Gill put up many routes at Horsetooth Reservoir that were very much ahead of their time, according to Scott.
"It took like 20, 30 years after John kind of moved on for people to really appreciate what he had done," Scott said. "Now people come from all over the world to go and climb John Gill's rock climbs at Horsetooth Reservoir."
With Boulder considered the major hub of Colorado rock climbing by most, Fort Collins provides some peaceful isolation while still offering a plethora of routes.
"We live just outside that bubble which is really, really nice," Scott said. "So, we have tons of climbing opportunities, but a fraction of the climbing population that Boulder does. So, you can frequently be on your own at a climbing area in Northern Colorado."
The climbers of Fort Collins enjoy having the space to themselves and work hard to preserve those areas.
"We kind of had our own thing going on here for a long time that the Boulder bubble hasn't really been interested in," Scott said. "In general, most of the climbers are really into doing stewardship stuff. I see just about everybody in the community one trail day or another over the years. Everybody likes giving back a little bit."
This sense of community is something CSU climbing team member and junior mechanical engineer Bryan Karr said he enjoys.
"There is something about going outdoors," Karr said. "You can make a day of it and go outdoors and have a good time. It's more of a social setting."
The most famous of Gill's climbs are found at Rotary Park on the east side of Horsetooth Reservoir: Right Eliminator (V4), Left Eliminator (V4) and Pinch Overhang (V5). Other popular climbing spots at the reservoir include Duncan's Ridge and Torture Chamber, according to Mark Caughlan, Horsetooth district manager for the last 13 years.
"We see a lot of popularity in the evenings on a nice day, especially in the spring and fall when you know there is still a lot of snow up high, but you want to get out and climb," Caughlan said of climbing at Horsetooth Reservoir.
The NCCC will be having a trail day May 31 in order to clean up trash, trails and graffiti at Rotary Park. If you are interested in climbing in northern Colorado visit http://nococlimbing.org/ for free, printable guidebooks.
Collegian Green Beat Reporter Laren Cyphers can be reached at news@collegian.com or on Twitter @larenwritesgood.