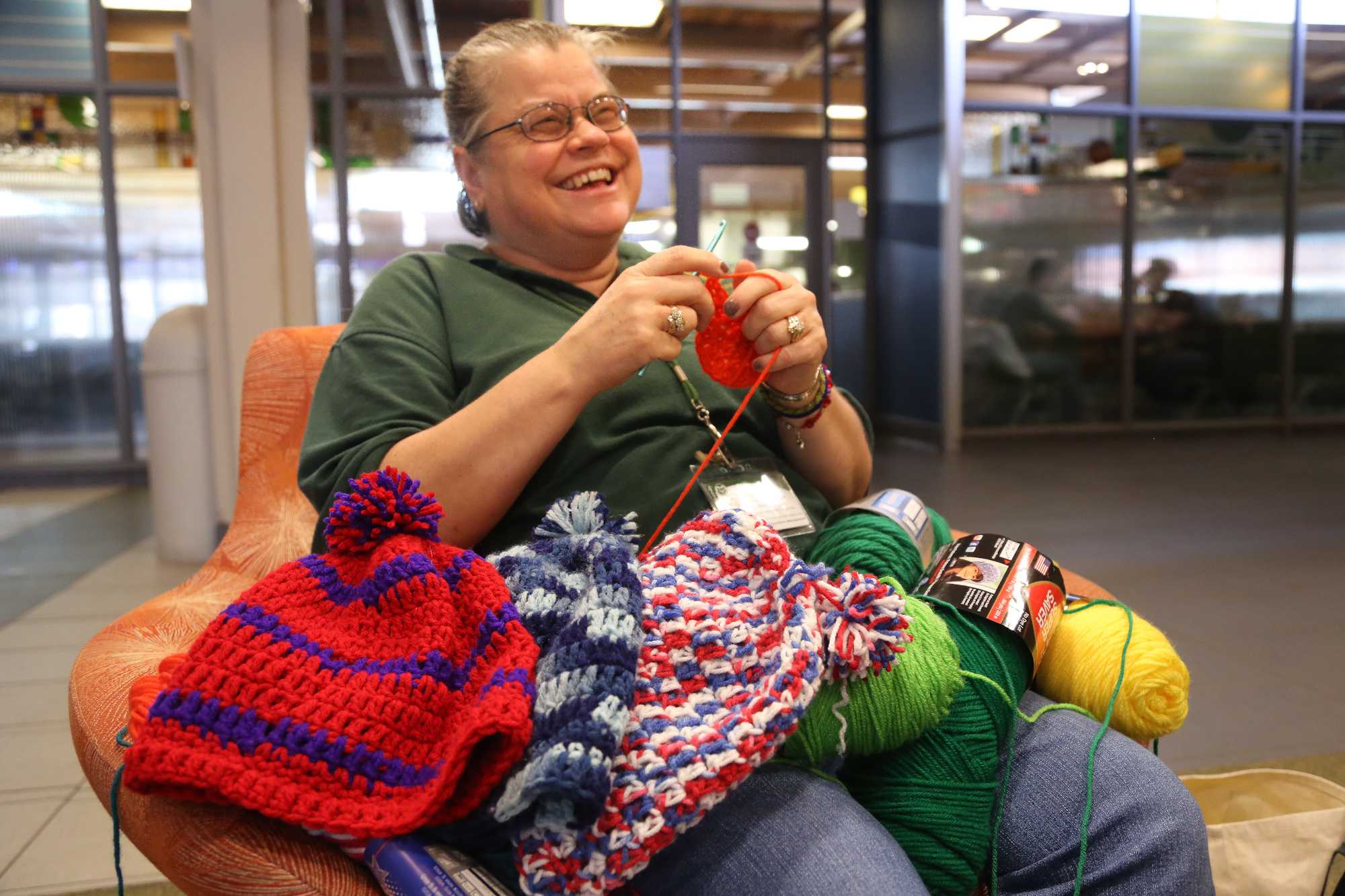 During her lunch hour, Ellen Becker sits in the custodial office in the basement of Braiden Hall crocheting hats.
Since last fall, Becker has made 250 hats for each Braiden resident, all of the RAs, the residence staff and every member of the construction crew working on the building's renovation. She also hand delivered a hat to Tony Frank in his favorite colors – green and gold.
"It's a hard job and she goes above and beyond to really make connections with each individual student," said Mallory Perkins, Braiden's assistant residence director. "I can walk around campus on a cold day and see who lives in Braiden by their hat."
Becker, who has worked at Braiden for the last fourteen years, said she enjoys using her love of crochet to make hand-made gifts for students living in the hall.
Becker recalled a resident who found a hand-made cap on his sink and brought it to her, worried that she left her hat in his room when she went in to clean.
"'That hat's for you. I made it for you,' " Becker said. "He was very surprised."
After the renovation, Braiden will have 600 students so she's already started working hard making hats for each of them.
According to her boss, Tami Riggs, Becker's crocheting gifts contribute to the warmhearted atmosphere in the dorm.
"Braiden is like a big family," Riggs said. "We're just so tight knit."
Perkins agreed, saying she has observed Becker become a maternal figure for many students in the dorm.
"Ellen truly treats our residents like her own children and has taken it upon herself to make hats for all the residents," Perkins said.
And it's not just the hats. Becker said she crochets hats for each resident because she cares about them and worries about their wellbeing.
"I feel like I have 250 kids," Becker said. "I'm concerned about their health and their welfare. If I don't see them for a long period of time and then I do, I'll say, 'Where have you been? What have you been doing? Are you okay?' Because I worry about them."
Becker tries to know each resident by name and checks in with them when she passes them in the hall.
Her attentiveness to each student prompted second-year resident Sierra Hastings to submit Becker's name for campus-wide recognition with the National Residence Hall Honorary that recognizes outstanding individuals and communities on campus.
"She definitely makes an impact," Hastings said. "(The hats) show how much she appreciates students even though we're the ones who really appreciate her."
Becker was awarded the Invisible Employee of the Year among all Housing and Dining staff. The award recognizes someone who typically goes unnoticed but has made a significant contribution to the quality of life for residents.
"She never expects anything from anybody. She just gives," Riggs said.
Becker said the most gratifying part of her job is taking care of the students and making sure they know they have people at CSU who care about them and support them.
"You never know what's happening in their lives," Becker said. "I like seeing the smiles on their faces when they get (the hats)."
Senior Reporter Kate Simmons can be reached at news@collegian.com.