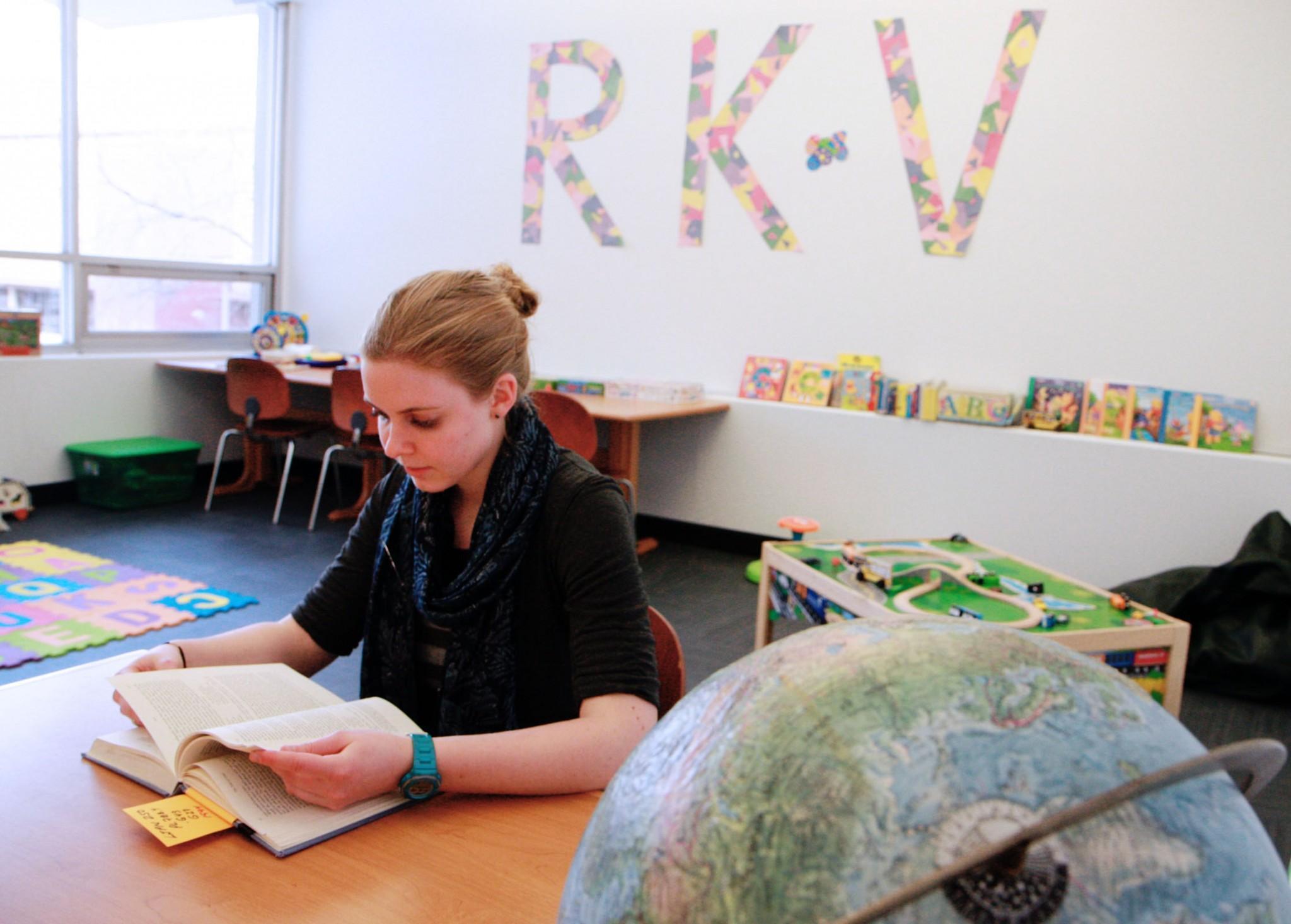 Correction: In an earlier version of this story, it was incorrectly stated due to a reporting error that CSU's Ram Kidz Village hours are Saturdays from 1 p.m. to 5 p.m. and Sundays from 11 a.m. to 3 p.m. In fact, they are Saturdays from 11 a.m. to 3 p.m. and Sundays from 1 p.m. to 5 p.m. The Collegian regrets its error.
On the second floor of the Morgan Library lies a new opportunity for CSU students with children.Ram Kidz Village is a service available through Adult Learner and Veteran Services, which offers student parents the chance to have their children cared for while they study.
For a one-time $15 registration fee per family each semester on the first visit, parents can drop their kids off for up to two hours while they remain in the library. The rest of the cost is covered by student fees.
The program began September 2012 and has doubled enrollment since January 2013.
While most childcare is available during typical work hours, Ram Kidz Village is available in the evenings or on weekends when student parents will most likely be studying.
"There was a need for childcare during nontraditional hours when it's not really available," program coordinator Marjorie Moss said.
Ram Kidz Village is open Monday through Thursday from 4 p.m. to 8 p.m., Saturday from 11 a.m. to 3 p.m. and Sunday from 1 p.m. to 5 p.m.
"The whole program is designed for students to succeed. We're just there to help them by taking care of their children for a couple of hours," said manager Tina Hopkins-Dukes.
The staff, consisting of managers, activities assistants and volunteers, is made up of CSU graduate and undergraduate students — most with hopes of careers involving children and families.
Although the program cares for children, the staff insists that they are not a "daycare."
"We are a structured, educational activity center," Moss said.
The activities assistants and volunteers try to focus on activities that will keep children thinking and learning.
"We just try to incorporate reading or the alphabet if they're a bit younger. We play games that they can learn from, whether it's colors or letters — that kind of stuff," said senior social work major Tea Merdanovic.
The program is available for children aging from 12 months to 11 years old. This means there is no set curriculum, but instead more individualized activities depending on the age of the kids.
"We help the older children with homework, which is really fun. We've been able to help them with reading and math homework. And with the other children we read books and have games and puzzles to play with," Hopkins-Dukes said.
The people working there have prior experience with children. They've taught swimming lessons and worked at summer camps. When asked what their favorite part of the job was almost all of the workers interviewed said, the kids.
"The best part of it is working with the children. You get to have fun with them and it's a great experience," said undeclared freshman Jessica Galvan.
Collegian Writer McKenna Ferguson can be reached at news@collegian.com.