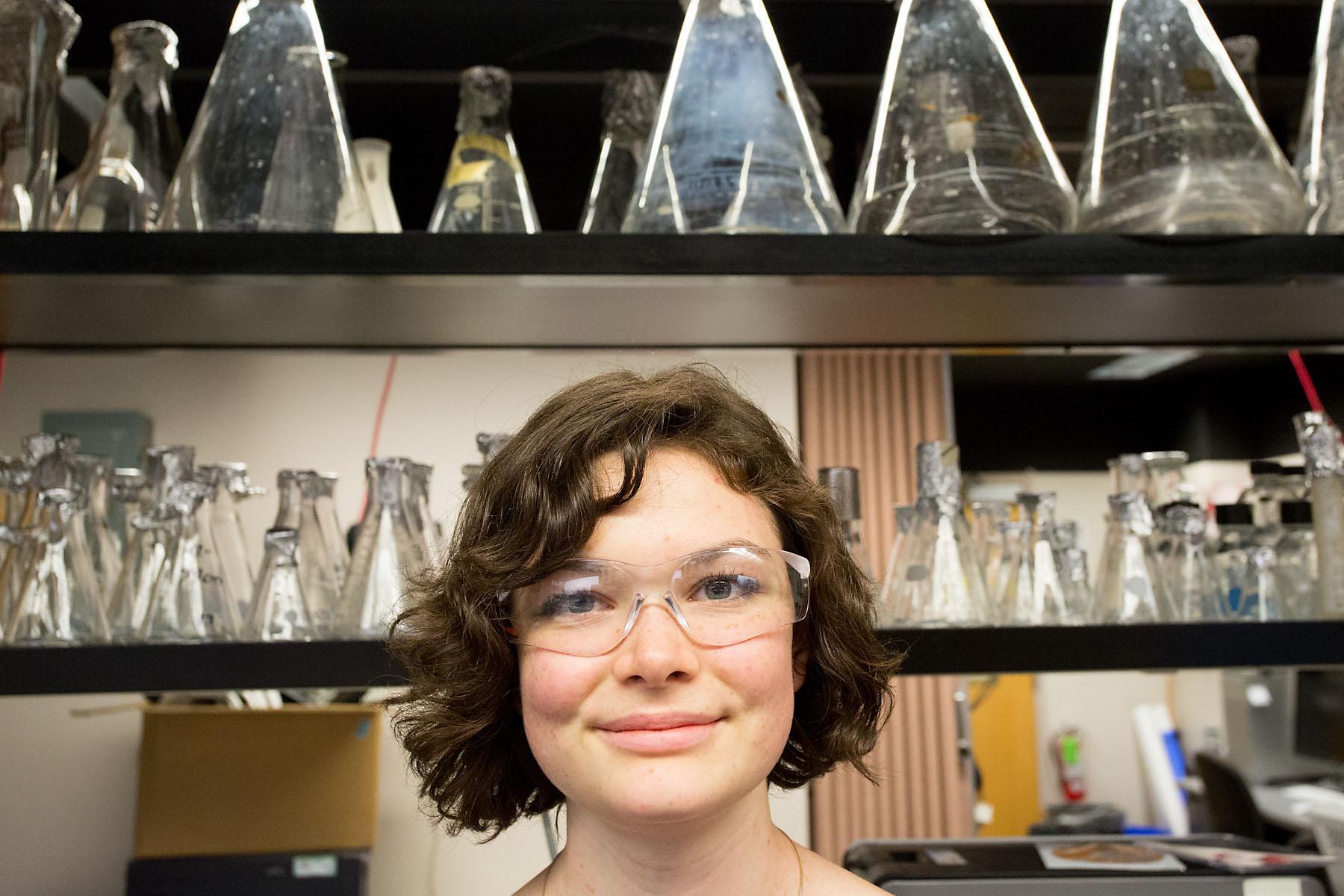 No one knew that Crystal Vander Zanden was only 16 when she showed up for her graduate interview.
All told, Dr. Pui Shing Ho knew that there was a minor coming to the restaurant where they were interviewing potential students, but he couldn't figure out which one it was.
"It wasn't until she came in with her mother that we knew who she was," he said. "We had all placed bets on who it would be and we were all wrong."
Zanden was homeschooled in her hometown of Glendale, Ariz. until she attended Glendale High School at the early age of nine. Now 18, she's in her second year of her biochemistry doctoral degree at CSU.
"I'm pretty mature for my age, but in the beginning it was hard to connect with the other students," Zanden said. "It got easier toward the end because I was getting ready to graduate and the age gap wasn't as noticeable."
Before she even attended high school, however, she had already taken a few prerequisite courses at the Glendale Community College.
By age 13, Zanden was already enrolled in Doane College in Crete, Neb. Her mother moved out there with her while she studied at the small school.
"I think there was around 1,500 students there, which was great because it allowed me to get more involved," she said. "Smaller colleges are better for undergraduate degrees."
Zanden graduated at age 17 with a bachelor's degree in biochemistry and a minor in music.
Now 18, Zanden is in the second year of her graduate studies with the Department of Molecular Biology, which houses what is considered to be one of the most rigorous degrees to pursue at CSU, said Dr. Ho.
Zanden was a student in Ho's physical biochemistry class during her first semester. According to Dr. Ho, she did so well in the class that they asked her to become a teacher's assistant for the upcoming semester.
When it came time for advisors to be assigned to graduate students, Dr. Ho said the entire faculty wanted her as their pupil.
"I've been lucky to get great students, and Crystal is no exception," he said.
As a graduate student, Zander is taking over former Ph.D. student Dr. Megan Carter's work on halogen bonding.
Halogens make up the 17th column on the periodic table and include the elements fluorine, chlorine and bromine. According to Dr. Ho, Zander's thesis project is use halogen bonds to make nanomaterials which will come together to make a molecular machine.
Fellow Ph.D. student, Matthew Scholfield, noted the level of commitment it takes to complete a graduate degree in biochemistry.
"It's not something that's easy," he said. "It's something that's very difficult. You have to spend a lot of time on it. It's not an eight-to-five job, it's a whenever job."
Despite her large workload and numerous responsibilities, Zander said that she's still just a regular teenager. In her spare time she enjoys watching movies, reading books and has just recently picked up playing the guitar.
"It's a low work and high reward because I know how to read music already and I play other instruments," she said.
Those other instruments include the oboe, clarinet and piano.
Although she insists that she's an average 18-year-old, her mentors hold her in high regard.
"She is very mature and clearly fits well in the program," Dr. Ho said. "The students look at her as one of their peers."
Even though she's quite gifted, Zander acts humbly when describing her life.
"I had a lot of things come together at the right time," she said. "I've had some good opportunities and a lot of luck. There are plenty of other smart people out there who could do the same thing."
Senior Reporter Sean Meeds can be reached at news@collegian.com.