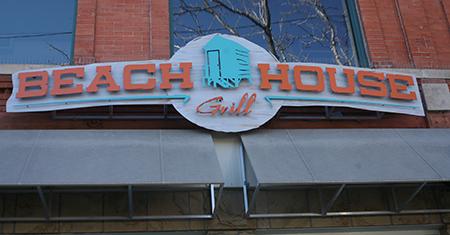 Student may be surprised to find out that a few of their favorite spots to eat in Fort Collins are now closed.
One of the big changes to the downtown Fort Collins food scene is the closing of Beach House Grill, located at 125 S. College Ave.
Breckenridge-Wynkoop LLC, a venture between Breckenridge Brewery and Wynkoop Holding Company, has already purchased the Beach House Grill's lot. The company owns and operates Breckenridge Brewery Denver as well as 12 Colorado restaurants, brewpubs and alehouses.
Lisa Ruskaup, concept director for Breckenridge-Wynkoop, said the company is excited to become a larger part of the Fort Collins community.
"We believe Fort Collins is an international market for our type of business," Ruskaup said. "We love the demographics of the city and with craft brewing in its DNA we've always had an affinity for Fort Collins."
Ruskaup stated that they will use the Beach House Grill lot to create another Breckenridge restaurant, as opposed to simply introducing another brewpub or alehouse into Old Town.
"This was a business decision we made after listening to the wants and needs of Fort Collins residents," she said.
The concept for the restaurant is still in development, but according to Peggy Lyle, assistant director of the Fort Collins Downtown Business Association, she is excited to have another craft brewery name come to the city.
"Having another brewery adds to the landscape and reputation of Fort Collins," Lyle said. "We welcome Breckenridge to our town and we're excited to see how they will add to the mix of our town's craft brewery nature."
Jessica Lederhos, a junior art and business major, said that she was curious to see how the new addition will work in the area.
"Fort Collins is already known as a big beer community," she said. "Hopefully they will be able to differentiate themselves from the rest of the competition and can market well. But overall, I see no negative aspects with them coming to Old Town."
Another major change to the Fort Collins restaurant scene is the closing of Armadillo restaurant, located at 315 Walnut Street, which shut its door earlier this year. The family-owned restaurant opened in 1972 and has five other locations in Colorado including Greeley, Longmont and Denver.
Lederhos remembered the one time she made it to the restaurant.
"There was a live band that played there and I know one of the players," she said. "I thought Armadillo was really cool! I liked the culture and the ambiance of the place."
Another Old Town hot spot, Gelazzi, has closed its doors. Lederhos also had memories of the local frozen gelato shop.
"I remember going over there freshman year with some of my friends and singing karaoke," she said. "It's sad to think that Fuzzy's will be the only other place where we can go sing karaoke now."
The shop shut down at the end of November but has just recently started selling off its equipment.
Senior Reporter Sean Meeds can be reached at news@collegian.com.